Dozens of countries will be exempt from a travel quarantine from Monday, UK government sources have indicated.
Currently, most people arriving into the UK from anywhere apart from the Republic of Ireland have to self-isolate for two weeks.
Ministers had previously indicated they were working to establish a relatively small number of travel corridors.
Travel and tourism companies have been calling for urgent clarity over the corridors amid rising bookings.
Last weekend, the government said it would relax its advice on travel abroad and would rate countries as either green, amber or red, depending on the prevalence of the virus.
Now government sources have indicated that a very long list of countries is likely to be published by the end of this week.
It is possible that up to 75 countries deemed low or very low risk will be exempt from the UK's quarantine from Monday, 6 July.
Some of the countries on this new list do still have restrictions on people travelling in the other direction, from the UK.
Other higher-risk countries, such as the US, will be categorised as red.
So the government is about to announce something which aviation bosses, many MPs and some scientists have advocated from the beginning – a targeted quarantine which only impacts people arriving into the UK from high risk 'red' countries.
It is the opposite of the government's blanket-style approach which has been in place for less than four weeks.
You could call it a 'U-turn'.
For days, if not weeks, the government has indicated that it wanted a relatively small number of bilateral-style 'travel corridors', namely with European nations, where the virus is under control.
It appears that approach hit a number of hurdles.
Some countries, like Greece, weren't willing to reciprocate in the short-term.
While there was nothing to stop people travelling into the UK from a higher risk country, via a lower risk one to avoid the quarantine.
The optics concerning Portugal are illuminating. First it seemed to be top of the list of exemptions. Then last week sources indicated it was off the list. The situation regarding Portugal now is unclear.
The process was further complicated by both the Welsh and Scottish governments saying they might follow a separate approach.
Travel companies will be pleased about a much longer list of exemptions but they've been pulling their hair out over the confusion, and the delay in making a final announcement, which is now expected by the end of this week.
And critics will question why the government did not go for a more nuanced approach in the first place.
It seems that agreeing a small number of travel corridors with specific countries was fraught with risk. The Scottish government has expressed concern about plans to relax the quarantine and it is still in discussion with officials and politicians in Westminster.
Travel companies have called on the government to publish its list as soon as possible, to end the confusion.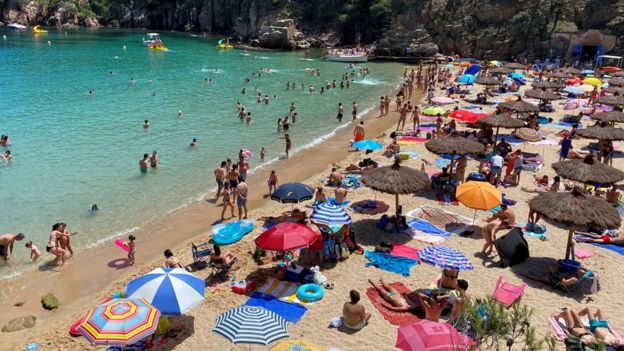 George Morgan-Grenville, chief executive of travel company Red Savannah and long-time critic of the quarantine rules, told the BBC he was "very encouraged" by news that a clarification was imminent.
He said the restrictions had been "a disaster for the industry, which had been prevented from getting back on its feet".
Your travel rights
Most people intending to travel overseas when restrictions are lifted may find their travel insurance does not cover every risk created by coronavirus.
A number of new policies will now cover medical treatment for Covid-19 which has been caught while in a resort.
However, people who need to cancel a holiday because they develop symptoms before going away, or are told to self-isolate at home, might not be covered.
People who bought an annual policy before the outbreak could have greater protection, depending on the terms and conditions of the cover.
Those on package holidays will get a refund or can rebook if travel restrictions are re-imposed but, as with new travel insurance, most will not get their money back if they pick up symptoms or are told to self-isolate just before they are due to travel.
DISCLAIMER: The Views, Comments, Opinions, Contributions and Statements made by Readers and Contributors on this platform do not necessarily represent the views or policy of Multimedia Group Limited.