Members of Customs Brokers Association of Ghana (CUBAG) have spoken dispassionately  about issues confronting their businesses at the air and seaports.
The issues bothered on increment in the cost of power and fuel as it affects operational cost, disparities in the transportation component among competitors, post audit clearance, container charges and other concerns.
These issues are even compounded by the economic crisis across the globe which tends to negatively affect those in the logistics chain.
This came up at the CEO's Luncheon organized by CUBAG in Tema to provide informal and relaxed atmosphere to elicit challenges of members and deliberate on same.
President of CUBAG, Nana Fredua Agyeman Ofori-Atta, who couldn't agree more with the members told Joy Business that it is safe to say they're literally shortchanged by how their industry is regulated.
"We work with Ghana Shippers Authority under L.I. 2190 which expects these stakeholders and the authority to meet and agree on charges which are then published in the dailies but this hasn't happened in the last six years".
" We met three months ago and hope the report will get to the Transport Minister and once we conclude on that and it is published, my members can begin charging the new fees," he said.
He is also worried at the forex game being played by some shipping lines which decide which rate per dollar to work with.
Mr. Ofori-Atta added that shipping fee has skyrocketed from $6,000 to $ 13,000 over the last six months but members of the association are unable to effect any changes despite the hot air blowing around them.
These with a host of concerns make the association the least happy in their space.
"The  issue on operational cost versus service charges cost is very important and members must deliberate on it and arrive at consensus which will be sent as a communiqué to Finance, Trade and Industries, as well as Transport Ministries which are the policy organs".  
At the discussion session, some members suggested that their industry could operate just as Ghana Private Road Transport Union (GPRTU) that is able to push for adjustment of transport fares should fuel margin increase.
Another highlight was the need to introduce antitrust laws as people are taking advantage of its absence in Ghana. This law regulates competition as done in other jurisdictions.
Executive Director of Environmental Protection Agency( EPA), Henry Kokofu, said EPA recognises the important role CUBAG plays in promoting international trade in the country.
"The current Africa Continental  Free Trade Agreement particularly trading in value added production and trade across all sectors of Africa's economy offers numerous opportunities and at the same time places a lot of responsibilities on industry players like CUBAG" .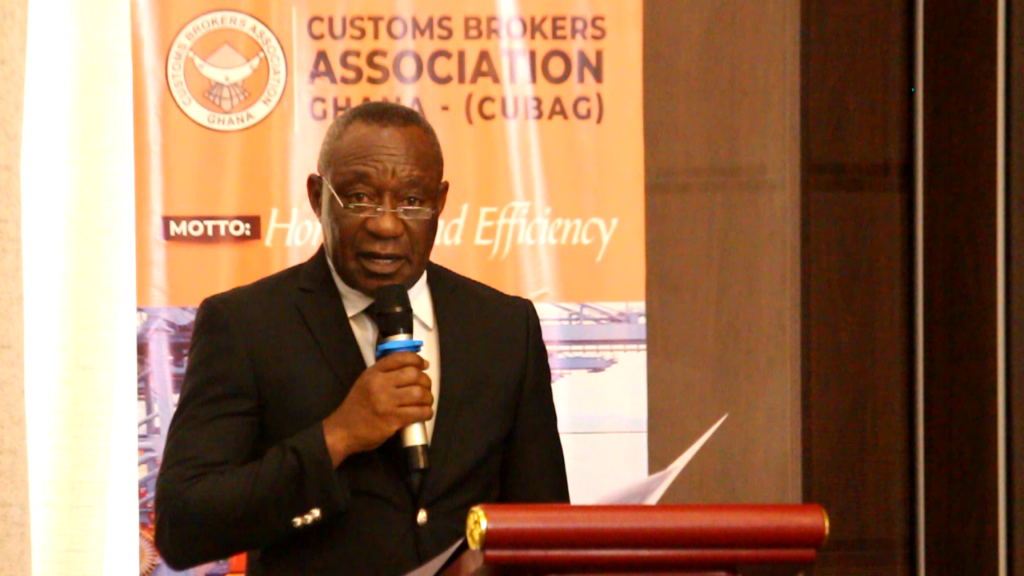 The EPA boss reminded participants that the authority established by Act 490 of 1994 with it operational legislation in L.I. 1652 will continue to play its role as required by law.
As CUBAG continues to encounter EPA through its activities, the authority lauded it for the continuous support for the implementation of Hazardous and Electronic Waste Control and Management Act, 2016 (Act 917) and L.I. 2250.
Henry Kokofu however admitted to challenges in implementation of these laws especially delays in getting approvals for clearances particularly with chemical and regulated and restricted products.
He assured them of the authority's willingness to address these lags in the system. 
Sector Commander of Tema Collection, Assistant Commissioner Julius Kantum who represented Commissioner of Customs Division of the Ghana Revenue Authority encouraged CUBAG to ensure compliance and pay appropriate taxes to help meet revenue target.
"There is the need to ensure enough revenue for government due to current economic challenges the country is facing," he urged.
He touched on the importance of trade facilitation towards a win-win situation as well as aiming at reducing turnaround time and other areas.
When it comes to ease of doing business, CUBAG wouldn't want to be left out as it will introduce a mobile application to engage members on regular basis.
Its objectives include easy information access, helping cut frequent visit to the association's office, means to solicit feedback, surveys, hold elections, among other benefits.
Meanwhile, the Chief Executive Officer of Meridian Port Services, Mohamed Samara lauded CUBAG for the plans to launch a digital platform.
" Your're likely to face challenges in the initial stages but don't be deterred when this happens because MPS experienced same. My outfit is ready to assist so you become part of the ecosystem"
"Terminal 3 of the Tema Port is fully digital despite earlier issues. Drivers were used to manual ways of picking containers from the port but are used to the new system now. Same for Terminal 2 which had digital penetration of about 3% but today digital penetration is 97%".
Safety Insurance and SIC urged members to insure their risk when they took turns to address the gathering.
The association sees the need to bring bodies such as Ghana Institute of Freight Forwarders ( GIFF), Association of Custom House Agents, Ghana  (ACHAG) and Freight Forwarder Association Ghana to form a council known as Council of Freight Forwarder Association which currently remains a committee.   
The Association has also asked Customs and other stakeholders to support CUBAG Training Institute which is expected to help improve skills of field staff, manpower and improve on standard.
The meeting brought together both the regulated and the regulators.
DISCLAIMER: The Views, Comments, Opinions, Contributions and Statements made by Readers and Contributors on this platform do not necessarily represent the views or policy of Multimedia Group Limited.