A group of trainees under the National Builders Corps (NABCO), have called on the government to halt the implementation of the YouStart initiative until their allowances are paid.
The group, identified as 'NABCO Trainees Association of Ghana (NABTAG)' says they do not understand why the government intends to roll out a new policy, when their eight months allowances have not been settled.
In a statement on Monday, June 27, NABTAG indicated that as of now, NABCO trainees are struggling to survive due to the failure of government to redeem its promises to them.
The group revealed that trainees under the scheme are experiencing the brunt of the current economic hardship in the country; with many of the beneficiaries finding it difficult to make ends meet.
They therefore called on government to pay their outstanding allowances and work on retaining NABCO trainees as well.
"It does not send the right signal when you have not paid NABCO trainees for the past eight (8) months, which has plunged them into severe hardship, but readying for the launch of YouStart. What positive assurance can that serve to inform the public on the outlook of the YouStart?
The president's nonchalant attitude over the current situation is disparaging to its lowest point. We have placed several calls on him to intervene, but the issue keeps exacerbating", portions of the statement read.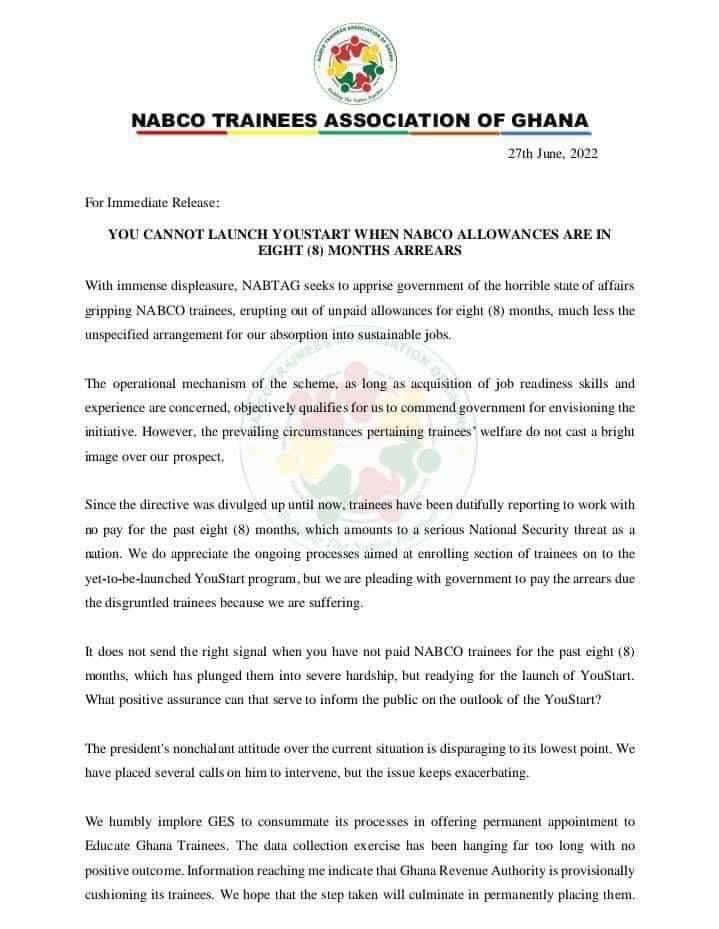 The group also added: "We humbly implore GES to consummate its processes in offering permanent appointment to Educate Ghana Trainees. The data collection exercise has been hanging far too long with no positive outcome. Information reaching [us] indicates that Ghana Revenue Authority is provisionally cushioning its trainees. We hope that the step taken will culminate in permanently placing them".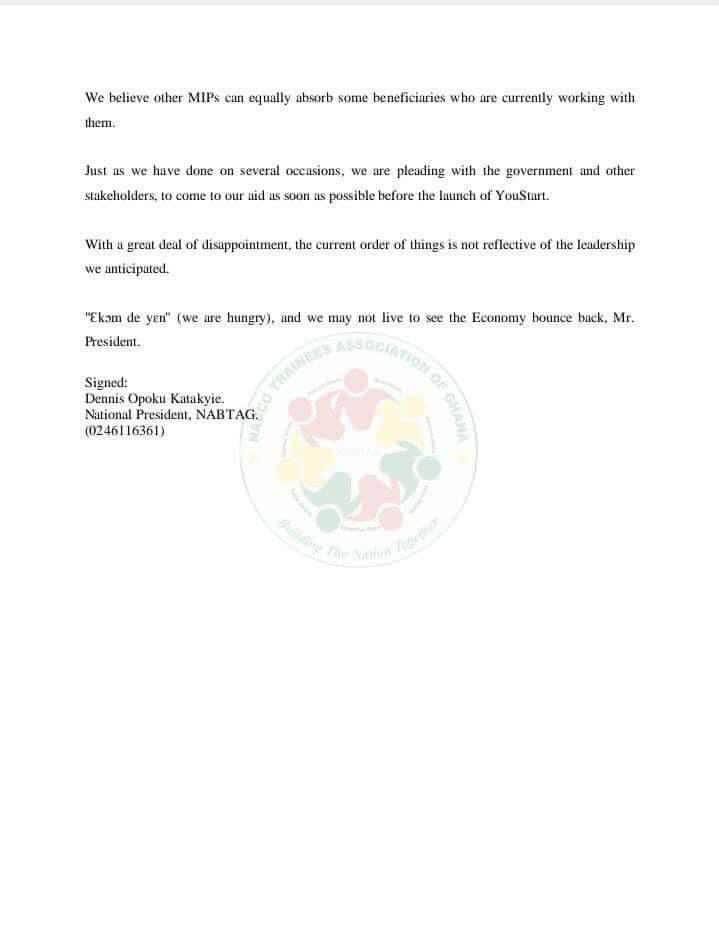 Meanwhile, Deputy Finance Minister, Dr. John Kumah, has announced that the government intends to transition NABCO into the YouStart programme effective July 1.
According to him, the idea is to find a more sustainable alternative to the NABCO programme which ended in October 2021.
Speaking on JoyNews' PM Express Business Edition on June 10, he stated that "we have already engaged the NABCO Secretariat, and there has to be a more sustainable way of looking at NABCO. As we said, NABCO was for a 3-year period which ended in October 2021, and so we have to have an alternative.
"Going forward, how do we make sure we support these young people who now have experience, ideas and creativity to have access to further training and working capital to be able to start their own businesses and scale up?".
The YouStart initiative under the Ghana CARES programme is being introduced to ease constraints for existing and aspiring young entrepreneurs.
Finance Minister, Ken Ofori-Atta had earlier stated that empowering the youth who were a driving force for change was a key component of the government's plan.
He emphasised that, the initiative would ensure that skills training becomes much better aligned with the needs of sectors as drivers of future productivity growth and socio-economic transformation.
YouStart initiative, as captured in the 2022 Annual Budget would support youth-led enterprises with soft loans of up to GH¢50,000 to help start-ups (in particular by young graduates from and school-leavers) and small businesses to expand, Starter packs (Soft loans tied to equipment acquisition) of up to GH¢50,000 for individuals and GH¢100,000 for associations and groups and a standardised loan package of between GH¢100,000 to GH¢400,000 at concessional rates for SMEs from financial institutions.
"To those who want to enter the private sector, we will leverage the CARES programme to ensure you have the skills, training, network, and credit to support the transition from the "classroom to the workplace", he added.
In a related development, following the completion of a test run of the programme, a consortium of nine banks have agreed to collaborate with government to provide credit to existing youth-led companies and, in the process, create one million jobs in the next three years.
The participating banks are Ghana Commercial Bank (GCB), Consolidated Bank Ghana (CBG), Access Bank, Absa Bank, FBN Bank, ADB, Fidelity Bank, Ecobank and Bank of Africa.
According to Dr. John Kumah, the banks will form the commercial aspect of the YouStart programme and would assist entrepreneurs access credit with less stringent conditions to enable businesses to scale up.
"Because of our partnership with them, we want the interest rate not to be above 10%. The collateral requirement to also be exempted so that people can have access to money to scale up their businesses and of course government will provide the first loss cover [and] liquidity means and all that to support the banks to be able to do that. And we believe that will make the programme more sustainable," he explained.