Detty December in Ghana is simply the enjoyment level in Accra every December. It is always that time of the year that the world comes to Ghana.
It is a fine opportunity for the diaspora to connect with their roots – cultural diversity, heritage, and "new skuul" lifestyles like; pop culture, music, and food.
With the elevation of all the tourism value chain elements coupled with Africa being the new market target, many companies are increasingly making their brands relevant to Gen Z and Millennials.
In no particular order, these are the brands that came out December.
Daily Paper
Daily Paper is an African-inspired fashion brand known for its ready-to-wear garments and accessories with a creative direction fueled by rich African culture wrapped in contemporary designs.
The brand has truly become one of the fastest-growing fashion brands in Africa and Europe, offering timeless designs across accessories, streetwear, and a range of capsules across the season.
During December, Daily Paper which has truly become one of the fastest-growing fashion brands in Africa and Europe, opened its sought-after pop-up shop in Accra to drive lovers of streetwear to their hub.
The brand collaborated with other partners such as Off-White by the late Virgil Ablorh, Surf Ghana, Afrochella, NSG, Free The Youth among others to host a line of activities such as; parties, networking hangouts, football tournament,s and other special curated events connected to the culture.
Free The Youth
Free The Youth (FTY) is a collective of young creatives determined to empower young Africans in the area of street-style fashion and culture.
Started as a social media Ghanaian street-style movement, FTY has now developed into a multi-branched organisation with the grand goal of promoting an art-based, youth-oriented movement for creative freedom and community development. It has gradually grown to become the creative mouthpiece for young people.
During the Christmas, the FTY opened its headquarters in Accra, a really impressive space created as a hub for African youth in Ghana. The space, according to the FTY, was a physical representation of Africa's unmistakable creative evolution.
That grand opening saw a host of paneled talks, the opening of a Free The Youth store, as well as studio sessions and parties which saw likes of Black Sheriff, Chance The Rapper, Vic Mensa, Oxlade, Rema, Kwesi Arthur, Fuse ODG, Kofi Mole and others passing through to catch the vibe.
Ghana Tourism Authority
The Ghana Tourism Authority (GTA) is the lead state agency in charge of implementing the December in Ghana campaign to its highest optimal points.
Since 2019, the government has had a deliberate tourism campaign championed by the GTA to make Ghana the favourite destination for Christmas vibes.
With a master brand 'December in GH', the GTA ensured that a large number of the events in December enjoyed a near perfect enabling environment to attract global attention to the country.
"Thanks to the Ministry of Tourism, Arts and Culture (MOTAC) under the able leadership of Dr. Ibrahim Awal, this year's activations were carefully crafted – focusing on more outdoor activities bearing in mind the times we are in," said Akwasi Agyeman, CEO-Ghana Tourism Authority (GTA).
GTA supported most of these events with sponsorship, marketing and promotions, and provided health and safety support among others.
There is no doubt that December in GH has become one of Ghana's successful tourism brands and an anchor that has created a global wave, perhaps a movement, with people always looking forward to it every year.
Instagram
The picture-sharing social media platform was intentional about how to immerse its brand into the Christmas vibes in Ghana. Instagram partnered with Afrochella Festival and was also the lead headline sponsor of the festival's very first Fashion Night Out event.

Produced by Debonair Afrik, a Ghanaian-based fashion brand and Afrochella, the Instagram Fashion Night Out was designed to celebrate the thriving fashion scene in Africa and showcase up-and-coming designers from the continent.

The dazzling event included 13 talented designers, two fashion exhibitions, a panel discussion and multi-brand pop up shops. It was Instagram's way of celebrating Africa's diverse culture and the vibrant work of African creatives and entrepreneurs. These activities were amplified by Instagram to its millions of followers to gain wider reach.
Martell Cognac
Throughout the year 2021, Martell Cognac has been busy. Most of the brand's activations were on the back of partnership it had with Amapiano & Brunch Party which has become Accra's favorite day party. The party is held periodically at Front/Back, a music, food, and art club located in Accra, and it has featured major artistes such as R2Bees, MzVee, Stonebwoy, King Promise, Adenkule Gold, Uncle Waffles, Tiwa Savage and many others.
Martell, in partnership with Polo Beach Club also put together arguably the most-talked about high-end lit party known as the Martell Blue Foam Party. It was an epic night and the post-event reactions on social media was crazy, literally everybody looking forward to the next party.
At any of the events during December, guests had the chance to a sensory experience of Martell's finest eaux-de-vie produced cognacs.
Surf Ghana (Freedom Skate Park)
For the first time, Ghana opened its first skate park – Freedom Skate Park in Accra. The opening which happened in December was also in honour of the late Ghanaian US-based fashion icon Virgil Abloh who was supporting Surf Ghana, the project initiators, to complete the park.
Unveiling the park, organisers paid tribute to the American designer of Ghanaian origin with musical performances by local artists and skate sessions by both professionals and amateurs. A new sport ecosystem that supports well-being, creativity and entrepreneurship.
The Founder of Surf Ghana, Sandy Alibo, said though skating is a lesser-known sport in Ghana, she believes it will go a long way towards boosting tourism and creating networking opportunities for young Ghanaians.
"We're not talking only about sports, but we're talking building self-confidence in the youth, about tourism and developing youth entrepreneurship," she told AFP.
Ever-since its opening, the skate park has become a converging point for a lot of creative minds to connect with each other in sharing ideas and thoughts.
Twitter
The social media giant announced its presence in Africa in April 2021. Twitter's presence announcement brought a lot of excitement among Ghanaians.
Per observations, whenever Twitter enters new markets, it invests in local communities and the social fabric through relevant partnerships that touches the emotions of the locals.
Ahead of its outdoor activations in December, Twitter partnered Ghanaian rapper M.anifest to launch a special emoji icon for the rapper's latest album #MadinaToTheUniverse.
After, Twitter debuted its dedicated @TwitterGhana handle, bringing tweets to life on billboards in Accra. According to AdWeek, @TwitterGhana is the social network's first dedicated handle in sub-Saharan Africa.
These Twitter billboards covered topics and hilarious moments that were uniquely Ghanaian, hence becoming part of viral conversations and also setting the tone for Detty December. One of the billboards captured the mood for Christmas saying "December in Ghana is just a two-week festival".
Lastly, Twitter partnered with one of the biggest festivals on the continent – Afrochella Festival which was headlined by music superstars Wizkid and Stonebwoy with other talents. The blue bird social platform set up an art installation at the festival which really brought the brand to live.
YouTube
YouTube has always been a place to be entertained — from your favorite dance trends, new sound to exciting video contents.
Over the years, YouTube has enabled an entire generation of creators who have shared their voice and found an audience of more than two billion people.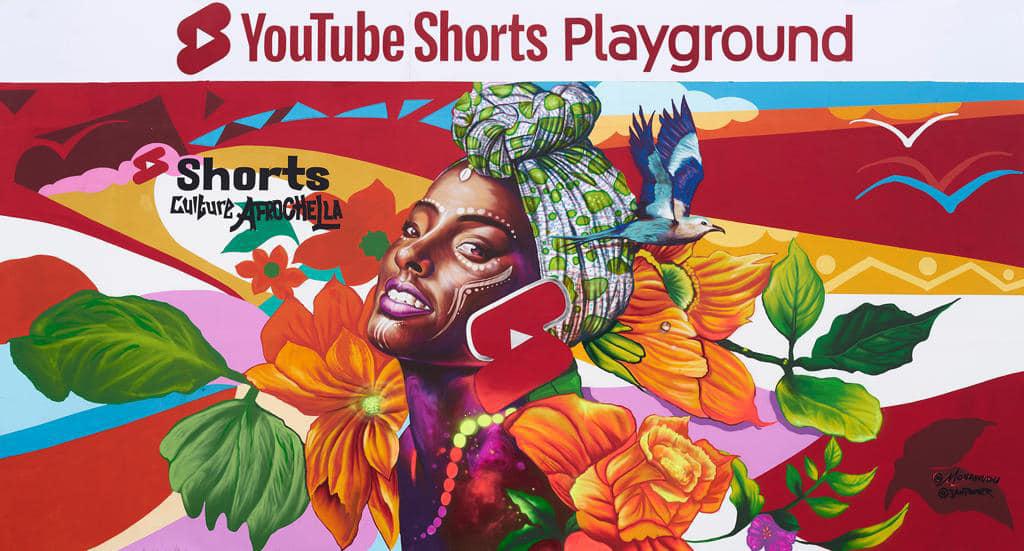 YouTube, for the first time brought its brand to live in Ghana. The video streaming platform heavily pushed its YouTube Shorts which is a new short-form video experience for creators and artists who want to shoot short, catchy videos using nothing but their mobile phones. YouTube Shorts is a way for anyone to connect with a new audience using just a smartphone and the Shorts camera in the YouTube app.
YouTube had the biggest brand installation at Afrochella by creating what it called "The YouTube Shorts Playground" for over 10,000 revelers that attended the festival.
The brand also engaged in some music thought leadership programmes to help develop the youth and provide assistance to aspiring music industry professionals.
YFM
Ghana's number one urban radio and leading music station, YFM launched a new initiative "Y Holiday Havoc" to support key December events with marketing, promotions, ticket sales and on-air talents – Presenters and DJs, all to create unforgettable memories for revelers.
Through the Y Holiday Havoc, YFM partnered major festivals such as Afrochella, Wildaland, Tribvl Jungle Fever, concerts – Gold Coast Carnival, Bhim Concert, and parties – PineXGinja, Gold Block Party. Others include Around the World, Taste of Ghana and Beach Lantern Festival.
For the brand, December in Ghana was right time to achieve two things with YHolidayHavoc Campaign – To create brand awareness and Showcase YFM's Talents to the world. Talents like Kojo Manuel, Mensah Junior, DJ Loft, DJ MzOrstin, AD DJ, DJ MicSmith became household names at every major event and parties during the December. It was one sure way of winning with the brand.
In setting the tone for December in Ghana, YFM engineered a series of thought leadership conversations on Twitter Spaces talking to stakeholders, organizers and musicians who shared their thoughts on December in Ghana.
The brand also activated its waste recycling bottle radio booth. This was to re-enforce the brand's commitment to encourage plastic waste recycling under the YFM Plastic Recycling Campaign championed by Y Cares.
I want to conclude with special shoutouts to all the events that created the platform for these brands to connect with their audience – Afrochella, Wildaland, Amapiano & Brunch, Polo Beach Club, Tribvl Jungle Fever, Gold Coast Carnival, PineXGinja, Gold Block Party, Around the World and Akwaaba UK Parties.
*****
Ekow Quandzie is a Brands and Communications Executive. You can reach out to him via pequandzie@gmail.com
DISCLAIMER: The Views, Comments, Opinions, Contributions and Statements made by Readers and Contributors on this platform do not necessarily represent the views or policy of Multimedia Group Limited.