Minister for Tourism, Arts and Culture has lost the Prestea Huni-Valley parliamentary seat to the NDC candidate, Robert Wisdom Cudjoe.
Madam Babara Oteng Gyasi lost the contest with 39,067 votes while Mr Cudjoe won with 56,464 votes.
The Minister is leaving Parliament after serving only one term for the NPP.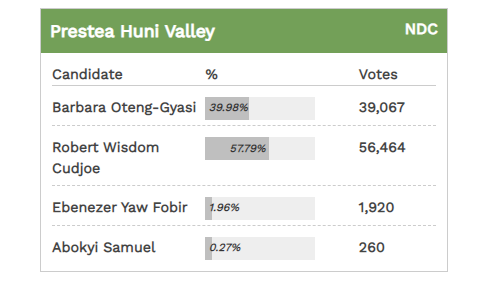 The newly elected MP was the District Chief Executive (DCE) for Prestea-Huni-Valley under Mills and Mahama governments.
Below are the full results:
Prestea Huni-Valley
Parliamentary
NPP: 39, 067
NDC: 56, 464
GUM: 1,920
GCPP: 260
Total Expected Voters: 137, 934
Total Votes Cast: 99,108
Total Spoilt Votes: 1,397
Presidential
NPP: 37,572
NDC: 56,810
GUM: 2,075
CPP: 64
GFP: 35
GCPP: 22
APC: 50
LPG: 41
PNC: 29
PPP : 40
NDP: 41
INDEPENDENT: 42
_Total Expected Voters:_136, 934
Total Votes Cast: 99,426
Total Spoilt Votes: 2606