The Food and Drugs Authority (FDA) has approved two more vaccines in the country's fight against Covid-19.
These are Moderna (Spikevax) and Pfizer BioNtech (Comimaty) vaccines.
In a press statement dated July 28, the FDA said these vaccines can be distributed and used to vaccinate members of the general public.
Already, three Covid-19 vaccines; Sputnik V, Covishied and Covid-19 vaccine Jassen have been approved for the country's vaccination exercise. Thus, bringing the total number of vaccines approved to 5.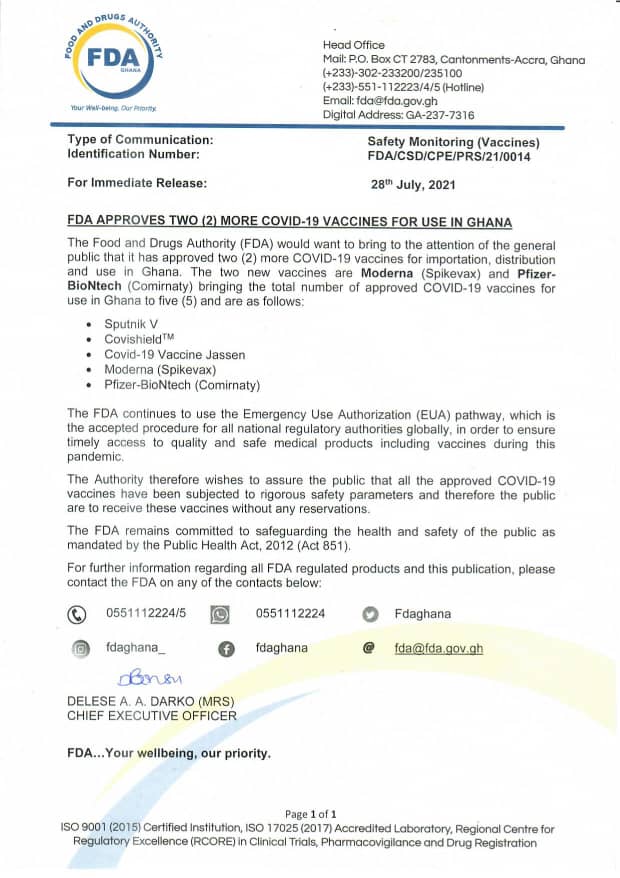 According to the release signed by Chief Executive Officer, Mrs Delese Darko, "all the approved Covid-19 vaccines have been subjected to rigorous safety parameters", therefore, no reservations should be held in their use.
She further gave assurance that the Authority continues to use the Emergency Use Authorization (EUA) pathway, the accepted procedure for all national regulatory authorities globally.
"The FDA remains committed to safeguarding the health and safety of the public as mandated by the Public Health Act. 2012 (Act 851)," portions of the statement read.
Meanwhile, President Akufo-Addo has announced the arrival of some 18,478,670 vaccines through the COVAX facility, African Medicine Supply Platform and other bodies in the third quarter of the year.
On Sunday, July 25, the President in his 26th address to the nation on the fight against Covid-19, noted that the United States of America, through the COVAX facility, is providing one million Pfizer vaccines, the African Union is providing 229,670 Pfizer vaccines, while the United Kingdom is giving out 249,000 AstraZeneca vaccines.
"Government is also in the process of procuring 17 million single doses per person Johnson & Johnson vaccines, through the African Medicine Supply Platform, in this quarter," he added.