The Ghana National Fire Service (GNFS) has announced it will soon be demolishing structures built over fire hydrants to make fire-fighting easier.
This was after the Service struggled to contain a fire outbreak at the Opera Square building, which left several shops destroyed on Monday, April 25.
Items such as bags, shoes and other home appliances were burnt to ashes.
Following this, the Service is working closely with municipal assemblies to ensure buildings built over hydrants are pulled down as soon as possible.
Spokesperson for GNFS, ADO2 Alex King Nartey, told JoyNews they have been able to locate all the areas where fire hydrants have been disrupted.
"We have the Hydrant Inspection Team that goes round to inspect fire hydrants. That's how come we've been able to find out that some of these hydrants have been encroached upon.
"It's in phases. We've been able to identify where some of the hydrants have been encroached on and we are in talks with the municipal assemblies to demolish these structures," he said.
He revealed that many of the hydrants that are not blocked have become useless because the "Ghana Water [Company Limited] has not been giving us water."
"This is something that whenever we raise, it becomes an issue but there is no water flowing through the hydrants. So, our men had to go as far as Circle, as far as Osu and all, just to go and replenish and come back here [at the fire scene]," he added.
The MOOVED Home Appliances shop which caught fire houses GT Bank and Bank of Africa.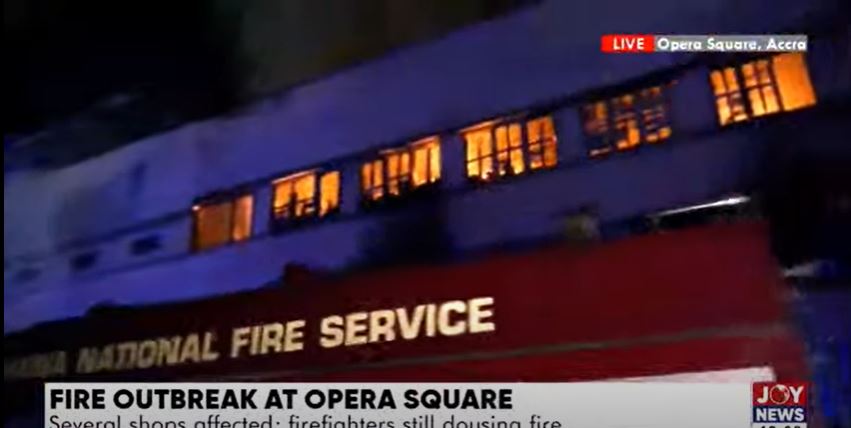 According to Mr Nartey, the personnel were able to control the fire from spreading to the two banks.
Only the server room of the GT Bank was affected by the fire.