A research analyst at the Centre for Democratic Development Ghana (CDD-Ghana), Gildfred Asiamah has added his voice to the numerous calls for the Member of Parliament for Dome Kwabenya, Sarah Adwoa Safo, to vacate her post.
In an interview with JoyNews, on Friday, Mr. Asiamah asked the Minister for Gender, Children, and Social Protection to resign if she is unable to carry out her duties as a Minister as expected.
He asked how long the Dome-Kwabenya MP will be absent "If you are passionate about the people in your constituency."
The Dome Kwabenya MP has been absent from Ministerial and Parliamentary duties since August, 2021.
But speaking in an exclusive interview with JoyNews on Thursday, Adwoa Safo explained that she will not abandon her duties as a Legislator.
"I will be returning definitely to serve my people. I lead and serve the people of Dome-Kwabenya and I have done that for the past 12 years and I know exactly what my responsibilities are and I am definitely going to do that.
According to her, she will resume her positions as MP and Gender Minister when she returns to the country, adding that she believes everything will work out to enable her to resume duty in due course.
"Since I have not resigned…when I touch down, I am going to do what I have to do as a Minister since I have not been relieved of my post yet," she said.
Reacting to Adwoa Safo's comment, Mr. Asiamah said: "I think she really doesn't have the kind of moral right to be staying there and saying the things that she is saying, that I am coming back to take my Ministry, having been absent for how many months?" he asked.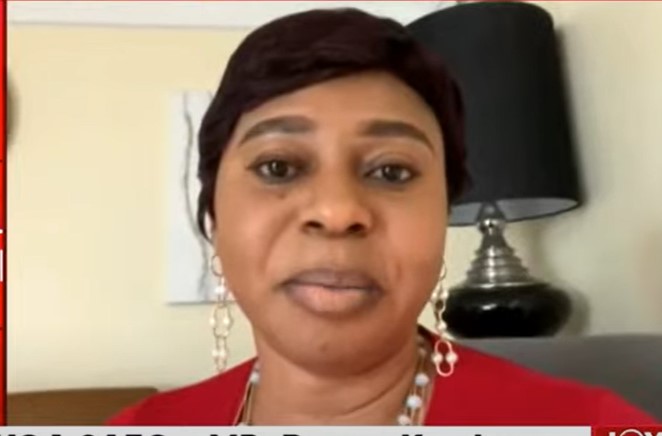 "The right thing and the honourable thing was for her to just step aside, because you know it is something that you would love to do, you know this is something that you will want to do to help but you are not in the capacity to do it, so why don't you get off completely and allow somebody to come and do it," he added.
According to him, "if what she is doing is happening at all levels of government, can you imagine what will happen?"
Meanwhile, some constituents of Dome-Kwabenya have reacted to Madam Sarah Adwoa Safo's interview on JoyNews, assuring of her return to continue her duties.
According to them, inasmuch as her reasons for her absence are justified, challenges in the constituency need urgent attention from her office.
"All that we need is for her to come down and perform her duties," a constituent said.
"We do not understand what is preventing her from performing her duties as a parliamentarian within the Constituency. Her absence is a big challenge to all of us and it baffles us because we confide in her that's why we voted for her," he added.
Another constituent expressed disappointment in her absence.
"I don't see why she should absent herself from her duties. The point is that it's very painful. She has disappointed so many of us. If we wanted her to perform her duties abroad we wouldn't have voted for her and what we are saying is that even the NPP party itself is very disappointed.
One constituent asked her to tender her resignation if she can no longer perform her duties officially.
"We are pleading with her to come back or resign ," he said.