One of the key reasons I still hold great pride in being a sports journalist is the fact that my field provides all the biggest lessons one needs irrespective of their endeavour to navigate the challenging curves in life.
In my much-publicized interview with ex-Ghana international Samuel Osei Kuffour, he lent credence to some of the age-long principles of life.
These principles do work because Sammy Osei Kuffour is a living testimony. He picked up these and many other lessons along his journey in football, family life, social life and business.   
Life is all that matters
I asked him about the day when he gave direct mouth-to-mouth resuscitation goalkeeper Oliver Khan who collapsed during Bayern Munich's UEFA Champions League quarter-final game against Manchester United in 2001.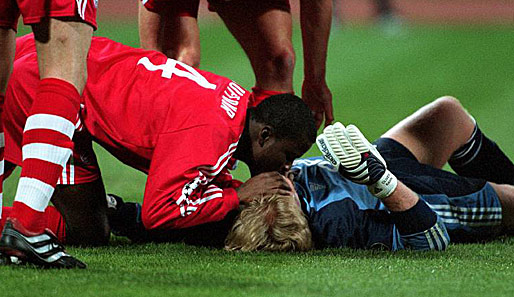 According to him, the scene was a very scary one. "At the time it was big news in the German Media, I should have used my hand and placed my mouth there directly to blow the air because it was life at stake here," Kuffour recounted.
I didn't even think about it. The German media later made fun of me that Sammy Kuffour was kissing Oliver Khan."
That day Bayern beat Manchester United 2-1.
"I drove him that day from camp because his driving license had been seized for over speeding. We were very close and our homes were next to each other so I used to drive him to camp.
At the end of the day, we won and after the game, he came to me and said Danke (Thank you in German)."
This scenario teaches us to value life and go all lengths to ensure the safety of human life. Kuffour's gesture on the pitch showed that he was concerned about getting his teammate out of danger.
In his state of alarm and confusion, he did the right thing which eventually restored Oliver Khan. We must value human life.
The learning process never stops
Many attest to Sammy Kuffour's massive improvement of oratory skill and quality of language (English) over the years.
This was not achieved by folding his arms or sitting back and watching – he made genuine efforts and read his way to improvement.
One of the key endeavours that kept Kuffour relevant during his retirement was his punditry job with African pay-tv giants Multichoice DSTV.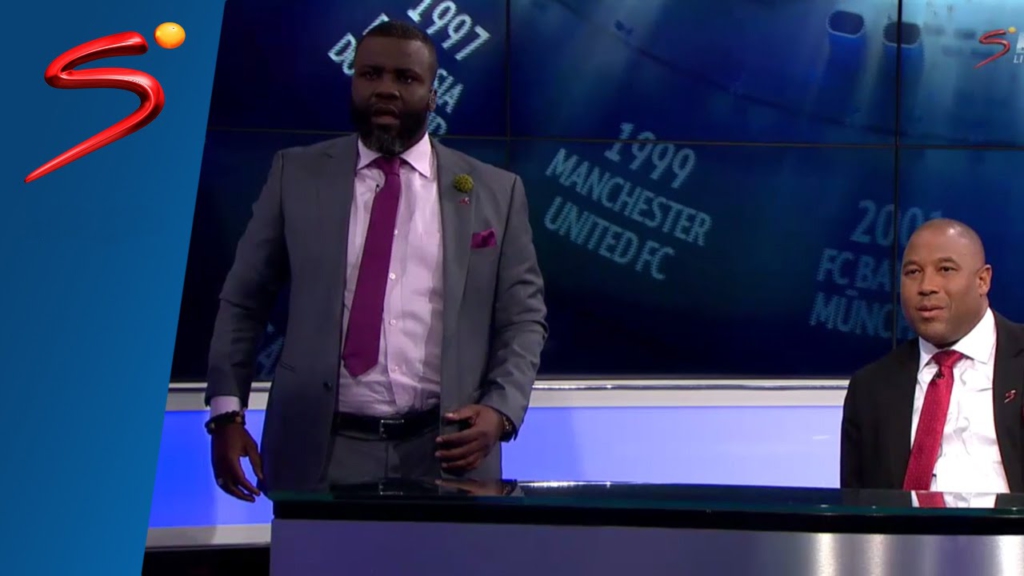 He made a big mark and warmed his way into the hearts of viewers across the continent with his delivery, which was a result of the constant preparation.
"I love to read and I love to challenge myself. You being a football star, you get to an interview with people and you don't want to embarrass yourself," he said.
In Germany, I was lucky to have good people around me so I needed to educate myself and enlighten myself. I bought a book authored by Joel Osteen and Archbishop Duncan Williams."
I was reading a lot.  They taught me many things about life. Life is not about speaking English alone, it's about how you treat people outside. Through reading, I got to enlighten myself."
In 2009 Kuffour got the opportunity to be a pundit for the FIFA Confederation Cup. He recalled that he was nervous initially but gained some confidence when he saw some ex-footballers he shared the pitch with and whom he looked up to.
"I told myself, I am not only doing this for myself but for my nation just like Kofi Annan told me."
"In 2001 we were playing a cup game in Japan against Boca Juniors, and Kofi Annan told me I was not only representing myself but my nation. He told me that he knew I would do well because he was also in the stadium. Those words were very encouraging," he said.
Kuffour also spent a lot of tie reading the bible because he sees it as the manual of life. The above experiences lend credence to the fact that the learning process in life must never stop.
Never forget your beginnings
He told me about his place in the streets and how he continues to be a 'street boy'
"My mum was one of the people who really inspired me. I saw my mum struggle with me and my three sisters, in an uncompleted building without water and electricity. It was a five-storey building and we were living there alone. Anybody could come in there and kill us for money rituals.
When success comes I cannot enjoy it alone. I have to share with others, especially my grandmother."
He admitted always having sympathy for the street hawkers especially the women, because his mum was in a similar situation years ago.
"Before, I used to give to them a lot but realized I was encouraging them to beg more so I stopped. I got a few of them together who were interested in going to school and financed them."
Recently I was driving to my office and someone informed me that the boys I sponsored to go to school had returned to the streets to beg. I was sad and I wept. It hurt me so much."
"It's not about the money I spent but returning to the streets. I was born on the street and I am still on the street. I cannot change that mentality. You can change it to become a better person but your soul heart and everything is there. "
"My life has changed I have never been to the university but live like someone who has been to the university. I wanted to help them change their lives so they could also inspire others to get there," he explained. 
The Bayern Munich legend wept upon hearing the street boys had run away from school to beg. Clearly Kuffour's awareness of the journey he has travelled always gives him a certain sense of discipline and desire to give back and help others grow.
By this account, Kuffour was only able to help the young street hawkers because he was previously in their shoes and feels their daily pain.
Unfortunately, the kids are adamant and would prefer to beg but at least the legend has done his bit. Our awareness of where we have come from helps us to keep humble and balanced.
Adjusting your crowd to help you grow
Sammy Kuffour told me about how he chose older friends who were experienced on how to invest his money.
"I will advise that you take older people as your friends. I have a lot of conversations with the players who are playing now"
"I am talking for myself because I experienced it and it worked for me. You can have loads of friends when you are playing but the question is, are they putting any business proposals on the table? It can be envy and jealousy.
If you want to help them do help them but they cannot give good advice on investments because they haven't been there and haven't done it before. For the players who use childhood friends as their advisers on business, it's a little fishy. Some of them can give wrong advice and sometimes out of envy and this could mess up your money."
You have to invest your money so that when you sit back, the money will work for you. He refers to ex Ghana International Tony Yeboah, who advised him to move to Accra and amongst many other pieces of sound advice.
Also, Ghana's departed statesman P.V. Obeng (former Adviser to Ghana's ex-President Jerry Rawlings), whom he describes as God sent. 
Tony Yeboah advised Kuffour to buy his first house in Regimanuel Estates in Accra. "For him to tell me to make that move shows that he didn't care about the existing circumstance but my future,"
The CEO of the Special Group also seems to have made massive impact on the Ghana legend's investment decisions.
"He would call me and say Sam I know you played this game and made some good money and let's purchase this property. By the time I realized I had acquired quite a number of properties."
"Dr Osei Kwame Despite, CEO of the Despite Group also checked on me and asked about how well I was saving money."
So in summary, Sammy Osei Kuffour chose a good crowd of seasoned entrepreneurs and professionals who gave him sound advice. He followed the sound direction and today he is still a millionaire. We must choose our crowds wisely
DISCLAIMER: The Views, Comments, Opinions, Contributions and Statements made by Readers and Contributors on this platform do not necessarily represent the views or policy of Multimedia Group Limited.