The Jubilee House, known to be Ghana's highest security zone and serves as the Office of the President, has been trending since last night.
The President together with American rapper Meek Mill were the most talked about on Twitter since the release of a music video by the rapper.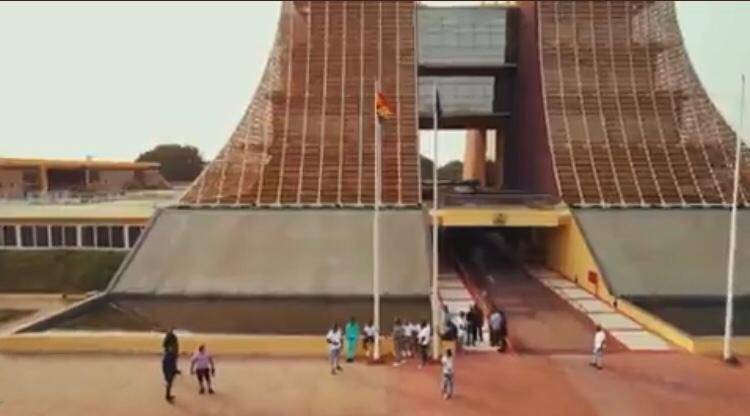 The teaser of the video featured some parts of the Jubilee House and most importantly, a podium at the Presidency.
The rapper was also seen in the company of some backing performers.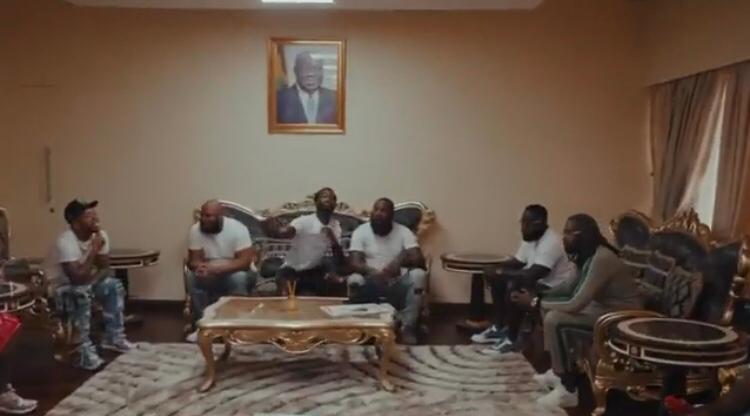 However, Ghanaians upon seeing the video have expressed their displeasure with the American rapper and President Akufo-Addo.
Comments making waves on the micro-blogging site say that the Jubilee House, which is the highest security zone in the country, has now become unsecured.
Meek Mill really shot a music video at Jubilee House?😱 This is the lowest point we can get as a country

What happened to "Jubilee House is a security zone"🤷🏿 Even American Embassy in Ghana, you can't take pictures and Ghana 🇬🇭 allows Jubilee House to become studio.We are FINISH pic.twitter.com/IddMo26j30

— Daniel Sackitey (@_danielsackitey) January 9, 2023
Director of Diaspora Affairs & Minister of Interior, y'all really get questions answer for that Meek Mill video oooo.. how's a drone being flown over the Jubilee house? As innnnnn???? You can't even shoot a photo at the Independence Square & not get jumped at by 'security' Herh!

— Ölele | Deep Throat Sauce🦅🎙🇬🇭 (@OleleSalvador) January 8, 2023
Where in the world can it's happen? Our country is in danger. My bothers and sisters don't laugh this is a crime and is unpardonable because we in danger ⚠️ now, we need to protect our jubilee house and if we can't as a state then we are not supposed to be a nation. pic.twitter.com/Zfq6S9vwUi

— steveJ (@DStevod) January 9, 2023
Bro? Is that The Jubilee House? Herh😭😭😭😭😭😭 pic.twitter.com/DBO2CLT8vu

— Kwadwo Sheldon (@kwadwosheldon) January 8, 2023
Chinese people dey destroy wanna waters bodies … ex convicts from US to dey invade wanna jubilee house.

What at all Ghanaian 🇬🇭do Nana Addo ? pic.twitter.com/usRtgNpLcx

— Paa Kwesi (@papakwesi_jr) January 9, 2023
Some comments also say that President Akufo-Addo has disgraced the Office of the Presidency.
Meek Mill dems are not even rated in the US, but they come to Ghana and get treated like kings.

The audacity for him to shoot a video in the Jubilee House shows how Addo D has cheapened the presidency.

Our leaders are not just CLOWNS; they're a LIABILITY to this country. pic.twitter.com/tL8dQzaxuq

— Albert Nat Hyde (@BongoIdeas) January 8, 2023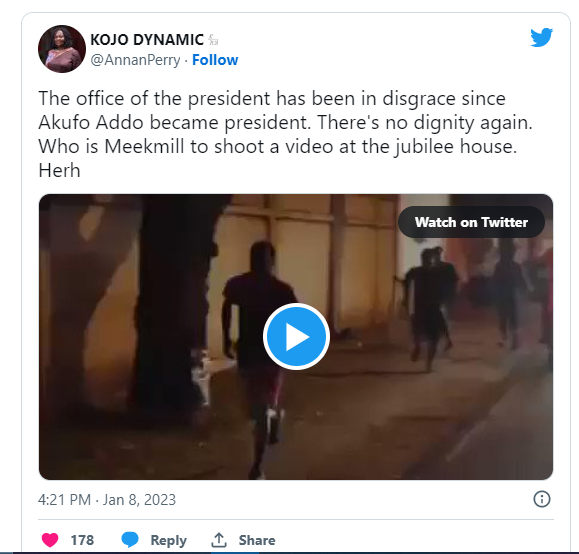 Is this the jubilee house ? Nana Addo and his family have reduced the image of Ghana to nothing. So because this guy is fucking the Akufo-ADDO's daughter, all his wishes must be granted. Nana Addo must be impeached. pic.twitter.com/bxtB7mPHRc

— NanaYaa Prempeh (@PrempehNanayaa) January 8, 2023
Nah!! This is getting serious, why are we allowing this? Can Meek Mill shoot a music video in the white house? Eii Gh lol 😆. What a country! We have given these guys too much liberty they don't even have in their country. #MeekMill pic.twitter.com/5s7svSzjId

— Rita Mensah (@justRitaMensah) January 9, 2023
Wooowwwwww, how much did the jubilee house charge for this video, & is this not a security zone again??? @NAkufoAddo @MBawumia pic.twitter.com/7LLDW75Cip

— Kwesi Mawusi ⚓︎ (@Vawul3nse) January 8, 2023
My only surprise is that I didn't see Meek Mill waving the State Sword as a sign of dominance and warning to rival gangs in the US. pic.twitter.com/p4JfXmLY0q

— AnthonyDzamefe (@AnthonyDzamefe) January 9, 2023
Someone should just add Addo D doing Fellow Ghanaians to the video then we know Show Boy is on some DJ Khalid ft Meek Mill sh*t 😂

Only way we accepting this Jubilee House video cosss!! pic.twitter.com/3ZqMMTstbp

— ESGinGhana (@KwameOApenteng) January 8, 2023
The MP for North Tongu Constituency, Samuel Okudzato Ablakwa has also expressed his concerns about the video. In his post on Twitter, the MP called for the dismissal of those responsible for the desecration of the Jubilee House.
All those responsible for this despicable desecration of the Jubilee House by Meek Mill must be fired immediately.

How do those explicit lyrics from the president's lectern project Ghana positively?

Is Ghana's seat of government no longer a high security installation? pic.twitter.com/Wwo2rbGIjl

— Sam Okudzeto Ablakwa (@S_OkudzetoAblak) January 9, 2023
See more reactions below.
Creatives would embark on personal projects to shoot photos/videos at some of our national landmarks and they're being harassed to the extent of being brutalized by some members of our security agencies stationed there.

There's a WHOLE MUSIC VIDEO SHOT AT THE JUBILEE HOUSE!

— Ölele | Deep Throat Sauce🦅🎙🇬🇭 (@OleleSalvador) January 8, 2023
Twene Jonas goes hard on President Nana Akufo Addo for allowing Meek Mill to shoot a music video at the Flag Staff House pic.twitter.com/tcmxoqWqkO

— Paa Kwesi (@papakwesi_jr) January 9, 2023
This is ridiculous.. this is the seat of government oo. The Jubilee House and Meek Mill then en boys dey move about like dem dey Circle🤦‍♂️ pic.twitter.com/21uVvwu0rX

— Starboy On Metro TV⭐️🇬🇭 (@DessyFayden) January 9, 2023
DISCLAIMER: The Views, Comments, Opinions, Contributions and Statements made by Readers and Contributors on this platform do not necessarily represent the views or policy of Multimedia Group Limited.