The Ghana Association of Medical Laboratory Scientists (GAMLS) has asked government to take steps to ensure the malaria vaccine is available to the target population.
On the commemoration of World Malaria Day on April 25, the Association noted that the prevention and control of malaria in the country demands continuous investment, standardisation and sustained political commitment by state actors.
Currently, the World Health Organisation (WHO) has approved the malaria vaccine known as RTS,S or Mosquirix to be used in Ghana.
The vaccine offers an additional option to protect young children from malaria and can be used alongside proven prevention tools.
After successful clinical trials of various stages in selected health facilities, the vaccine was accepted for malaria treatment, especially for young children below age five and pregnant women.
Meanwhile, the Medical Laboratory Scientists have requested that testing for malaria should be done before treatment of patients to help avoid wastage of the vaccine and other forms of treatments.
"A lot has been done through the National Malaria Control Programme (NMCP) to support medical laboratory services with logistics and competency training of qualified personnel over the years.
"GAMLS posits that malaria microscopy gold standard test is a skill that laboratory scientists go through further training to acquire. The profession recommends the use of competent malaria microscopists for quality and accurate results," a statement issued on Monday urged.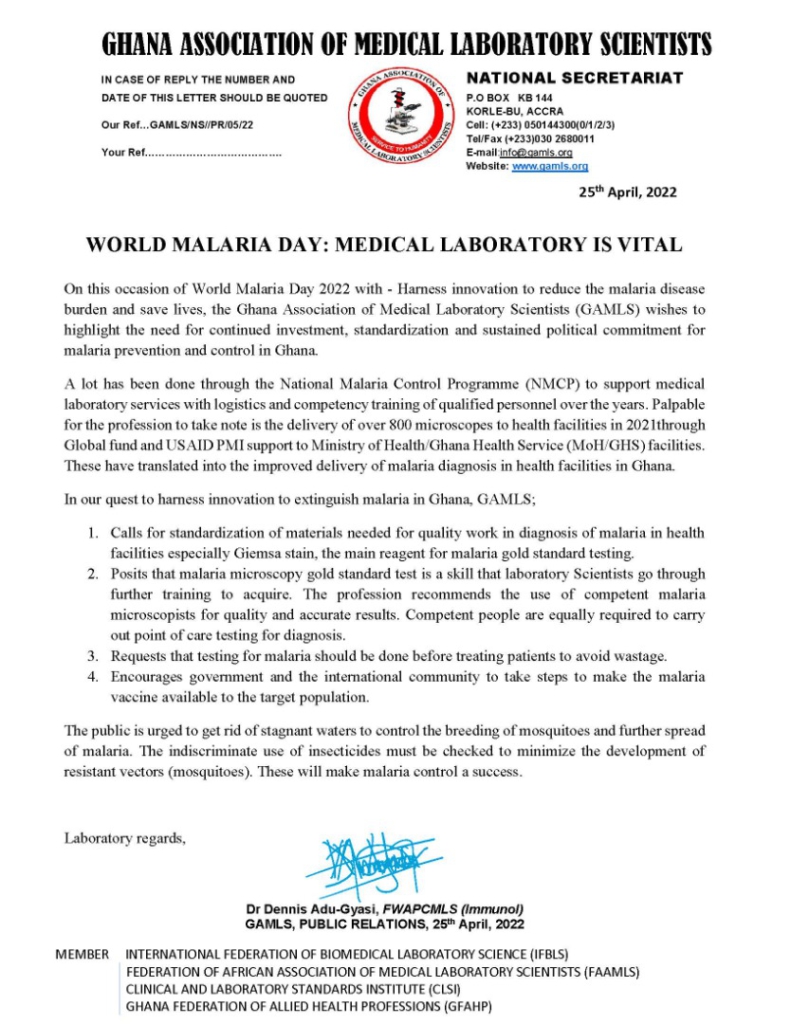 The public has been urged to get rid of stagnant waters to control the breeding of mosquitoes and further spread of malaria.
"The indiscriminate use of insecticides must be checked to minimise the development of resistant vectors. This will make malaria control a success," GAMLS noted.
Malaria is one of the world's leading killers of children. It is reported that every two minutes, the disease claims the life of one child.
Most of these deaths occur in Africa. It is estimated that about 20 per cent of all children have malaria parasites in their blood.
Ghana is one of three African countries, alongside Kenya and Malawi, that is carrying out the Malaria Vaccine Implementation Programme (MVIP).
Scientists have advised that the vaccine does not replace existing malaria control interventions.
Parents and caregivers are also cautioned to continue using the other interventions in addition to the vaccine.
DISCLAIMER: The Views, Comments, Opinions, Contributions and Statements made by Readers and Contributors on this platform do not necessarily represent the views or policy of Multimedia Group Limited.