The Group Head of Strategic Business Process Solutions Ltd (SBP) Africa, Akugiri Atoni Lamisi has urging final-year students at the University of Cape Coast to brace themselves for the world of work.
"You are not here to be trained to be employed, but you are being trained to provide solutions.
He said this when speaking on the sub-topic, "Employers' Expectations from Young Graduates" at a seminar organised in Cape Coast by the Dora Edu-Buandoh (DEB) foundation dubbed, "Build your Today for the Future".
Mr. Lamisi admonished the final-year students to stop believing that organisations are looking for first-class students to recruit. He indicated that, "the days of organisations pitching camps at various tertiary institutions to recruit first class students are no more. Organisations have limited scope for human resource capacities and that in the digital world today, solution-centeredness is the game changer."
He advised the final year students to embrace the spirit of volunteerism as it is a necessary ingredient in the recruitment process of most organisations.
He ended his talk by saying that, "the world is heading towards entrepreneurship and artificial intelligence (AI) is taking up a lot of roles in the world of work. That notwithstanding, digitalization is working hand in hand with human resources to develop solutions for social change and graduates must step up to the challenge of being solution providers".
The other panelists at the seminar also spoke on different sub topics. Dr. Irene Kafui Vorsah, a Data Analyst and a Lecturer of statistics at the University of Cape Coast, encouraged the final year students to take communication skills very seriously as communication – verbal and nonverbal – is an important social skill to sell oneself to employers and the outside world. She added that, "it is important to know who you are and identify your strengths and weaknesses as the foundation of knowing yourself to effectively communicate to employers after school". She concluded with these remarks: Every action has consequences, think about them and choose well because success in life depends on 'you' and no one else. She was speaking on the sub-topic "Building Social Skills for the Future".
Ms. Grace Abban-Ampiah, a Lecturer at GIMPA also spoke on the sub topic, "Volunteering: Giving Back to Society". She stated categorically that, "you can't give what you don't have". She indicated that volunteerism helps to build students up in developing communication, organizational, leadership, delegation and time management skills, which are essential in the world of work. She charged the students to, "Go out there to change someone's life today; aspire to inspire before you expire".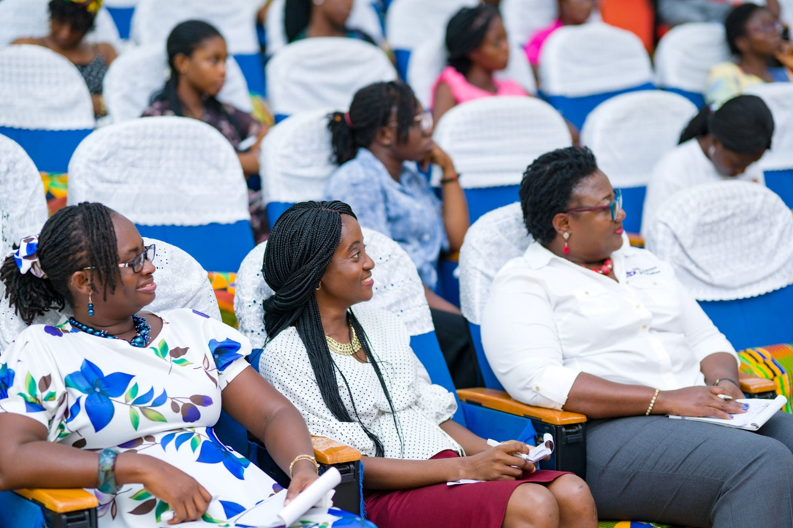 In her opening and closing remarks, Prof. Dora Edu-Buandoh, the Executive Director of the DEB Foundation, stated that, among other things, the DEB Foundation supports needy but brilliant university female students with financial support to enable them complete their education. Also, the Foundation organises leadership training and coaching programmes for university ladies to prepare them for their various future careers and endeavors. Hence, the "Build your Today for the Future" seminar is in line with the objectives of the Foundation. She expressed gratitude to the resource persons for their spirit of volunteerism and for making time to share practical knowledge and insights with the final year students.
Notably, Mr. Lamisi, who was the only resource person from industry practice, has over fifteen years wealth of experience spanning across industries having worked in the FMCG, telecommunication, online marketing and human resource management sectors in Africa. He has a proven track record of multi-cultural and interdisciplinary teamwork skills. He is the Founder and Group Head of SBP Africa, a full bouquet human resource management company operating in Ghana, Togo, Burkina Faso, Ivory Coast, Senegal, Nigeria and Kenya.
DISCLAIMER: The Views, Comments, Opinions, Contributions and Statements made by Readers and Contributors on this platform do not necessarily represent the views or policy of Multimedia Group Limited.