The years 2019 and 2020 brought their fair share of sour fortunes for Ghana's highest-rated boxers on the international scene. 
While 2019 brought the unfortunate loss of titles by then IBF titlist Richard Commey and Isaac Dogboe who held a WBO belt, 2020 saw Duke Micah, a worthy contender, miss out on an enormous opportunity when he became knockout victim to WBO bantamweight champion, John Riel Casimero.
Micah had travelled a good preparatory route to the championship but was unfortunately rendered a third-round TKO casualty.
In recent times, however, a boxer who was seen as a potential world-beater has started recording a chain of losses which raises cause for major concern. Heavyweight Richard Nii Lartey Harrison, who once had the potential to become a bright spot seems to be slumping into a valley of deterioration.
Lartey Harrison before defeats
His relationship with vibrant Ghanaian promotional firm Cabic was very healthy and the heavyweight was winning bout after bout. At the point where his local dominance had to be complemented with opportunities to step on bigger stages in boxing relevance, his promoters were up to it
Through the instrumentality of his promoters, he had two preparatory fights beginning from August of 2018. Harrison stopped Boniface 'Le Python' Kabore of Burkina Faso before a thick home crowd at the Bukom Boxing Arena to annex the interim WBO Africa heavyweight title. Four months later the Ghanaian delivered a ninth-round stoppage of Kenya's Morris Okola.
By virtue of these wins the 6' 5" tall Ghanaian had earned a place in the top 15 rankings of the WBO and was given a shot against Daniel Dubois. On hindsight, however, some may argue he needed another eliminator with a tougher opponent to prepare him.
The first opportunity
The vacant WBO Global heavyweight title was up for grabs and standing between Lartey and the title was British contender Daniel Dubios who had gone 10 bouts undefeated. Commentators for the bout complimented Harrison's good build and how he could possibly create discomfort for the champion Dubois. Contrary to their expectations, the Ghanaian proved a light feather.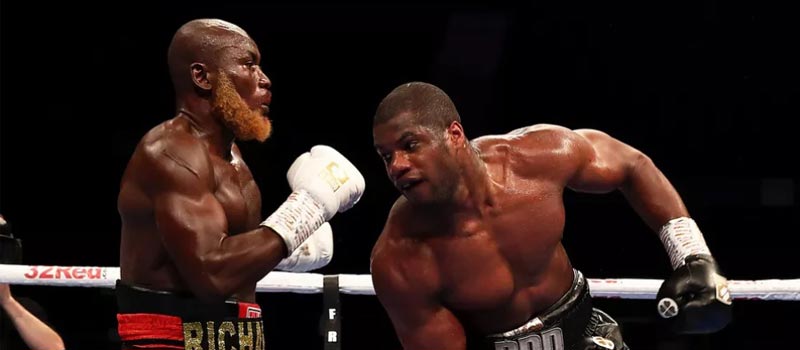 After showing a bit of promise in the first two rounds, Lartey was knocked down in the fourth and that wrapped it up for the night. The poor form shown was criticized heavily with many wondering whether Lartey could make any meaningful impact in the division which Ghanaians are not used to. Due to the average physical characteristics of Ghanaians, most boxers who made impact did so between the bantamweight and welterweight divisions.
End Analysis
Lartey has a choice to make – to get back on winning his bouts or forget making any major impact on the sport.  He can also decide to be that journeyman ready to offer few rounds to opponents to help them better their respective records or move onto bigger bouts and opponents.
The second option may sound the easy way out but could come with some demerits. Boxers aside the greatness, also want to make good money. A journeyman may not be able to command the big bucks to make them comfortable and make up for all the sweat and toil in the gym. There is an existing phenomenon in the sport which sees boxers resign themselves to 'stepping stones' for other boxers whose promoters have big interests within the sport. He could decide to be one or otherwise.
All this is happening on the back of recent issues with his management team, Cabic Promotions, which have now been resolved. Lartey signed for the Gorman and Wardley fights on the blind side of the management. On each occasion, there was back and forth but after all these, Lartey has been given the blessing to fight and make ends meet.
The ball is in his court. He can decide to become an ordinary statistic in the space or make his fans remember him for big exploits. it's not too late.