Defeated NDC Youth Organiser candidate, Brogya Genfi, says he will soon react to the taunts from his opponent, George Opare Addo, popularly known as 'Pablo'.
In a Facebook post on Tuesday, he stated that he has taken note of the 'unprovoked attacks' from Pablo, and will soon react to them accordingly.
'Notice is served!', Brogya Genfi warned in his post; while calling on his supporters to remain calm amidst the provocations from Pablo.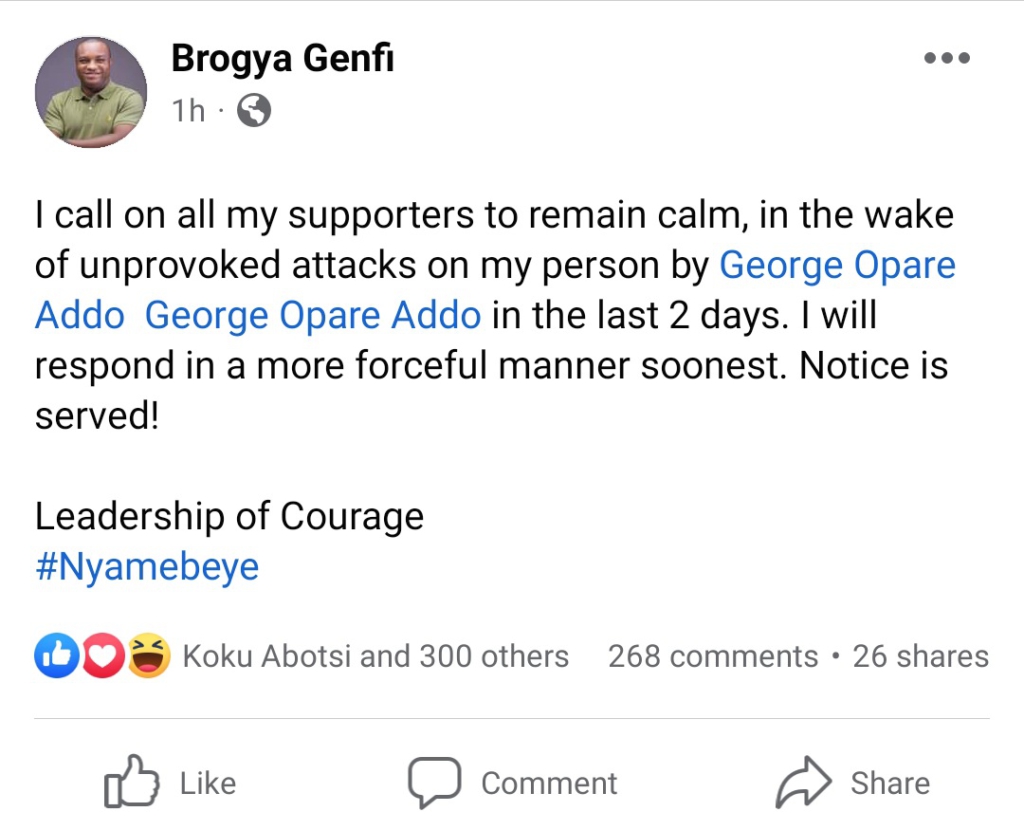 The caution from the former Ashanti Regional Youth Organiser of the NDC comes in the aftermath of an interview by the re-elected NDC's Youth Organiser, George Opare Addo.
Speaking on Adom TV's morning show, Badwam, on Tuesday, Pablo expressed his reservations about the conduct of some party members in the recently held NDC Youth Organiser elections in Cape Coast.
According to him, the unnamed party members attempted to deliberately manipulate events to favour his contender, Brogya Genfi.
This he described as unfortunate; warning that his outfit is prepared to take on anybody who decides to contest his re-election which he says, he won solely on 'merit'.
Expressing his anger, Pablo said Brogya Genfi himself can proceed to court to contest the outcome of the polls if he so desires; adding that, 'any idiot can go to court'.
These comments from Pablo subsequently went viral in some NDC circles; hours after which Brogya Genfi also took to his Facebook wall to announce his intention to retaliate to the 'unprovoked attacks' from Pablo.
Earlier, Brogya Genfi had stated that Pablo's victory was not credible, arguing that the election on last week Saturday was engineered against him.
In a statement on Tuesday, he questioned the integrity of the process and stressed that, the contest was far from over.
There now appears to be heated tension between the two youth activists, who were engrossed in a fierce contest for the position of the NDC's National Youth Organiser on Saturday.
The incumbent National Youth Organiser of the NDC, George Opare Addo, however retained his position after the contest; beating his sole contender, Brogya Genfi for the second time.
Pablo, as he is affectionately called, obtained 533 votes, while Brogya garnered a total of 508 votes of the valid votes cast; a difference of 25 votes.
Pablo's win marks his second successive victory over Brogya Genfi, after beating him in the 2018 contest.
Having retained his seat, Pablo, a trained lawyer, will serve as the leader of the party's Youth wing for the next four years; leading the NDC's youth into the 2024 general election.
In the race for the party's Deputy National Organiser, Osman Abdulai Ayariga and Ruth Dela Seddoh emerged victorious in that regard.
Ruth, who is the incumbent garnered 313 votes, while Osman Ayriga led the race with 373 votes.
Central Regional Youth Organiser, Eric Dadson, followed third with 150 votes.
Meanwhile, the NDC will hold the next phase of its national delegates conference on Saturday, to elect a new national chairman, secretary and persons to occupy other portfolios.
DISCLAIMER: The Views, Comments, Opinions, Contributions and Statements made by Readers and Contributors on this platform do not necessarily represent the views or policy of Multimedia Group Limited.