The Komenda Edina Eguafo Abirem (KEEA) Municipality of the Central Region has inaugurated sanitation guards.
The guards have been empowered with resources to move to the beaches and households to arrest and ensure the prosecution of sanitation offenders in the Municipality.
Municipal Chief Executive for the Komenda Edina Eguafo Abirem, Nana Appiah Korang, intimates the inauguration of the Sanitation guards by the assembly is part of the elaborate plan to ensure compliance with the assembly's bye-laws on sanitation.
Speaking at the inauguration of the sanitation guards, Nana Appiah Korang revealed the assembly was rolling out plans to end open defecation and make Elmina the cleanest City in the Central Region.
He tasked the guards that have come to augment the existing officers to collaborate to ensure that open defecation, indiscriminate disposal of refuse, and litter on the streets become alien in the district's narrative.
"We are determined to make Elmina the cleanest city in the Central Region. We will do more even to make it the best in Ghana. We need to up our game and create the enabling environment to attract the top-of-the-range businesses to our Municipality," he says.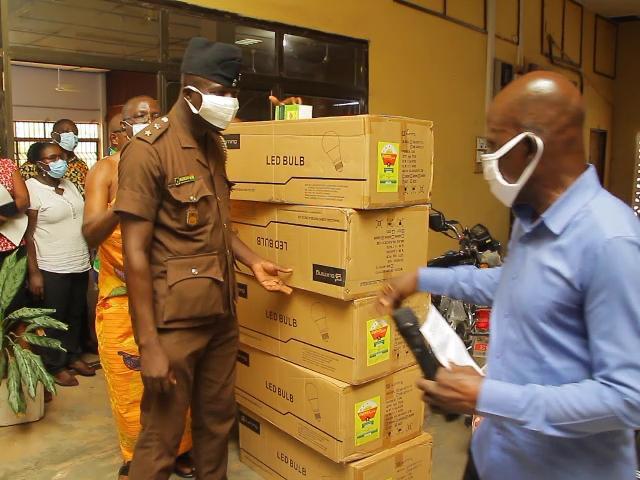 He says the distribution of the motorbikes is to aid the sanitation guards in their day-to-day activities.
"We would inject more resources to our sanitation agenda and ensure that we attract tourists and businesses, "he intimated.
The MCE was unhappy with the Municipality's performance in terms of education and said there are signs of progress and the assembly would do a lot more to consolidate the gains made.
The Assembly, apart from distributing motorbikes to the environmental officers and sanitation guards, also distributed street lights to the Ankaful maximum security prisons to enhance security at the prisons.