Felicity Incoom, a student of the Kwame Nkrumah University of Science and Technology (KNUST) came out as the overall winner of the MTN Pulse Business Challenge competition, taking home the cash prize of ¢10,000 MTN souvenirs.
The first runner-up was Samuel Safo Owusu-Acheaw, a student of Ashesi University, winning a cash prize of ¢3,000 and MTN souvenirs James Alvah Damptey of University of Professional Studies (UPSA) was the second runner-up who went home with a cash prize of ¢2,000 and MTN souvenirs.
HR Focus Africa organised this competition in partnership with MTN Ghana, to capture and nurture business leadership in students across tertiary schools in Ghana.
The competition spanned a period of 5 weeks, and involved challenges of different forms, presentations, and career development training sessions.
The competition's final event was held at the MTN Head office last Thursday.
Speaking to the winner of the competition, she told the story of how she was inspired by the KNUST team from the previous years' competition.
She said, "2020 has been hard so I decided to give the challenge a go and try to end the year on a good note."
In spite of the global pandemic, the HR Focus Team redesigned the competition to allow individuals to represent their schools and pursue this life transforming endeavour.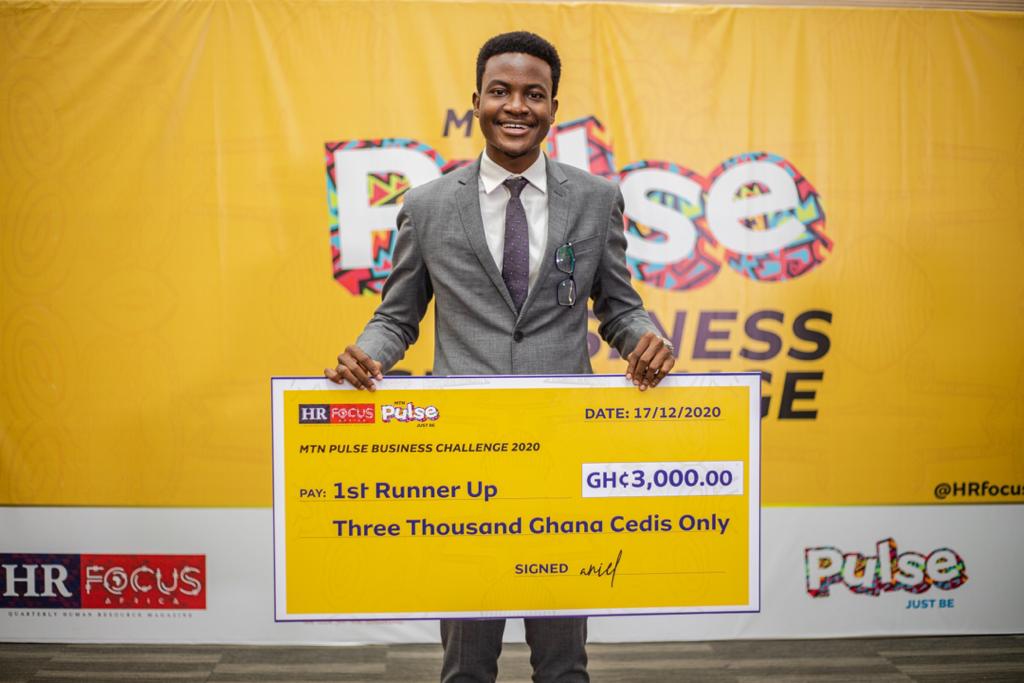 The first runner up, Samuel Owusu-Acheaw shared with the HR Focus Team that he was inspired by his school.
He said, "the atom of my experiences in my four-year stay in Ashesi, has been strongly girded by Patrick Awuah's speech at my matriculation three years ago which contained a quote by Johann Wolfgang von Goethe: "Whatever you do, or dream you can, begin it. Boldness has genius and power and magic in it".
"My participation in the MTN Pulse Business Challenge 2020 is a mere expression of Patrick Awuah's speech."
The goal of HR Focus Africa's strategic partnership with the MTN Pulse brand was to give students a chance to believe in themselves and "Just Be", as the slogan suggests.
Truly, this was a reality for James Damptey, the second runner up who informed us, "The zeal to make a difference is what pushed me to be part of the challenge and it has opened me up to so many other opportunities. I challenged myself at the end of the day and so it's a win for me,"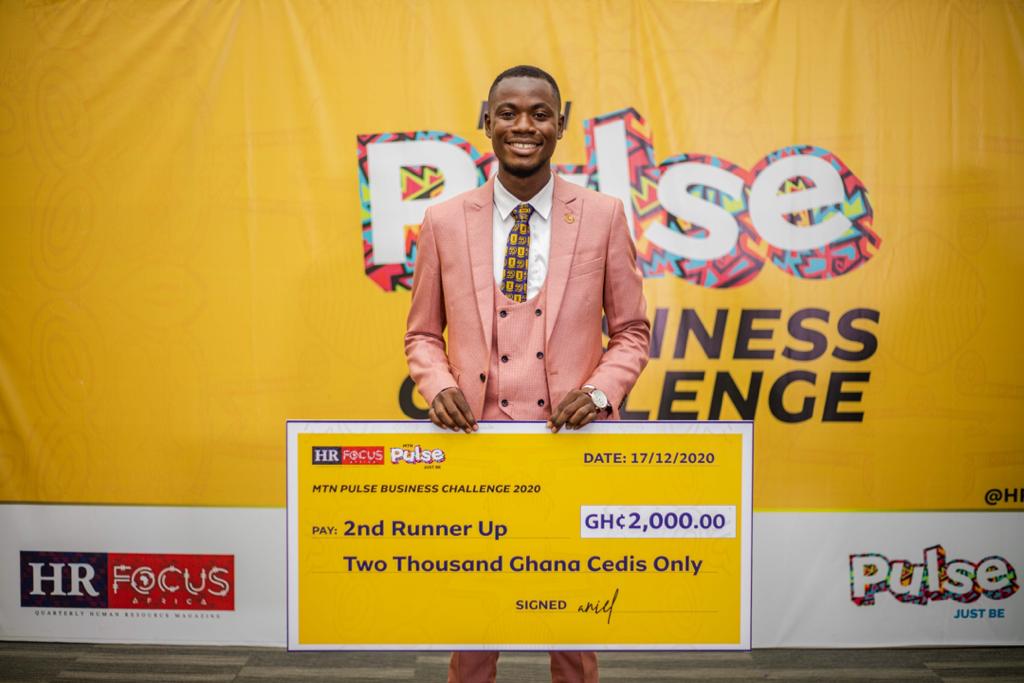 Sitting as judges for the finals of the competition were Nana Asantewaa Amegashie, Senior Manager, Segment Marketing, MTN Ghana, Kofy Hagan, Executive Director, L'AINE Services / HR Focus, and Kwabena Oppong-Nkrumah, Country Manager (Marketing) Sports Betting Group Gh. Ltd.
The competition attracted over 30 participants across universities in over four regions in Ghana.
Some of the schools represented include: KNUST, UPSA, University of Ghana, Ashesi University, Takoradi Technical University, Wisconsin University, Ghana Institute of Journalism, KAAF University, All Nations University and University of Energy and Natural Resources.
For participating and putting their best foot forward, students who made it to the top ten in the competition were awarded with souvenirs from MTN.
The competition was a fruitful one, and positively impacted the lives of all participants in one way or another.