A swift intervention by fire officers prevented what could have been one of the biggest fire incidents in the Garden City, as a textile shop caught fire at the New Kejetia Market.
The fire which started at about 18:15 p.m. from one of the shops on the F-Line (first floor of the market) took the Kejetia Fire Post officers about 40 minutes to douse.
The firefighters had to force opened the shop which had already been engulfed in smoke.
Officer in charge of Kejetia Fire Station, ADO II Opoku Ebenezer told JoyNews he and his men activated all fire installations, including automatic sprinklers and water hydrants installed at the market.
"We started [turning on] our sprinklers and the sprinklers started dousing the fire. We have all the fire installations around. We have hydrants, sprinklers, hoses, everything is around here".
"The actual cause of the fire is under investigation. We are still investigating the cause of the fire," he added.
The brave act from the fire personnel has earned the respect of Kumasi Mayor, Ossei-Assibey Antwi who commended fire personnel for their timely intervention.
"It was one shop that was in flames but with the timely intervention of the firefighters and with also the sprinklers working as well as the hydrant working, we were able to quench the fire."
"In fact, in Kumasi, we are so fortunate that we have expert fire service personnel like the regional commander [and] metro fire commander. Look at the expertise that they just exhibited now.
"Everybody here was applauding them," he added.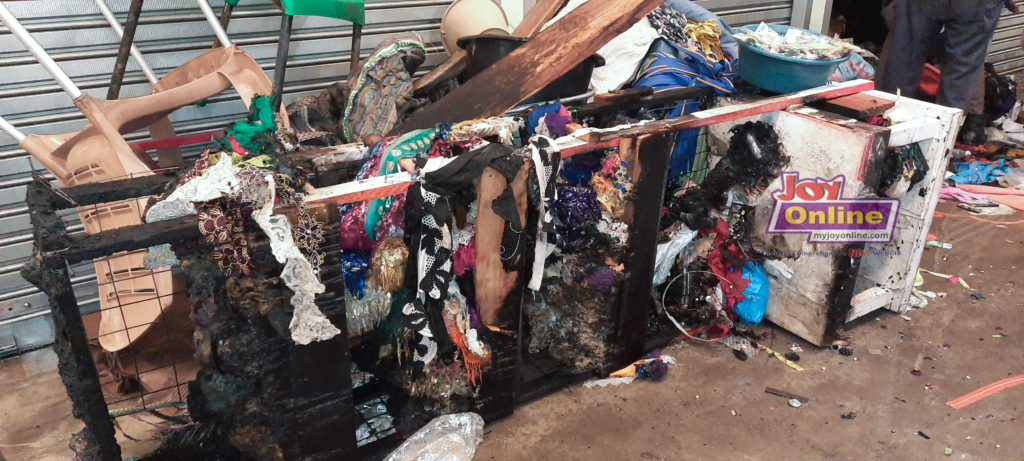 Mr. Osei-Assibey who visited the market Tuesday evening says fire officers met all electrical gadgets switched on in the affected shop.
"In fact, after quenching the fire, they saw that all the electrical appliances were on but as to the reason why the fire [started], that can only be ascertained by the Fire Service personnel.
"We will leave it to their expert judgement for them to come out with a report for the exact cause of the fire," he said.
Although the cause of the fire is yet to be determined, it is suspected that a welding machine left unattended to in that textile shop may have triggered the fire.
Tuesday evening's fire at the New Kejetia Market was the second fire incident in less than 24-hours in Kumasi after fire razed makeshift structures in the Krofrom Market.
The Fire Service says 8 people have died from 127 fire cases recorded between January and April 2021.
Mr. Osei-Assibey is concerned with fire incidents in the metropolis.
"It's a real major concern because even if we lose one life, we have lost a whole lot. You wouldn't know what that one life we lost was going to do for this country."
DISCLAIMER: The Views, Comments, Opinions, Contributions and Statements made by Readers and Contributors on this platform do not necessarily represent the views or policy of Multimedia Group Limited.