The Westminster attacker was British-born and known to the police and intelligence services, the prime minister has revealed.
In a statement to the Commons, Theresa May said he had been investigated some years ago over violent extremism but had been a "peripheral figure".
"He was not part of the current intelligence picture," she said.
Eight arrests – at least four of which happened in Birmingham – followed Wednesday's attack that left four dead.
Those that died are PC Keith Palmer, Aysha Frade who worked at a London college, a man in his 50s and the attacker.
Seven of the injured are still in hospital in a critical condition.
A further 29 had been treated in hospital, Mr Rowley added.
In the attack on Wednesday afternoon, a man drove a car along a pavement on Westminster Bridge knocking down pedestrians, creating panic and leaving dozens injured.
He then ran towards Parliament where he stabbed PC Palmer who was unarmed. Armed police then shot dead the attacker in the grounds.
Mrs May paid tribute to PC Palmer saying: "He was every inch a hero and his actions will never be forgotten."
She also said one of three police officers injured as they returned from an event to recognise their bravery was in a stable condition.
She told MPs, many of whom had been caught up in the commotion: "We will never waver in the face of terrorism."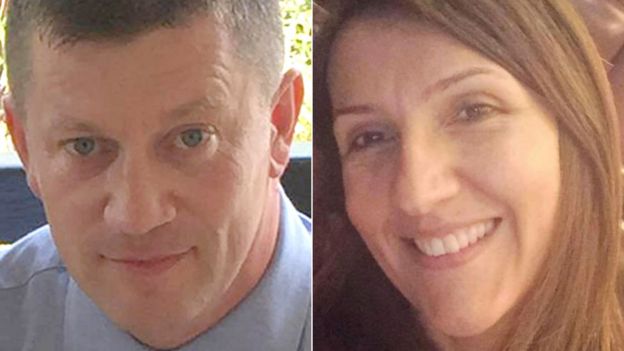 PC Keith Palmer stopped the attacker in his tracks, Aysha Frade would be deeply missed by all, the principal at the college said
Mrs Frade worked at a London sixth form college just a few hundred metres from Westminster Bridge.
Principal at DLD College, Rachel Borland, said she was "highly regarded and loved by our students and by her colleagues".
Mrs May said 12 Britons were admitted to hospital and other victims included three French children, two Romanians, four South Koreans, one German, one Pole, one Irish, one Chinese, one Italian, one American and two Greeks.
Thierry Terret, who is in charge of schools in Brittany, said the three injured students were not in a life threatening condition and were expected to be back home by Friday.
An emotional James Cleverly MP asked Mrs May to consider recognising posthumously the "gallantry and sacrifice" made by PC Palmer, who he knew from his time in the Army.
In a statement made earlier outside Scotland Yard, Acting Deputy Commissioner Mark Rowley said seven arrests had been made during raids in London and Birmingham – an eighth was announced several hours later.
"It is still our belief – which continues to be borne out by our investigation – that this attacker acted alone and was inspired by international terrorism.
"To be explicit, at this stage we have no specific information about further threats to the public."
He urged journalists not to publish the attacker's name while searches were continuing.
He said Londoners should expect to see more police officers on the streets, after officers' leave had been cancelled and duty hours extended.
It was initially thought that three members of the public had been killed on Westminster Bridge, but Mr Rowley referred to just two in his statement.
Director General of MI5 Andrew Parker condemned the attack as "appalling and disgusting".
The agency's operational response was "fully mobilised in support of the police", he said.
Brendan Cox, the husband of murdered MP Jo Cox, said it was important to remember that "this was a story about people who didn't come home yesterday".
US President Donald Trump was among world leaders to offer their support to Mrs May, tweeting: "Spoke to UK Prime Minister Theresa May today to offer condolences on the terrorist attack in London. She is strong and doing very well."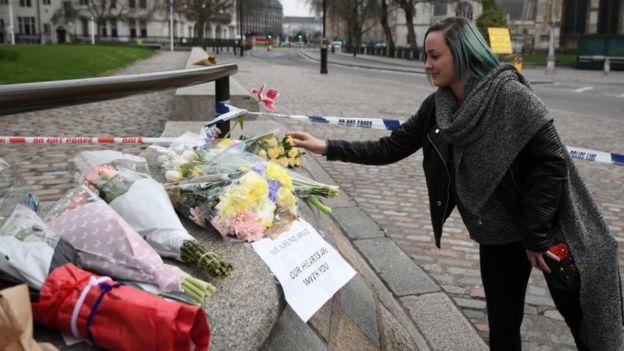 A woman lays flowers near the scene of the attack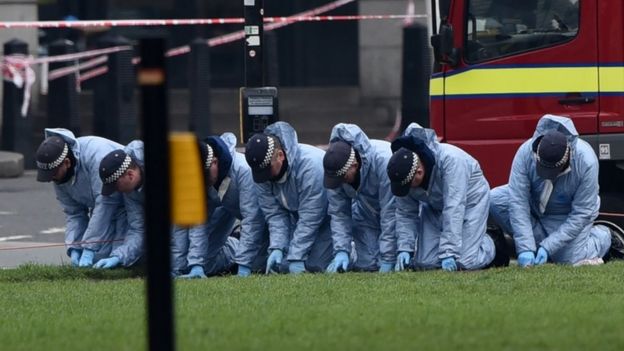 Forensic officers scour Parliament Square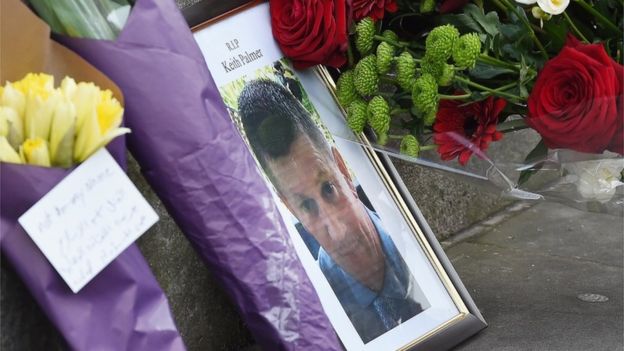 A photo of PC Palmer is placed among floral tributes on Whitehall
DISCLAIMER: The Views, Comments, Opinions, Contributions and Statements made by Readers and Contributors on this platform do not necessarily represent the views or policy of Multimedia Group Limited.