It is safe to say I underestimated how much my body and mind would be affected by traveling. Of course, we all experienced slight culture shock, but our minds and bodies soon experienced a transition.
On the first day, I came in with an open mind. I was overwhelmed by new ways of interacting with people who are different and the many cultural foods, but this was the first step to learning; adjusting.
The first meal we had was fried rice, jollof rice, fish stir-fry, beef stir-fry, and potatoes. We also tried some fresh pineapple juice.
This seasoned meal was different than anything I eat regularly. It was spicy, and I never eat spicy food. My body did not respond immediately to the first meal.
For dinner, our second meal, we had more chicken fried rice. This meal was even spicier. At this point, my stomach was catching up with me.
My body started fighting me, and I felt tired and sick. I continued to feel like this for the first few days.
Our professor warned us that we would have to adjust to living in Ghana, but I was not aware of the severity of the transition.
While the food contributed to the difficult adjustment, the heat also had an impact. When I arrived at the hotel, I immediately began dripping sweat.
The air conditioning was off, and the humidity was high. My body handled the heat on the first day, but by the second and third days I became more exhausted.
I started drinking liquid IV, which helped my body adjust to the new climate.
While my body took some time to adjust, as did my mind. In Ghana, I did not know what to expect, and I knew very little about the culture.
I was in shock by many things in the beginning. When the bus picked us up from the airport, we took a bus to the hotel.
The way Ghanaians drive is much different from how Americans drive. It is every man for themselves. The traffic was dense, and I was shocked by the large size of Accra.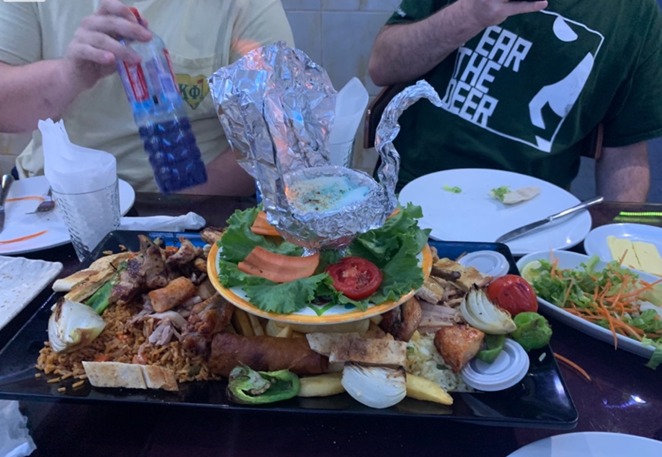 Something else that surprised me was the dos and don'ts of Ghanaian culture. For example, you never use your left hand to give and receive things.
It is also not appropriate to cross your legs with your foot pointed at another person, as it is considered rude. We learned about how to speak to local Ghanaians in common greetings.
It is important to say hello and ask how they are doing before you ask anything more. If you do not do this, they will consider you to be rude.
These are cultural things we learned about throughout the week on our bus rides with our guide, Mr. Brite.
I have taken the time to help my mind and body adjust to living in Ghana. As it was difficult to make this transition, I think that I have finally become comfortable in this climate, eating this food, and interacting with locals in Ghana.
I am enjoying the educational experience in another country because I am improving many useful skills from the emersion in Ghanaian culture, such as people skills, communication skills, and cultural awareness.
Life in the City of Accra
Think of a busy city, with traffic, pedestrians, large buildings, and more. Accra is exactly that. I did not expect a thriving city in Ghana, because of the media's misinformation.
The media led me to believe that since Ghana is a developing country, I would not see booming cities. But upon arrival, I saw numerous large colorful buildings.
When driving through Accra, I find something different that catches my eye each time.
As mentioned in my previous travel journal, the traffic makes life in the city difficult. It is dangerous because it is difficult to navigate, especially during rush hour.
On the first shadowing day at The Multimedia Group building for Joy FM, Kelsey Watkins and I took an Uber to the city.
It took us about 40 minutes to get to the workplace, and it was only 5 miles away. A long commute is an adjustment.
When we arrived in Accra, we walked the streets on our way to the Joy FM office building, and we got to see some of the surrounding businesses and restaurants.
We passed a few food stands set up along the street and people selling drinks as we walked by. Many pedestrians and people were rushing to work.
We passed many businesses that range from media buildings to offices of all kinds.
The people in the city are on a mission. Everyone we passed had somewhere to be, and nothing would stop them from being on time.
Upon our arrival at Joy FM, we were greeted and taken to where we would be working. This media center is exactly what I imagined it to be. Chaotic.
The people in the office are running many different stories on different platforms, and they must follow a tight schedule.
We observed people writing the next breaking news stories and radio shows, people on television, sound engineers, and radio stars. We walked around observing each room.
There is almost always someone on the air. The constant flow of people was overwhelming at first as I did not know how they schedule their shows and how they flow. I did my best to stay out of the way.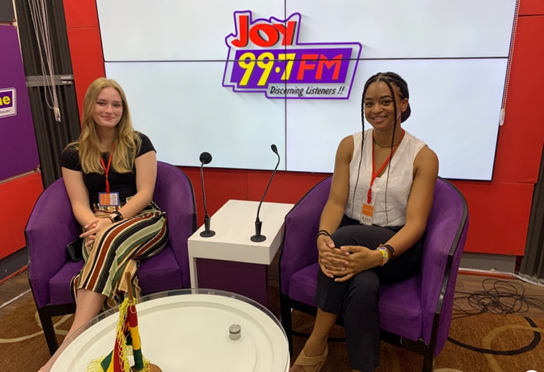 The work environment is much different here. In every job shadow opportunity, I have done, the environment is friendly, but quite usually. Most people are there to work and nothing more or nothing less. In the Joy FM office, the workers are friends.
Throughout the day, they make more of an effort to greet each other and build relationships. They chat and laugh, and their energy makes me want to be a part of their network! They check up on each other and ask if they need help.
They handle their frustration very well, and everyone seems to get along. Joy FM is the exact type of place I want to work in one day.
Life in Accra is busy but enjoyable. Ghanaians are hard workers and have a lot of knowledge in their areas of expertise.
Not only that, but they treat each other with respect, and all seem to have a passion for their profession. These experiences made life in the city enjoyable.