Chief Executive Officer of MTN Ghana, Selorm Adadevoh has reiterated the Company's commitment to supporting Ghana's quest to build a digital economy by investing in technology infrastructure.
He was speaking during an anniversary dinner held for external stakeholders to climax MTN Ghana's 25th anniversary celebrations.
Mr. Adadevoh said, "we demonstrate this commitment with our pledge to invest over USD1 Billion in infrastructure and information systems in the next 5 years, starting this year.
He also announced support for government's ICT developmental initiatives which is being done through the provision of an ICT Hub and the establishment of West Africa's first Innovation City in Ghana.
Addressing stakeholders made up of government representatives, business partners, customers and a cross section of media associations, Mr. Adadevoh explained, "We see Ghana as the most strategically placed country to be a digital hub in the region, exporting skills and services to diversify and accelerate GDP growth. This makes technology leadership in the region an imperative for Ghanaian SMEs to be relevant in an AFCFTA era".
In addition to supporting digital initiatives, MTN Ghana Foundation will undertake two legacy projects by constructing a modern 60-bed maternity and neonatal center for the Keta Municipal Hospital at a cost of GH₵9 million and invest GH₵1.2 million in building a STEM Robotics Lab for the Mamfe Girls' School and surrounding communities.
The Senior Advisor to the President Mr. Yaw Osafo -Marfo who represented the Vice President commended MTN for its investments in the telecommunications industry.
He called on the organization to extend its services to support the Ministry of Education.
He asked, "what plans has MTN got to assist our Ministry of Education to make a success of digitalization in education" he therefore appealed to MTN to think through and open discussions with the Education Ministry on this crusade. Education must drive digitalization, he added.
In a speech read on her behalf by the Deputy Minister of Communication, Minister of Communications, Mrs. Ursula Owusu Ekuful noted that MTN @ 25 is a beautiful story. She said," the next chapter of this story should be one of collaboration- MTN's success should be the engine that drives the collective and sustainable growth
of the entire industry to achieve Ghana's digitalization agenda." She expressed the appreciation of Ghanaians to MTN Group for believing in Ghana and consistently investing in the country over the years.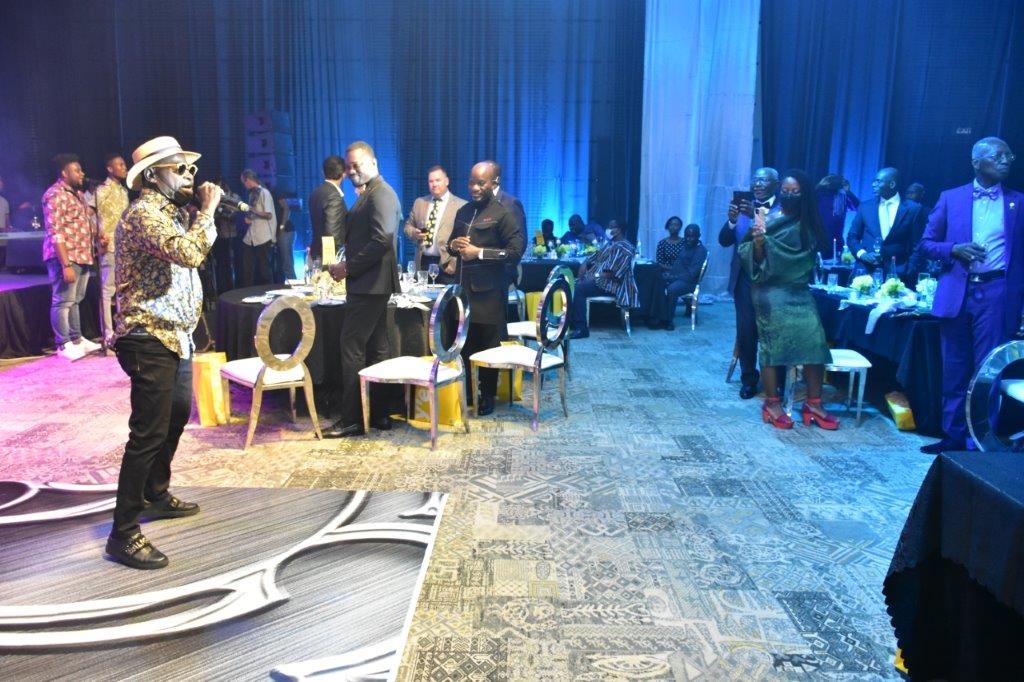 MTN launched its 25th anniversary celebration in June this year and has marked the celebration with various activities including customer promotions, stakeholder engagements, support to Government ICT projects as well as entertainment and sports activities across the country.
Notable personalities who graced the stakeholder anniversary dinner include, the Finance Minister. Hon. Ken Ofori -Atta, Deputy Minister of Communications, Ama Pomaa Boateng and Deputy Minister of Education, John Ntim Fordjour.
The rest are; Chairperson Parliamentary Select Committee for Communications, Cynthia Maamle Morrison, MCE for Korley Klotey, Nii Adjei Sowah, the Board Chairman of MTN Ghana, Dr. Ishmael Yamson and other Board Members, Board Members of MTN Ghana Foundation, and CEO of Ghana Telecoms Chamber-Ing Kenneth Ashigbe.
Other stakeholders in attendance included former President of the Ghana Journalists Association and other MTN business partners, Distributors, Suppliers, and members of the media fraternity.
*****
About MTN Ghana
MTN Ghana is the market leader in the increasingly competitive mobile telecommunications industry in Ghana, offering subscribers a range of exciting options under Pay Monthly and Pay As You Go Services and Mobile Financial Services.
The company has committed itself to delivering reliable and innovative services that provide value for subscribers in Ghana's telecommunications market. Since its entry into Ghana in 2006, MTN has continuously invested in expanding and modernizing its network in order to offer superior services to a broad expanse of the nation.