As a journalist with almost two decades of experience, I am very aware that your credible source is always your spot of reverence. Your source guarantees your content so the more forthcoming your source is the more you remain in business.
The late former President Rawlings over the years has proven a great storyteller and has used many formal and informal occasions to share some of his very valuable life experiences. And, of course, the Rawlings headlines always drew in the audience numbers and spiked the trends, once they were published on varied platforms.
After his passing, I have been reflecting one some of these moments with the late former President which lends credence to my conclusion that he was a source every journalist needed to revere and keep.
Supervising the blind Steve Wonder to fly a plane
One fine late afternoon, in May 2014, we honoured an invitation to President Rawlings Ridge office for a presentation and news conference. What was it about? Two Ghanaian boxers, Ayitey Powers and Bukom Banku had headlined a fight night which passed as one of the biggest local sporting events after the 2008 Africa Cup of Nation's finals hosted in Ghana.
The cruiserweight bout staged at the Accra Stadium on May 15, 2014, and promoted by Box Office Promotions, ticked all the boxes in terms of pre-fight hype, public enthusiasm and entertainment value. I honoured the former President's invitation in different capacities – linguist/MC for the day, the ring announcer of the historic bout, a member of the Ghana Boxing Authority's delegation accompanying the boxers and a journalist.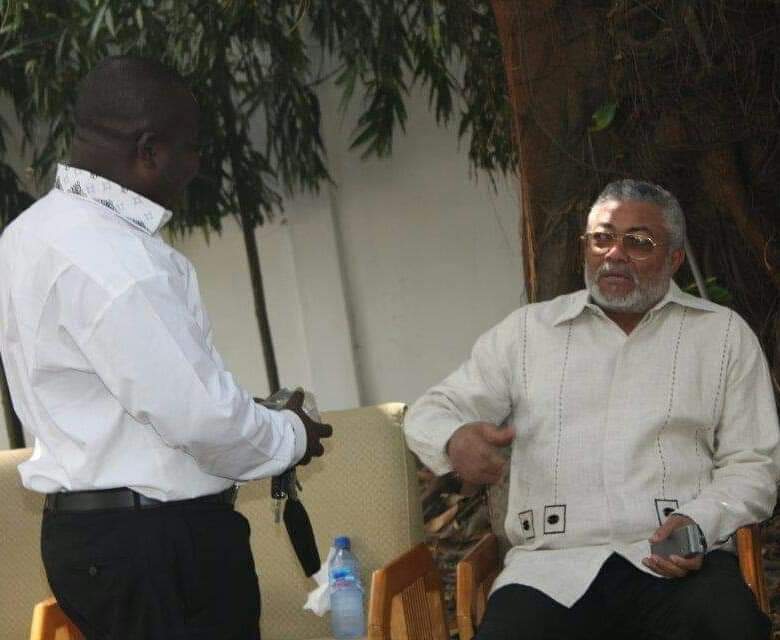 President Rawlings, by that invitation, wanted to say a symbolic thank you to the two boxers for putting up such a great fight. Mind you, President Rawlings was not a stranger to boxing. He supervised the Armed forces boxing team during his active military stint and contributed greatly to the making of Ghana and Africa's greatest boxer, Azumah Nelson.
Most importantly, he was at the Accra Stadium to watch the fight at ringside in the company of his wife, Nana Konadu Agyeman Rawlings. So all journalists and other invitees gathered outside the President Rawlings' main office building in Ridge, Accra and after a few minutes, joined the gathering.
After extending warm greetings, he said to us in the local Ga language "The items to be presented to the boxers are delayed so please put off your cameras so we can chat a bit." All obliged. He wore a simple cream coloured linen shirt over a pair of black.
The affable and humorous former president started giving us a lesson on the fear of the unknown, clearly a random topic but presented to us with great depth and apt illustration. He revealed to us the everyday fears of his colleague pilots when they are approaching big runways to land their aircrafts.
"Pilots are always intimidated when they are approaching big runways to land," he said. He then juxtaposed it against the scenario of the blind global superstar, Stevie Wonder, whom he once guided with very little instruction to fly a plane.
According to President Rawlings, Stevie Wonder followed the instructions and flew very smoothly. "At a point when we were mid-air, he pulled a stunt which is only done by trained pilots. So I confronted him that he had been to flying school before and his response was negative. I asked and again and his answer remained the same," Rawlings recollected.
He revealed that Steve Wonder had to sign an agreement with an Italian TV crew who were on board not to show that tape because nobody would have believed he was a blind man again if they had seen the footage of him in the cockpit.
By this account, the former president had given all journalists an extra story and sound bite to take way with them to their respective newsrooms. Every journalist prays for days like that where the content or story found its way to you instead of vice versa.
He had a way of winning people over
Yes! this is the same Rawlings that some would hardly want to see due to political differences and some unfortunate happenings in the past but hey Rawlings will win you over. We had received an invitation early in the year 2011, to cover a brief news conference at his office in Ridge Accra.
One of Ghana's most decorated footballers Sammy Osei Kuffour had called time on a sterling career and was crowning it with a testimonial game. His mission was to invite the former President to be a special guest at the match to be played at the Baba Yara Stadium.
We spent almost two hours waiting for him. And gradually the frustration was setting in for some of the journalists who were itching to get back to their respective media houses with their stories.
Just when our fatigue for waiting was reaching a crescendo, good old President Rawlings walked into the gathering in the car park very briskly after stepping out of his black Toyota Land Cruiser.
"Oh sorry ooo for keeping you waiting," he said in a rather conciliatory and humane tone. "I was in a meeting with the President at the Castle," he added while taking his seat.
Then he immediately sent our inquisitive minds wandering because it was during a time when rumours were rife about a rather sour and cold war-like relationship between himself and then sitting President, Prof. John Evans Atta Mills, who served as his Vice President during his second term.
"So they were on good terms after all, to the extent of having long meetings at the seat of government?" I wondered to myself. For starters President Rawlings has given the reports with political news bias is a big lead. Also before he sat down, he asked all of us to observe how dirty his shoes were.
He immediately told us a story about how he used to bug one African diplomat who always wore dirty shoes. "I was always taunting him that his shoes were dirty. Today look at mine," he said with a grin. This drew some spontaneous giggles.
The former President was gradually watering down our fatigue which he was partly responsible for. Just before the start of the news conference, he brought out a brand new wristwatch. It was the Swatch brand. He held it out and said "come bid for it or someone just come for it."
My colleague Kofi Asare-Brako, a.k.a Abatey, a seasoned football commentator, beat everyone to it and within a second, reached the former president's seat. The watch was presented to him as both posed for the cameras, with the former president wearing one of his photographic trademark smiles. He did this to the admiration of all present.
So the surprise gift of the watch, the joke about his dirty shoes and the 'lead' on the relationship with the sitting President Mills had just started off the mid-morning on a very healthy note. Rawlings had come to save a morning that was almost going sour and more importantly, he won everyone over with his humour.
The icing on the cake was that he made time after the event to take pictures with everyone. At the end of the day Papa J left everyone, even if you bore him a grudge, with very pleasant memories.
He will be sorely missed.
DISCLAIMER: The Views, Comments, Opinions, Contributions and Statements made by Readers and Contributors on this platform do not necessarily represent the views or policy of Multimedia Group Limited.