Richard 'Olele' Kingson is a friend of many years but believe it or not took some years to convince him to honour an interview on the Joy Sports Link on Joy FM which I host on Saturdays. This was part of a chain of interviews with some legends during the Covid-19 lockdown in 2020.
Eventually, when he agreed to it, the interview coincided with his birthday and also marked 10 years since Ghana won her opening game at the South Africa 2010 World Cup. In hindsight, I feel maybe the delay was divine. Two days prior to the interview, I spent about four hours with him at his residence in East Legon, Accra and had deeper insights into some back stories behind some happenings in Ghana's Black Stars team. The eventual one-hour and 45-minute interview also taught and reaffirmed certain lessons and principles of life in general.
Behind achievements are humongous sacrifices, including miscarriages!
He also made a chilling revelation that his wife suffered a miscarriage as a result of his insistence to honour a Black Stars invitation.
According to Kingson, his then-pregnant wife refused to allow him to honour an invitation by the Black Stars team for a game against Slovenia in May 2002. It was simply because she was unhappy about some alleged ill-treatment meted out by the Ghana FA.
"She always listened quietly anytime I complained about treatment by the national team but that day she let out her real feelings about the subject. She refused to allow me to travel with the team when all arrangements had been made," he said.
"She told me that the insults that fans hurl when things go wrong always hurt her greatly and that she wanted an end to the phenomenon," Kingson revealed.
The two-time World Cup star, further narrated that on the said day his wife locked him up in their bedroom door as a result of his insistence to travel with the Black Stars for the Slovenia game. "I had picked up my passport and my luggage and given them to a friend at home to send to the airport for check-in because the team was ready to travel."
At a point, she softened her stance after he had assured her that it would be his last game for Ghana's Black Stars and asked her to prepare him some food. A few minutes later, Mrs Kingson reverted to her earlier stance, which forced Richard to say he also would not travel anymore, but the latter was telling a big lie.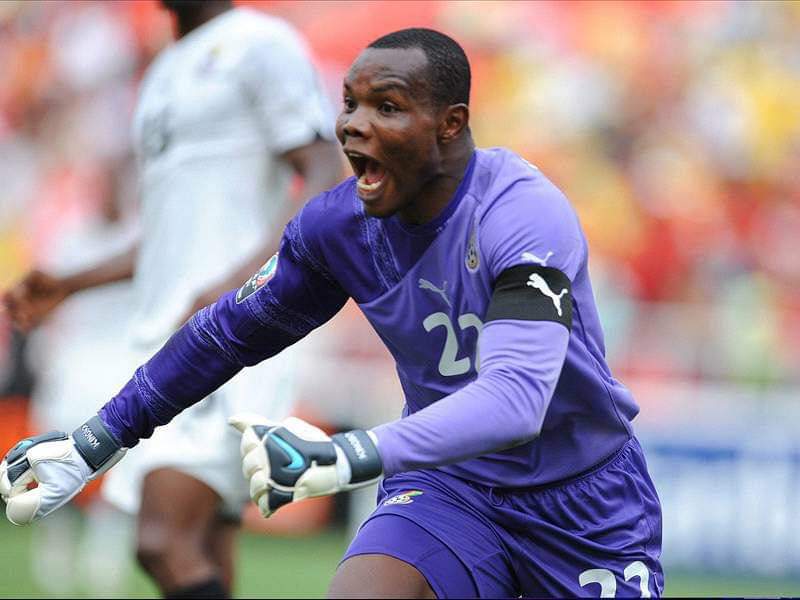 He further narrated that his wife unlocked the door. "All the while I was looking for a chance to run away. As I run through the little space and my body hit hers and she fell as a result. I ran away from what I was wearing and had to go and change at the airport. We travelled but when I returned from the trip my wife had suffered a miscarriage. Apparently, she was three months pregnant."
This in my estimation, is one of the highest heights of sacrifice anyone can make in the bid to achieve an aim. Kingson was aware of the consequences of their actions (service to his nation) relative to his home. He knew that playing stubborn and leaving home to play for Ghana without the blessing of his wife could create tension. Little did he know that it was landing him in an even bigger pit. But at all said and done, that sacrifice, plus other subsequent ones, helped him improve his form while also contributing massively to an achievement that united Ghanaians in 2006 – qualification for Ghana's first-ever FIFA World Cup.
From this rather chilling story, I learnt once again that to reaching the top comes at a great cost – sacrifice is the word.
Your faith matters a great deal
Kingson is a good friend of many years, made me understand that his faith as a Christian carried him through the tough challenge of rising to the top in the sport which obviously is loved by all but has an arduous path.
According to the former Wigan Atheltic goalie he decided to take his faith seriously after an experience with his late father. Richard Kingson's father had many children who he made genuine efforts to look after. "He gave me my school fees and asked to me return the money. My dad gave my fees to one of my siblings to buy her books for the term," he revealed.
Young Richard at the time struggled to understand why his father took the decision of diverting his fees for the purchase of learning material for one of his siblings. He later concluded that he could only rely on God because he had no one else to trust and lean on.
The goalkeeping legend further narrated that the events of the day pushed him into intensive fasting and prayer. He surrendered himself to God. And only three days after this incident, young Richard who was then a primary school pupil was given a full scholarship for the basic and junior high school levels.
 Another instance was when a mysterious 11-year-old boy in Teshie, his former neighbourhood, told him that he would represent Ghana at the FIFA World Cup during a time when he was not the first-choice goalkeeper for Ghana's national team, the Black Stars. He had faith and prayed about it and voila! It came to pass. He revealed during the interview that he has since not set eyes on the boy.
He had a much-publicised relationship with the late founder of the Synagogue Church of All Nations, Prophet T.B. Joshua whose football team (Emmanuel FC) he manages in Ghana. He met TB Joshua at a time when his football career was negotiating a very challenging curve while his marriage was experiencing turbulence. He and his wife also wanted to have a second child but had been unsuccessful for many years.
Eventually, his wife Adelaide was delivered of a demonic spirit at the Synagogue Church of All Nations ( a video of this widely circulated on social media) and calm was restored in his marriage as well. "Now I am really enjoying my marriage. Things changed for the better," he said.
He strengthened his faith as a Christian and it has impacted his career greatly. "God reigns supreme and when you acknowledge his place in your life it will see you through all the changing scenes of life."
Anything can happen – we must keep hope alive
Another interesting revelation made in the interview was the fact that ahead of Ghana's participation in the FIFA World Cup he was the fourth-choice goalie, behind Sammy Adjei, George Owu, and Philemon McCarthy.
"I needed determination hard work and discipline and also kept pushing to get myself up there," he said.
This one teaches all to keep hope alive irrespective of the situation. Ahead of Ghana's participation in the FIFA World Cup in Germany, the Black Stars played at the AFCON in Egypt and Sammy Adjei who was in top form at the time was the first choice. By regular technical calculations, Sammy Adjei was the man to keep his place as the first-choice goalie.
But Coach Ratomir Djukovic eventually decided on Kingson who initially was surplus to the requirements. Of course, the key denominator here is hard work.
"Over here I learnt that no matter how tough the situation is, something can change for the positive once we have life."
Leaders must ensure the growth of others
In team situations where goals are to be met, leaders must sometimes take the back seat and push others to get the job done. Back in 2002 when Stephen Appiah was announced captain of the side, Richard Kingson was clearly the man to lead the team as the next captain after C.K. Akonnor who is now Head Coach. But the younger and less experienced Stephen Appiah was chosen. The latter tried to object but Kingson tapped him on the shoulder and assured him of his full support and asked him to accept the band.
That decision by Kingson was to prove a golden one because it paved way for a new brand of leadership (the inspirational type) by Stephen Appiah. The decision was a deviation from earlier ones which cost the team big results and big achievements. One of the most glaring examples is the Senegal '92 Africa Cup of Nations, where in the absence of suspended Skipper Abedi Pele, the band was handed to Tony Baffoe to the displeasure of some teammates. Tony Yeboah revealed in an interview with GTV Sports Plus, that he played that game with anger because he had been overlooked in assigning the captaincy.
Kingson looked beyond himself as an individual for the greater good and that stance must be applied by all persons playing leadership roles.
DISCLAIMER: The Views, Comments, Opinions, Contributions and Statements made by Readers and Contributors on this platform do not necessarily represent the views or policy of Multimedia Group Limited.