The Omanhene of the Aowin Traditional Area, Beyeeman Tano Kwaw Benbuin III, has called on the embattled Sekondi-Takoradi Municipal Chief Executive (MCE) to immediately render an unqualified apology for his comment about Enchi, a town in the area.
According to him, the MCE, Abdul Mumin Issah, "has shown his total lack of deference and decorum to the people of Enchi by refusing to offer [them] a sincere apology."
"Despite the propriety and indispensability of a fitting statement to counter the offensive and degrading light in which Mr. Issah cast Enchi, I stayed calm, thinking Mr. Issah would see the need to render an unreserved apology to the people of Enchi as soon as he was granted bail."
"My equanimity under the provocative circumstances of his unfortunate effusions was underpinned by the belief that it would be inhumane to strike a man who was already down," Beyeeman Benbuin III said in a statement dated February 7, 2022.
In a scuffle between him and a police officer on Thursday, February 3, the MCE is heard to have threatened to transfer the officer to Enchi.
"Patrol team, coming to take me? You don't know who you are dealing with. You will come begging tomorrow. I'll send you to Enchi", he said.
The Police officer responded and said "it [Enchi] is a place. Police are working there. Transfer is not punishment in Police. You can transfer me to Pwalugu. My colleagues are there working happily."
His pronouncement grabbed the attention of many Ghanaians who have condemned the statement and described it as discriminatory.
"You don't know who you are dealing with, you will come begging tomorrow" – Abdul-Mumin Issah's [MCE, Sekondi-Takoradi]

Watch encounter between Sekondi-Takoradi MCE and @ghpoliceservice officer after he [MCE] was stopped for alleged dangerous driving #JoySMS pic.twitter.com/4I6Ulp9p3v

— Joy 99.7 FM (@Joy997FM) February 4, 2022
The Paramount Chief, after describing the MCE's behaviour as "a probable rush of blood", stressed that "since the show of remorse expected from Mr. Abdul Mumin Issah is not forthcoming nor his apology, I am inviting him to apologise with immediate effect."
"I have deduced two possible conclusions from the incident; that either Mr. Abdul Mumin Issah does not realise how hurtful and demeaning his undesired reference to Enchi in the now infamous scuffle is or he really meant to bring the name of Enchi and its inhabitants – and by extension the illustrious people of Aowin – into opprobrium".
"The fact that he disregarded his disastrous allusion to Enchi in his statement makes me inclined towards the latter conclusion," Beyeeman Benbuin III emphasised.
MCE suspended
Government, through the Ministry of Local Government, Decentralisation and Rural Development, has suspended the MCE from office.
In a press statement issued on Friday, Mr. Dan Botwe stated that: "On the instructions of the President, the Metropolitan Chief Executive for Sekondi-Takoradi Assembly, Mr. Abdul Mumin Issah has been suspended from office with immediate effect pending an inquiry into his encounter with the Police on February 3, 2022."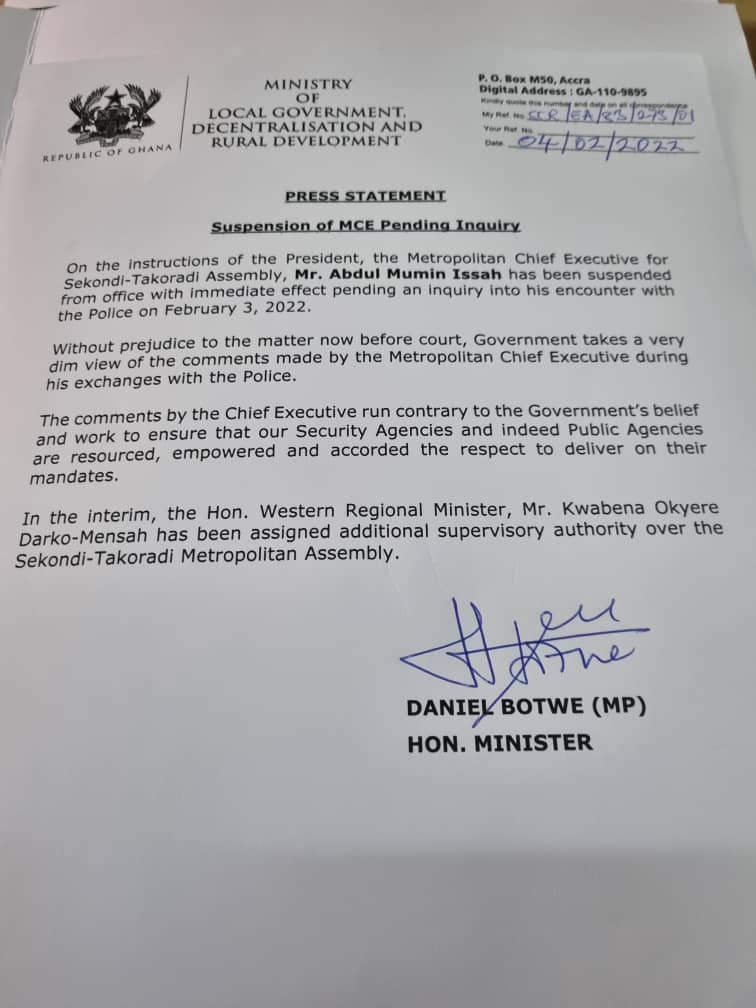 On Friday morning, Abdul Mumin Issah was put before the Takoradi Circuit Court 'A'. He pleaded not guilty to the three charges levelled against him.
At the end of proceedings, he was granted a GH¢100,000 self-recognisance bail with three sureties. The case was adjourned to March 17, 2022.
In the interim, the Western Regional Minister, Kwabena Okyere Darko-Mensah has been asked to assume responsibilities over the Sekondi-Takoradi Metropolitan Assembly.