The Ghana Statistical Service (GSS) has revealed that one out of every four elderly persons in Ghana is poor in many aspects.
The elderly persons the GSS says are persons 60 years and above.
In a statement on elderly persons in Ghana, the Service said 341,960 elderly persons are living alone with 62,480 out of that number being 80 years and older.
"The findings also indicate that one out of every four (25.7%) elderly persons is multi-dimensionally poor, slightly lower than prevails in the total population (29.9%)," the statement said.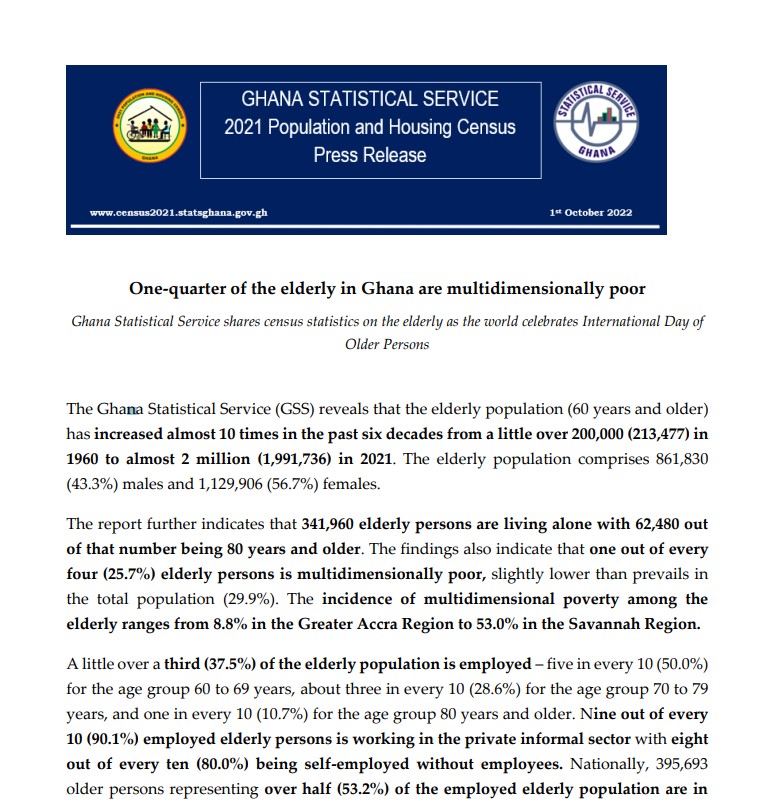 The GSS said multidimensional poverty is high in the Savannah Region recording 53% and low in the Greater Accra Region recording 8.8%.
Per GSS' findings, a little over one-third of the elderly population which represents 37.5% is employed. The further breakdown of this number is that out of every ten elderly persons between ages 60 to 69, five are employed and out of every ten elderly persons between ages 70 to 79, three are employed.
Also, one in every ten elderly persons between the ages of 80 and above is employed.
"Nine out of every 10 (90.1%) employed elderly persons is working in the private informal sector with eight out of every ten (80.0%) being self-employed without employees," the statement added.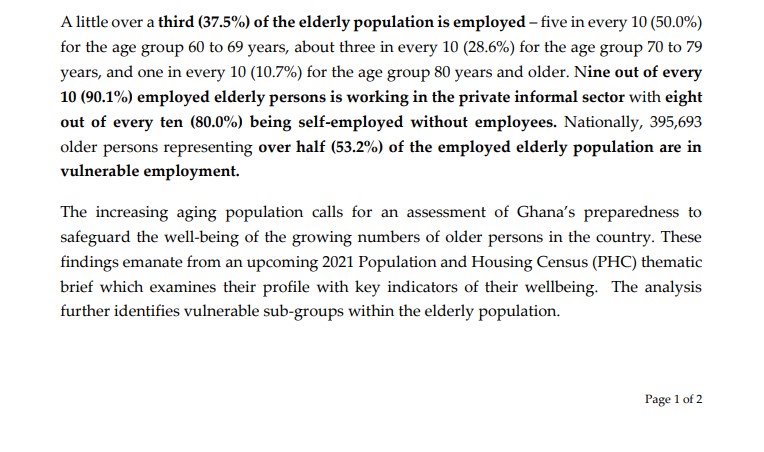 GSS said nationally, 395,693 older persons representing over half (53.2%) of the employed elderly population are in vulnerable employment.
In a press release on October 1 to share the census on elderly persons in Ghana, GSS said there has been an increase in the number of elderly persons almost ten times in the past six decades.
According to the GSS, persons aged 60 years and above were 1,991,736 in 2021 as against a population of 213,477 in 1960.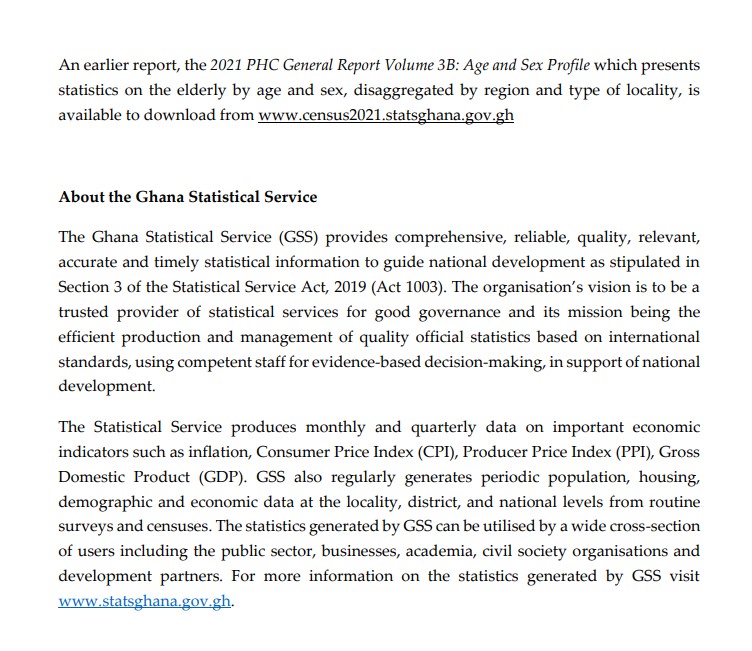 This increasing number in the aging population, the Statistical Service said calls for an assessment of Ghana's preparedness to safeguard the well-being of the growing numbers of older persons in the country.
DISCLAIMER: The Views, Comments, Opinions, Contributions and Statements made by Readers and Contributors on this platform do not necessarily represent the views or policy of Multimedia Group Limited.