A new focus report, produced by Oxford Business Group (OBG) in partnership with the African Economic Zones Organisation (AEZO), shines a spotlight on the continent's rapidly developing industrial sector, which is poised to become a key driver of broader economic growth as regional integration increases.
Titled ''Economic Zones in Africa – Focus Report'', the report was launched at the AEZO's 6th Annual Meeting II, which took place on November 25 at the African Continental Free Trade Area (AfCFTA) Secretariat office in Ghana, with participants also able to attend remotely.
The meeting was held under the banner "Connecting African Special Economic Zones (SEZs) to Global Value Chains at the era of the AfCFTA" and explored a range of topical issues relating to SEZs, from their potential to boost trade to the impact of Covid-19 on the continent's supply chains.
The focus report examines the wealth of benefits that the AfCFTA is expected to deliver to both Africa's economic zones and the businesses located in them, which range from greater market access to a reduction in trade barriers and lower production costs.
The disruption that the pandemic brought to supply chains and the opportunities emerging from the health crisis for businesses to become part of nascent regional value chains across a more closely connected continent is a key focus.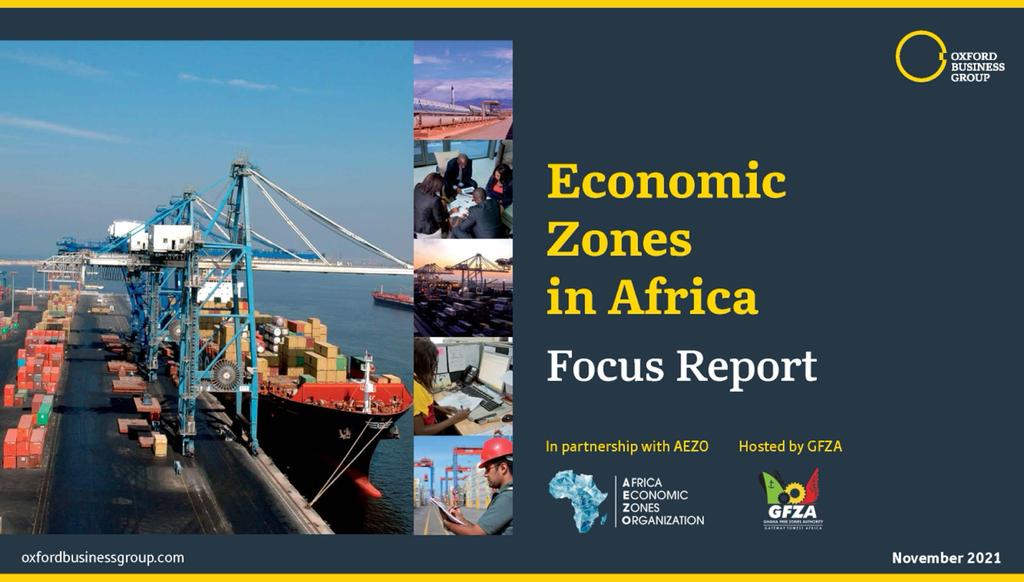 The report also charts the digital transformation taking place in many of Africa's economic zones, as businesses make the move away from traditional segments to high-tech processes and digital services, adding value to their offerings in the process.
In addition, it provides an in-depth analysis of the drive evident among many SEZs to put environmental, social, and governance principles and sustainable business practices at the heart of their strategies, at a time when ethical investment and alignment with the UN Sustainable Development Goals are high on the global agenda.
The report includes in-depth case studies and viewpoints by representatives from key industry players namely: Tanger Med; Polaris Parks; Lagos Free Zones; Ghana Free Zones Authority; Misurata Free Zone; and Sebore Farms.
It also includes a contribution from Secretary-General, AEZO, Ahmed Bennis in which he highlights the role that SEZs are playing in the continent's industrial transformation and the importance of supporting their development.
"Economic zones can play a game-changing role in Africa's diversification and inclusion by providing end-to-end solutions and services that support industrial upgrades and increase countries' attractiveness for investment," he said. "With the implementation of AfCFTA and the post-Covid-19 recovery that the world is beginning to experience, we believe that real investment opportunities exist in Africa at this moment, which can translate into job creation and social and economic development. Africa has resources that need to be developed and economic zones can play a key role in this."
OBG's Regional Editor for Africa, Bernardo Bruzzone added that while African economic zones had experienced production problems during the pandemic due to global supply chain disruptions, ongoing remedial action, including new infrastructure and human capital development, would help provide resilience against future external shocks.
"Africa's real GDP growth is forecast to reach 3.4% in 2021, with an increase in intra-regional trade and improved connectivity among the facilitators of economic recovery," Bruzzone said. "Looking ahead, we see economic zones as having a key role to play in helping the AfCFTA achieve its potential through the development of new strategies that will lead to a more diverse, higher-value range of exports."
The study forms part of a series of tailored reports that OBG is currently producing with its partners, alongside other highly relevant, go-to research tools, including a range of country-specific Growth and Recovery Outlook articles and interviews.
The focus report is now available to view and download at: https://oxfordbusinessgroup.com/news/focus-report-investment-opportunities-african-economic-zones
Click here to subscribe to Oxford Business Group's latest content: http://www.oxfordbusinessgroup.com/country-reports
*****
About Oxford Business Group
Oxford Business Group (OBG) is a global research and advisory company with a presence in over 30 countries, spanning Africa, the Middle East, Asia and the Americas. It is recognised internationally as a distinctive and respected provider of on-the-ground intelligence on world's fastest-growing markets, termed The Yellow Slice, in reference to OBG's corporate colour.
Through its range of products – Economic News and Views; OBG CEO Surveys; OBG Events and Conferences; Global Platform, which hosts exclusive video interviews; and The Report publications – as well as its Advisory division, OBG offers comprehensive and accurate analysis of macroeconomic and sector-level developments for sound investment opportunities and business decisions.
OBG provides business intelligence to its subscribers through multiple platforms, including its direct 6 million verified subscribers, Dow Jones Factiva subscribers, the Bloomberg Professional Services subscribers, Refinitiv's (previously Thomson Reuters) Eikon subscribers and more.
DISCLAIMER: The Views, Comments, Opinions, Contributions and Statements made by Readers and Contributors on this platform do not necessarily represent the views or policy of Multimedia Group Limited.