Former President John Mahama says government's decision to commence talks with the International Monetary Fund (IMF) for a bailout should mark an important step in addressing the country's economic crisis.
He says beyond the engagements, "a comprehensive home-grown programme should be fashioned out and presented to the Fund for support."
In a Facebook post on Saturday, July 2, Mr Mahama said a team of skilled and competent negotiators must be put together to obtain the best set of measures with the Fund.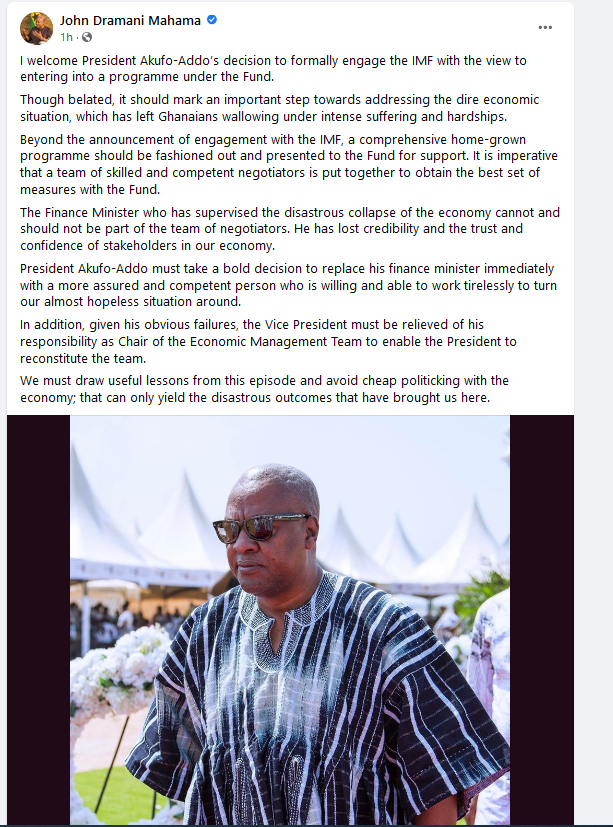 President Akufo-Addo has directed the Finance Minister, Ken Ofori-Atta, to begin formal engagements with the IMF for economic support.
A statement signed by the Information Minister, Kojo Oppong Nkrumah, and dated July 1 indicated that there had already been a conversation between the IMF boss, Kristalina Georgieva and President Akufo-Addo.
"The engagement with the IMF will seek to provide a balance of payment support as part of a broader effort to quicken Ghana's build back in the face of challenges induced by the Covid-19 pandemic and, recently, the Russia-Ukraine crises," the statement added.
But former President Mahama says the Finance Minister has lost the credibility and trust of stakeholders in the economy; hence, should not be made to supervise the negotiations.
"President Akufo-Addo must take a bold decision to replace his finance minister immediately with a more assured and competent person who is willing and able to work tirelessly to turn our almost hopeless situation around.
"In addition, given his obvious failures, the Vice President must be relieved of his responsibility as Chair of the Economic Management Team to enable the President to reconstitute the team," John Mahama added.