"It once call upon every generation to be great. You are that greatness. Let's your greatness blossom."
These words of the legendary Nelson Mandela measure the weight of responsibility and height of the peak Isaac Dogboe has arrived at. The meeting with Cuban Robeisy Ramirez is a significant date on the calendar on the gallant Top Rank promotions but most importantly marks a new direction in the former world champions boxing destiny.
After seeing the face of victory and adversity tonight has presented Isaac Dogboe another window to sound a loud trumpet bout his name and what he has to offer the featherweight division of world boxing.
A comprehensive training camp at his base at the Headbangers Gym in Washington DC in an energetic environment powered by hunger of his younger colleagues and the careful eyes of his technical handlers.
Sparring sessions have toughened Dogboe more especially as he has worked with partners of varied weights including the US national amateur light heavyweight champion, who obviously is on the heavier end.
The focus on his consistency with attack, alertness and ring generalship are expected to pay off. And the Ramirez camp whose April 1, 2023 is the biggest in their career know what kind of opponent they are in for.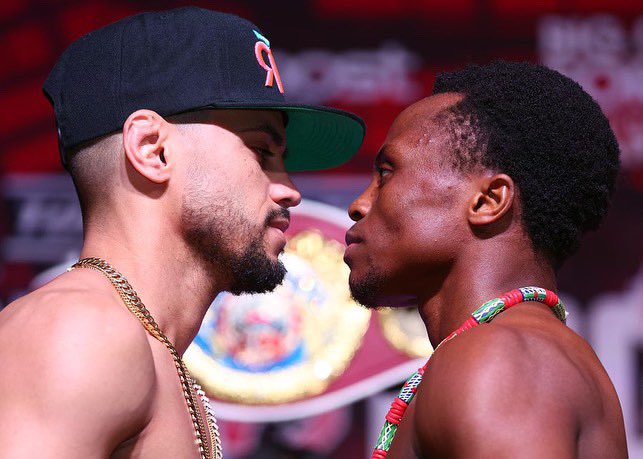 Ramirez will mount the ring carrying the international image of Cuba and the aspirations of young sportsmen and women 11 out of his 12 career fights. His well crafted southpaw stance and his demonstrated ability to rise from down moments make him an equally worthy candidate for this vacant WBO strap.
Many admire Ramirez for his quick bounce back following the slit decision loss suffered in his first professional bout against little known Adan Gonzalez. The knockdown and eventual result on the cards were a far cry from his pedigree as a gold medalist from the Rio and London Olympics, the Youth Olympics, AIBA Games and Pan American Games.
But the depth of his mental toughness was to come to play a year later when he dominated Gonzalez to win via a unanimous decision. If he can dig deep and find that quality or mental strength, it will come in handy. "Robeisy believes that his greatest achievements in boxing lie ahead of him and not behind him. He is laser focused and confident and ready to deliver." These thoughts expressed by Jose Izquierdo, Ramirez's Legal Representative sum up his level of preparedness for the big moment. The sum total of all these are complemented with the book makers who see him as a slight favorite.
Dogboe's four-bout journey prior to landing this one have tested him and also given him reality checks. "All the hard work is done. It's now time to strap the belt. We are ready," Dogboe's Assistant Trainer Patrice Harris told Joy Sports.
And Dogboe also sees this moment as one for lifting the National image of Ghana in the sporting space. "When I won the world title in 2018, it came on the back of some failures by our national teams. I feel the same thing happening now especially after our inability to progress at the Qatar FIFA World Cup."
Isaac Dogboe will be rewarded with a guaranteed purse of $450, 000 while Ramirez will receive $350, 000. The details of the pay per view revenue share are not immediately known. The bout to headline the eight fight bill before the 20,000 seater arena at the Hard Rock Hotel and Casino in Tulsa , Oklahoma, will be televised on ESPN from 8pm and 1am on Sunday April 2 in Ghana.
DISCLAIMER: The Views, Comments, Opinions, Contributions and Statements made by Readers and Contributors on this platform do not necessarily represent the views or policy of Multimedia Group Limited.