Ghana is a country with approximately 341.8 miles of coastline and many beaches where vibrant communities have been connected with the sea for centuries.
Growing up in the early 90's, almost every weekend, we would go down to the beach in Tema to swim, play volleyball and picnic with friends and family. Yes, we swam. Everyone did.
At the shallow end, of course, we were no Michael Phelps, but we were in the water swimming or at least moving around enough that we thought we were swimming. The only day we knew we could not go to the beach was on Tuesday. Tuesday was the day for the sea gods and no one was allowed to swim on Tuesday or risk incurring their wrath.
Over the years, however, the seas seemed to get more treacherous. Month after month people were being pulled into the ocean, never to be seen again. This was not happening on Tuesdays either so it could not be the wrath of the gods, right?
Folklore said it was "Mame Water", a sea creature akin to a mermaid that was taking people as sacrificial lambs to her ocean slaughterhouse.
The number of the dead or never to be seen again increased and increased until it hit close to home when I heard the news that someone I knew, a friend of a friend, had been taken as well. Suddenly everyone stopped going to the beach. For years I never touched the ocean and that was the case for most Ghanaians.
Over time we have got back to the beaches, with the likes of Labadi beach and White Sands beach coming back to life.
However, one thing remains, no one enters the ocean. We sit on the beach, we ride horses, ATVs, eat fried yam and turkey. What we do NOT do is swim, or attempt to, like we did back in the day. That part is gone.
In the time since we severed our relationship with the ocean, we began shifting our attention to the lakes. After all Ghana is home to one of the largest man-made lakes in the world, the Volta Lake. Swimming was still a no-go, but at least the lakes did not have the strong currents of the ocean and I am not aware of Mame Water or other sea creatures crossing over to the lake just yet.
God forbid! Resorts on the Volta Lake began to pop-up and provided new forms of water sports such as Jet Skis and kayaking.
Then in 2014, tragedy hit in a major way. Castro, one of Ghana's most beloved musicians was jet skiing at a resort in Ada, had an accident and together with his friend, Janet Bandu, both tragically drowned in the Ada estuary.
Castro delivered songs like Adona and Agyekoom and was a popular and well loved figure. His death, particularly in this manner, shook the country to its core and once again we had to re-evaluate our relationship with the water.
With this history and context, it would take something pretty special to get Ghanaians to fully re-engage with the water bodies around them and take full advantage of the opportunities they present for recreation and exercise. In steps Lake Club!
Opening in 2022, Lake Club has a mission to re-introduce Ghana to water and water sports.
Fully aware of the safety concerns of traditional jet skis, it worked over the past 3 years to build a custom jet ski that looks, feels and drives more like a racing kart than a jet ski and more importantly provides a low centre of gravity, full seating capability and enclosement that makes it extremely stable and near impossible for one to fall off.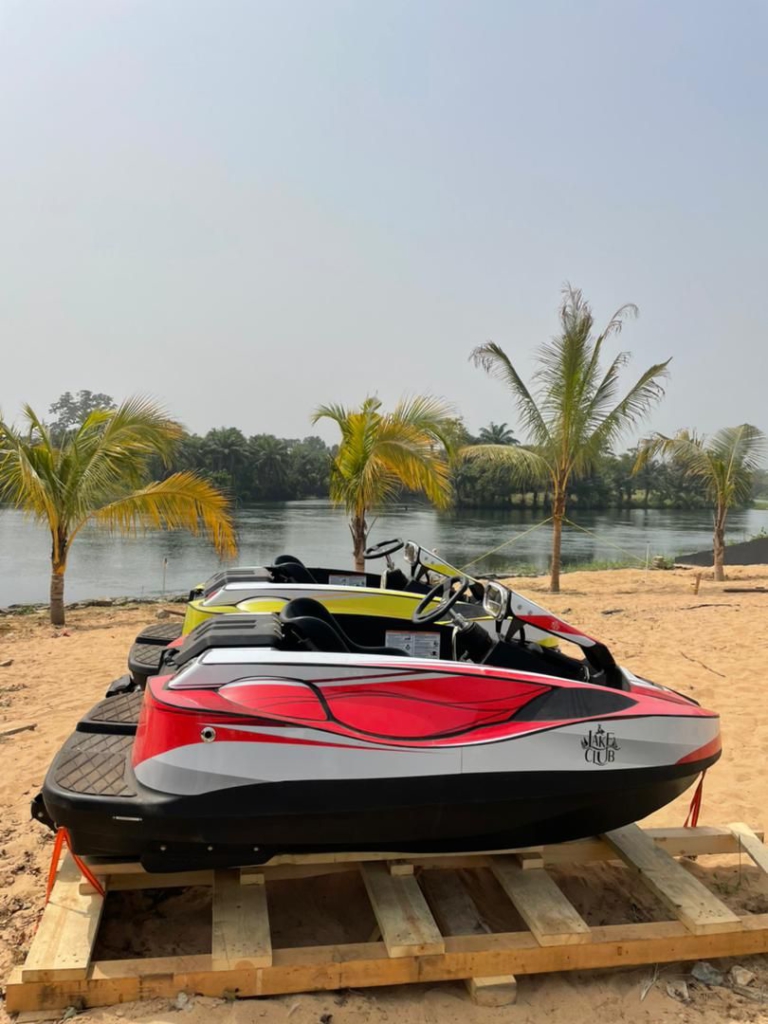 Understanding that water sports need more variety to be interesting to Ghanaians again, it is introducing new options including wakeboarding, knee surfing and rowing that provide a thrill to keep the adrenaline pumping, while doing so with safety as its number one principle.
Safety shows up in the requirement for a certain number of hours of training before any customer can do certain sports. It also includes lessons not on how to swim but more importantly on how to thread water so one can comfortably wade in the water should they fall in the Lake without panic, mastery of which is another requirement to be able to participate in certain sports such as wakeboarding.
Lake Club's doors will be open to the public soon. Stay tuned on their socials at