After it went viral that two students were denied admission to the Achimota School for having dreadlocks, Ghanaians have been reacting on social media.
Former Kumbungu MP, on Facebook, stated that the school has disrespected the constitution by not admitting the students.
Some Ghanaians, however, have no problem with the school's decision to keep the student out of the sschool.
Many claim the school is only enforcing it's laid down rules and regulations.
If Achimota is not accepting dread locks n Accra Academy is accepting it the boy should go there simple. Ebi the school rules n regulations. In shs even if your hair grows they put scissors in it for u 😂. This no be movie wey ppl dey come do drama biaa he shld cut or chnge sch

— Khof! B ☆ bhone (@KamaSark) March 19, 2021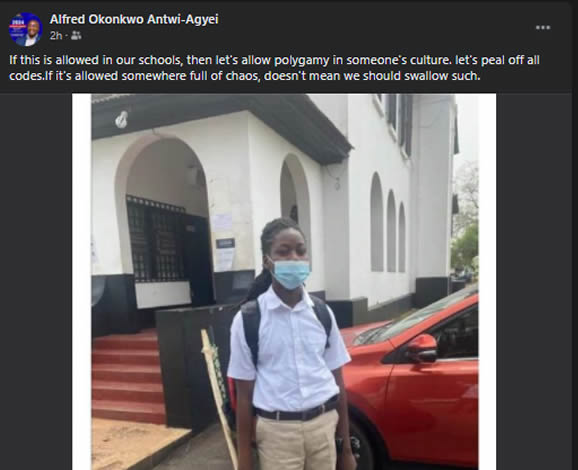 But some Ghanaians say it is unfair and 'hypocritical' of the school to not admit the students because of their hair.
achimota dey allow whites kids keep dema hair, those times then the rules lost?

— Kwesikwaa Hayford (@kwesikwaa) March 19, 2021
We all know mixed race kids and extremely privileged kids were not made to cut their hair.

— Anabella (@jux_Bella) March 19, 2021
What has education got to do with appearance? If we're going to adopt western culture, let's learn the positive things. I'm disappointed in Achimota School #Ghana

— Kwadwo (@ABetterGhanaian) March 19, 2021
This back and forth has also triggered Ghanaians to share their concerns about the rules of schools and their experiences.
I honestly look back at my time at Achimota fondly // but that's also because I lied & bribed my way out of everything https://t.co/02T3MsxM2x

— #endsarsnow (@KwabenaSB) March 19, 2021
Rubbish talk….achimota school was set up to educate the head heart and hand….look beyond physical appearance and lets improve our educational system. UT OMNES UNUM SINT

— hu say tweaa♍ (@ne_rdy900) March 19, 2021
just when we think the country is making positive strides, Achimota denies two students admission over dreadlocks.
intriguing

— eli (@_elikem______) March 19, 2021
See more reactions:
If a Rastafarian had been denied admission elsewhere in the West, we would be arguing chapter and verse that it is racist and backward and so forth. It happens right here at Achimota and you don't see the same anger. Who makes these rules?! #IStandWithRasta pic.twitter.com/15KeNqPgOm

— Dulce Et Decorum Est (@TheEpicPrince1) March 19, 2021
learn and practice inclusiveness in schools. These draconian colonial rules don't teach young people how to live with difference because they are forced to pretend difference doesn't exist. We are all not the same, but we must learn to live together.

— nii (@niikotei) March 19, 2021
Personally I can understand the uniformity argument. But at the end of the day, uniformity to what end? https://t.co/J7sJzU9ogr

— Sage (@Apothecary_Andy) March 19, 2021
So by our educational construction, a young believer in African Traditional Religion training to be a fetish priest or priestess cannot attend secondary school? Or they have to get rid of their hair to do so?

— Kwame (@villag_drunkard) March 19, 2021
Also if it would how do you go around that and still allow people to keep their hair?

— smiley (@arabaotuaa) March 19, 2021
There are good reasons why we can't let ultra religious Ghanaians win. Today, they hate the LGBT community. Tomorrow, they are denying you education because your hairstyle is unchristian. Next week, no job for you because you don't believe in God.

— eMKay fan account (@kwesi_win) March 19, 2021
So is it enough for a Ghanaian citizen to be denied his right to Free SHS because of the religious community he belongs to? (Rastafarianism is actually a religious sect)
Is that not discrimination? And does the 1992 Constitution not prohibit discrimination?

— sheepinwolfclothing (@EboAssiredu) March 19, 2021
Is there any constitutional rule that says shave off the hair of a patient before a surgery at a particular site? But you request its done. If patient refuses , surgery can be canceled. Thats Achimota's code of conduct. Obey or move on. Its not that hard

— Demba (@Queen_guide) March 19, 2021
They don't. Have you been to the school yourself?

— Africano 👑 (@nii_boyee) March 19, 2021
I completed achimota school last year and there was a mixed race person with hair in my class

— sonder's son (@AfariKwafo) March 19, 2021
Achimota has no rights to deny the two students. Our laws allow freedom of religion and association. How will their long hair impede studies on their part and the school's? #AdmitThemNow

— Sawa🇬🇭 (@CitizenSawaJnr) March 19, 2021
Africans will always remain Africans, the whites keep their hairs etc.. but they're doing a whole bunch of research which is helping the world.. what does cutting that dread got to do with school? He's already clever that's why he had Achimota SHS.

— Nicholas Credo (@CredoNicholas) March 19, 2021
Achimota needs to get with the times. As an old student I am not feeling them on folks not having dreads. Good for Accra Aca.

— Kwame Twumasi (@ktwumasi) March 19, 2021
@NAkufoAddo and we still denying kids their right to education because of their dreadlocks is so sad , pls nana do something about it , Achimota school is wrong on this case @AchimotaSchool you are a big disgrace to our society https://t.co/r4szxAcZeU

— nayabingi (@BingiOnline) March 19, 2021
#stress #youalone #BlowUp

Achimota Achimota Achimota

Stop the discrimination against men and women with dreadlocks. pic.twitter.com/CoVAsxBAeN

— The Poll Specialist ✨💫 (@MasterMawuena) March 19, 2021
Achimota should take their L. I will need a shower after this as an Odade3 but I support the Academy unreservedly on this. This what enlightenment and progress is about.

— Odadee Glen 1 (@gsnorg) March 19, 2021
driving away the two boys with dread locks.

Ghana is sick

— BLACK SAMINI ENTERTAINMENT (@QSaminiutl) March 19, 2021
#TaxiDriverShow
How I wish these authorities of the Achimota school will be told to go home.. theybdont have respect for humanity…. all these people call themselves Christians and muslims God is not pacial

— Odartey Lamptey 1DON (@odartey19) March 19, 2021
Please I know African In Achimota that are allowed to keep their hair so this is no excuse.What makes the child different from these ones

— Vincent Amissah (@AmissahVincent) March 19, 2021
So a teacher, headmaster or CEO can't be a dreadlock man ? Let's come out of our shallow thinking and wise up. Hair style doesn't affect intelligence, how then did they kids even pass to make it to SHS (Achimota)

— GhBouyKay1🚫 (@GhBouyKay) March 19, 2021
You're outraged that Rastafarians weren't allowed into Achimota…but I'm sure Muslim girls are equally not allowed to enter with hijabs. If y'all are gonna be angry…you should be angry wholly and not pick and choose…cos it's hypocritical.

— Le Roy (@kwadjo_lee) March 19, 2021
If these rules did not exist, everything will be permissible in the school…. Boys can wear earrings in schools and nobody can do anything about it….. Maybe we need to first of all understand the reason for the uniformity for some of these things before we condemn them…2/2

— Mystery Man (@Call_me_jewelz) March 19, 2021
If ebi half caste with long hair, like dem go admit am… the bullshit for the education system chaw.. primitive..nonsensical thinking.

— KING (@mr_dougan) March 19, 2021
Rules that discriminate?
Enter the school and I'm dead sure you will find a handful of half caste students with long hair.. both male and female.
Bro our system is fucked up. No cap!

— KING (@mr_dougan) March 19, 2021
Bro.. how are you looking at this? Its wrong and the rules need to change.
If a white man's ward is being allowed entry and rights to education, why can't the Blackman enjoy same? This is no issue on race.The right thing ought to be done. Ghana is way behind.We need to wake up

— KING (@mr_dougan) March 19, 2021
let me not act as if I'm surprised by white supremacy and colorism

— #endsarsnow (@KwabenaSB) March 19, 2021
Gentleman stop the long talk.. I've been a teacher before, and some of the ladies carried long hair with reports, besides I've had an economics student named Rocky who carried locks in a catholic school but no one heard of it. Is Achimota a better school than the others.Mtcheeeew

— 1DESSY (@OneDessy) March 19, 2021
Meanwhile, Achimota school is yet to respond to the allegations.