The School of Nursing and Midwifery (SoNM), University of Ghana, has opened application for its scholarship program to promote midwifery education and research in Ghana at the masters and Ph.D levels.
This comes after the school received funding from the Norwegian Program for Capacity Development in Higher Education and Research for Development (NORHED).
In a statement, SoNM noted that "the grant will support Master of Philosophy (MPhil) in Midwifery and Doctor of Philosophy (PhD) in Nursing programmes. The SoNM is delighted to invite interested and qualified applicants to apply to the scholarship program."
Only students in the MPhil Midwifery or PhD Nursing Program at the University of Ghana are eligible to apply.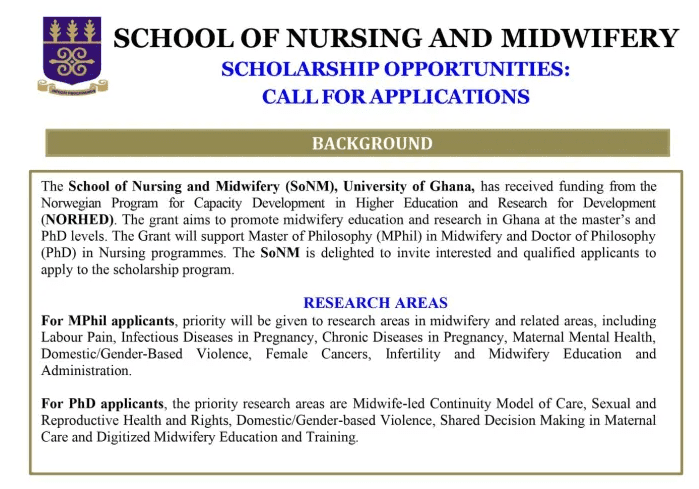 Priority will be given to research areas in midwifery and related areas, including Labour Pain, Infectious Diseases in Pregnancy, Chronic Diseases in Pregnancy, Maternal Mental Health, Domestic/Gender-based Violence, Female Cancers, Infertility and Midwifery Education and Admission, for MPhil applicants.
Whereas for PhD applicants, priority will be given to areas such as Midwife-led Continuity Model of Care, Sexual and Reproductive Health and Rights, Domestic/Gender-based Violence, Shared Decision Making in Maternal Care, Digitized Midwifery Education and Training.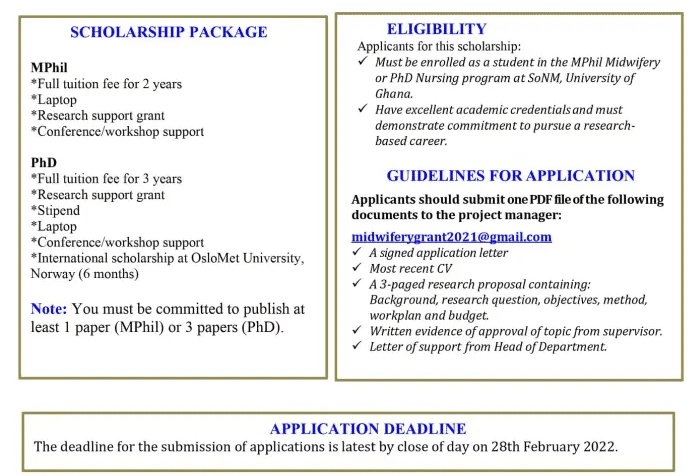 Also, applicants "must be committed to publish at least one paper (MPhil) or three papers (PhD)."
The deadline for submission of applications is latest by February 28, 2022. Only short-listed applicants shall be invited to attend an interview.