When we reminisce about Ghanaian football's past, particularly from the 1980s to the early 2000s, we are frequently filled with a similar sense of nostalgia.
The truth is that some of us were not present to witness it, but the thought of crowds chanting to the famous Shamo Quaye stunt leaves some of us with an indescribable longing for the past.
Football was 'pure' and 'undiluted' by modernity's social and financial forces. However, the global nature of the sport currently as encouraged by modernity has coincided with the radical undermining of traditional customs.
In the 2000s, it was rare to find a well-informed news article on the Ghana Premier League or any other African league in a European newspaper or a South African news outlet. Social media has almost made it very easy to connect with people all over the world, as such, it is disheartening to see negative stories about Ghana or Africa spread on a larger scale.
Social media, digitalization, and commercialization of football as a product seem to be the long-term target for most Ghana Premier League clubs. While clubs have done little to spend on branding, the Ghana Football Association has done little to educate footballers in Ghana on conducting themselves like the role models they are.
A survey conducted indicates that very little work has been done on football clubs or players to treat or focus on themselves as brands while some scholars argue that supporters are likely to reject the idea of their football clubs as a brand; From crumbling stadiums to corruption and a decline in interest in African teams in favor of flashy and European sides, there's a lot for a resurgent Ghana Premier League club to think about in order to reach their fandom goals.
"Football in Ghana has its unique ecosystem, so whilst looking toward foreign influences can be fantastic to learn from, it is about not losing sight of what is in front of them. Clubs in Ghana have to be connected to its people, population, and cultural background.
This connection would take GPL teams forward and create a more marketable and relatable product for those living in Ghana and those who have ties with the country to get behind and support. Football players need to understand that they are not just there to play football but also represent a much broader population.
Developing the non-footballing side of footballers requires education and a good working relationship. To do this successfully, every individual working in a club must buy into the brand which is being built. That will be the real challenge" -Sports Brands expert Isaac Lockett.
FIFA's decision to award Qatar the 2022 World Cup is yet another step toward the wholesale commercialization of football as a product rather than a sport. From tax reliefs to the gracious hefty cash spread, FIFA had monetized the sports and has cemented its name as the best marketing sports association.
Patrick Razak's Commercial Gaffe
Patrick Razak's recent involvement in Ghanaian local derbies, particularly the mega clash matches between Hearts of Oak and Asante Kotoko, has ensnared him in pursuit of supremacy, and even better, the ultimate bragging rights. The forward's two goals against Asante Kotoko for Accra Hearts of Oak will be remembered for breaking many hearts – not for the team he plays for, but for Asante Kotoko.
Patrick Razak was the hero of the night as his solo effort helped Accra Hearts of Oak beat Asante Kotoko 2-1 at the Accra Sports Stadium to claim the 2022 President's Cup in March 2022. A counter-attack from Hearts of Oak emanating from an unguarded corner kick by Kotoko put Patrick Razak clear on goal, rounding Ibrahim Danlad and netting the winner to seal the trophy for the Phobians.
Razak has since considered himself the Porcupine hunter in the forest filled with Oak trees, a guardian of the city gates, trembling in the power of words and command. In his mind it was more important for the game to have 'vigor', and unceasingly engage fans hence his continuous social media rants.
Patrick Razak's ghostly (Appeared with some sort of cream on his face) expression for an advertisement was quite bizarre and should not be encouraged to market any product. Football has evolved from a recreational sport to a commercial enterprise in the modern era.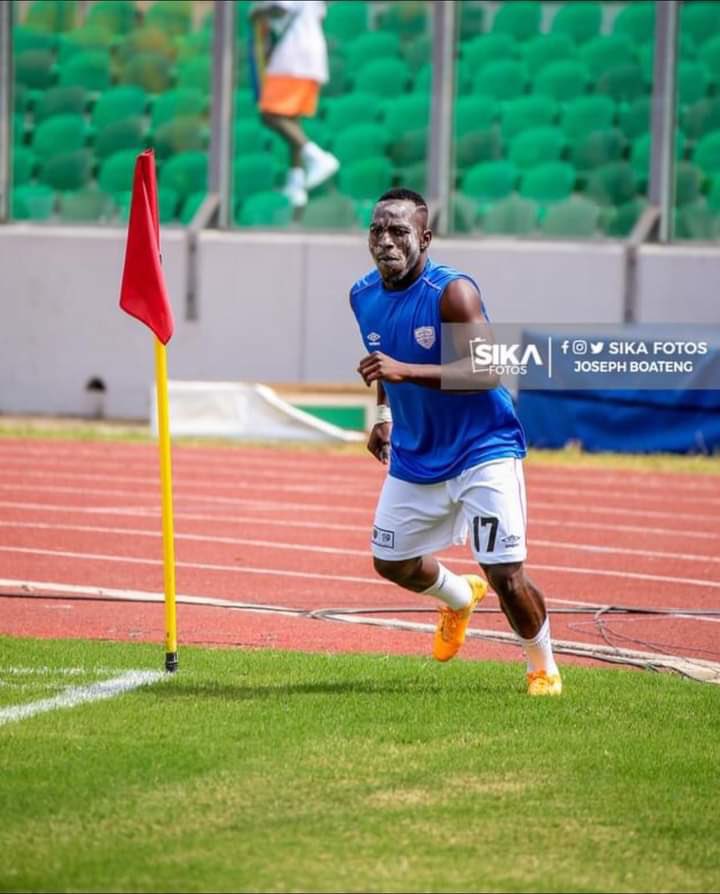 Football clubs have brands that they portray to society for people to have a vested interest in them, and as the economic side of the sport expands, teams must find ways to improve the appearance of their assets [footballers].
The Ghana Premier League footballers are not the highest paid on the continent, but clubs in need of services can try to provide workshops for players to learn about branding concepts or even construct the greatest brands for themselves.
Football has entered a period of modernization, and players, clubs, and all stakeholders must either catch up with the new wave or sink.