After a long year's wait, we have reason to rejoice: Stefflon Don, real name Stephanie Allen, is back with new music.
A sound every bit as global as the Birmingham-born, Netherlands-raised British-Jamaican rapper herself, she expands her motley cultural influences in her new single "Can't Let You Go".
Alongside mother tongue patois, the multilingual 28-year-old sings in Yoruba for the first time and experiments with afrobeats – likely drawing some inspiration from her boyfriend, Burna Boy.
With almost six billion combined streams on her music, it's no secret Steff is one of the most accomplished acts to come out of the UK rap scene, and her fashion credentials have become as undeniable. In recent music video, "Move", Steff showcases a medley of looks as jaw-dropping as the punchy track.
Signature glossy lips, glittering eyeshadow and seamlessly blended base, matched with a technicolour procession of wigs – from rainbow plaits to orange faux locks to a blonde ponytail with clip-studded fringe.
Working for the first time with boundary-pushing stylist Toni Blaze, wearing custom-made outfits that ranged from a sheer purple-marbled and gold head-to-toe fit (a combined durag, opera gloves, top and trousers ensemble) to a metal corset and matching hat over a lime-green bodysuit, it was her most daringly fashion-forward work yet – and with a video arriving for "Can't Let You Go", there's more where that came from, as seen in sneak peek pictures below.
Stefflon Don exclusively tells British Vogue all of her best tips, tricks and secrets to achieve her singular style.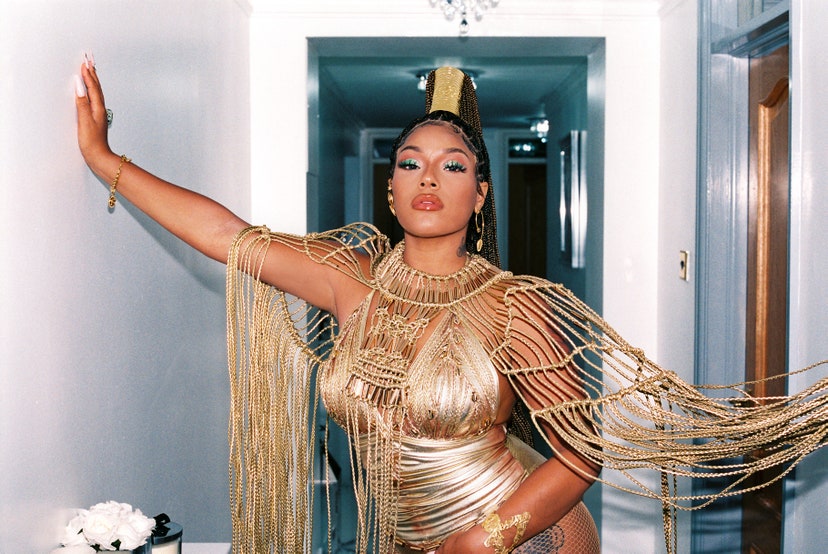 You might not need a 10-step skincare routine
"I have a skincare secret, which won't be a secret no more because I'm about to tell… I don't use any skincare products. I actually wash my face with E45. It helps me take off my make-up and everything, then wash it with warm water, then I end with cold, cold, cold, cold water. It makes your face look refreshed. I get a flannel, put it under the cold tap, then I just hold it on my face. It feels so good and as soon as I take it off, I look 10 times better.
"Everyone has a different skin problem – I can't use perfume on my face, so that's why I don't use a lot of products. Breakouts could be due to lactose intolerance, the area, their diet. You have to figure out what your body is less tolerant to and you can have clear skin. Always start with diet and make sure you're using the most natural product possible.
"My boyfriend has acne so I used to always watch YouTube videos and try to figure out how I could help. There were these twin girls that had acne since they were little, making pursuing their acting careers hard, they went on a diet, cut out oily foods and now have clear skin."
You could save on a gym membership
"I lose weight really quick and also put on weight really quick – my metabolism works really quick. If I have a big shoot in two weeks and say, I want to look a bit slimmer, I work out a little bit – literally 10 minutes a day, I don't do much. I hate working out in the gym so I just do bodyweight workouts like press-ups, jumping jacks, squats, sit-ups. I eat more healthy, I try to stay away from fatty foods."
Start with fruits
"I live with my whole family. Sometimes my mum might cook fried egg, fried sausages, bread, all that stuff, but I just don't think that should be a diet in the morning. Obviously, sometimes, I do eat it, but when I'm ready to be healthy, I have fruits. I've got apples and pears growing in my garden, or I'll go to the farmers market. It's so much more refreshing to eat fruits in the morning. And then I don't eat too many snacks in the day."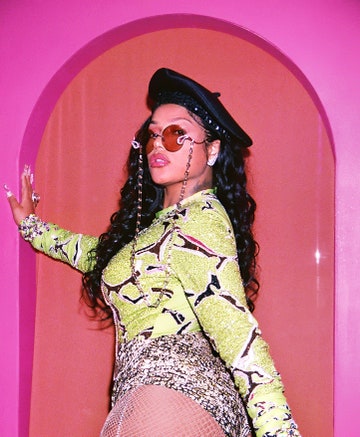 If you can't slay the wig, just make it work
"I can't fit my wig to save my life. My hairdresser always does it so I don't know what to tell people… get a good hairdresser? When I'm not with my hairdresser, I literally have a hard time. Most of my wigs, you have to glue, so sometimes I try to get her to make wigs that just have a tight band at the back. If I have to glue it, a lot of times I'll wear a headscarf over and style it out with big glasses."
Ask yourself: would Beyonce wear this?
"I like to do a wardrobe clean-out every couple months, and I'm like, "If Beyoncé wouldn't wear this, I don't want it." If I can't pick up something that's gonna make me look like boom, then I don't want it in my wardrobe. So, I'm always getting rid of tracksuits, jumpers… Sometimes I buy a nice jumper from TopShop, but as soon as I put it in the wash it don't look good no more, so I don't want it. I have my homewear and hoodies on another side.
"My wardrobe ends up full of a lot of shirts and leather leggings – like a lot of leather-type leggings. I have a lot of Versace shirts. Sometimes when I'm wearing one of them, my boyfriend's like, "Didn't you wear this the last time?", and I'm like, "No, this is a different one," and he's like "No, it's the same", I'm like, "No…" So, I'm trying to get rid of them. He can't be thinking I'm always wearing the same clothes."
Flawless make-up is about the prep
"It's very important to have your face really clean, washing your face with E45 and then ending it with ice-cold water like I said. When your face is cold, it just feels so fresh. Make sure your face is moisturised before you add your make-up, it makes it easier to blend because your brush is gliding. Your brush technique is important, and how you dab it on your face. Some people are harsh, be a bit gentle, do a lot of dabbing, not a lot of circular harsh motions. My foundation is always MAC Studio Fix, my concealer is a cheap one from the hair shop, my blusher is from MAC as well. Most of my products are MAC or Fenty."
Don't forget the lip liner
"If you know Steff, you know she always has lipliner and lip gloss. I get any brown lipliner, and my favourite lipgloss is the cheap clear one from the hair shop [Afro Cosmetics] which costs maybe £1.99. I've actually designed my own lipliner and lip gloss because I get DMs asking me what I use, and I can't live without it. It should be ready in a couple months."
With make-up, sometimes, less is more
"On normal days, I like you to be able to see my face and not be like, "Oh my God, what is going on!" See that, yeah, I've got make-up, but it looks naturally good. So, lately, I've been off the big eyelashes, I want simpler lashes where you can see the real shape of my eyes, and make-up not too cakey. Lately, I put a nice nude brown-ish eyeshadow and put lip gloss on top."
For nails, mostly, more is more
"I love dangly things and gems and rhinestones on my nails. Right now I've got a Louis Vuitton gold with gems across all of them, with different shades of pink."
Show off your body on date night
"For date night, I like a nice tight House of CB dress that shows off the body. If you're not confident to show your curves, I would wear a shirt that you tie midway – like a crop top with either a nice skirt or some nice tight jeans with a nice little small clutch bag. And I'd be going to Novikov."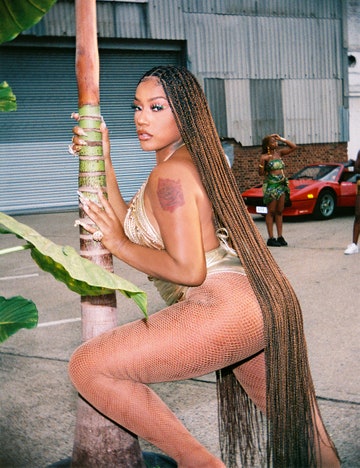 Why not go hard at home?
"With casual wear… Is any day ever casual to me? Right now I'm wearing a tight lime-green House of CB dress, and I'm just in my house. It's tight and just makes the body pop. I wouldn't say I like to be glam, but I like to not look like shit. Just with flip flops at home. I like Ego heels when I go out."
Designer is great, but it's not everything
"I love shopping at Selfridges or Harrods, and I buy a lot of designer stuff, which is terrible. Chanel, Louis Vuitton… I bought a Prada bucket hat and side bag the other day. Designers are always taking my money but their stuff is so nice! Zara and TopShop are my favourites on the high street. They've got very nice jewellery, especially TopShop – oh my God. But, I have a lot of Chanel and Versace jewellery. And my personalised jewellery, I get from my jeweller at Seattle Gold."
Bigger is always better for sunglasses
"On holiday, pack big shades, a big hat and a sexy bikini. I get my hats from Harrods, it's a bit expensive, but they have all the nice straw hats, or wait until you get to your tourist destination because on the main strip, they have cheaper. I love big Gucci shades, I just bought big Chanel shades – I love big shades. And I got a real nice Fendi bikini. Cancun, Mexico was the best holiday place ever, I went there to record music and it was just so relaxing, my apartment was right by the beach, it was beautiful."
Get ready to Afro-fusion and rap excellence
"I love Pop Smoke's album. And, of course, Burna's album – of course! And SAINt JHN, I love Saint Jhn."
Read your way into better confidence
"You have to be confident, I don't care about anyone's opinion, this is just who I am. You need not to give no fucks. As long as my hair looks OK and my nails look good, I feel confident. I was confident as a kid, naturally. If you don't feel confident, it's usually based on confusion; you don't know where to go, what to do or how to do it. Read books that will make you motivated, or listen to motivational speakers on YouTube. I've read 48 Laws Of Power, Law of Attraction, How Rich People Think. It reminds me of how to always keep going."