Yesterday, Brooklyn collective MSCHF dropped its latest fashion mash-up/ hype-chase/comment on consumer culture – the Birkinstock.
Modelled after the Arizona sandal, the hybrid style is made from an official Birkenstock cork-and-rubber sole, with chopped-up Hermès Birkin bags creating the leather straps. 
The Birkinstocks come in four versions – ostrich, two shades of porosus crocodile, and taurillon clemence – for prices starting from $34,000. They are made to order and available while supplies last. According to the New York Times, MSCHF bought only four Birkin bags to destroy and three pairs of the shoes have already been sold: to Future, Kehlani, and an unnamed art collector. The collective is also planning to keep a pair for itself.
The Birkinstocks will be sure to raise some questions and some eyebrows. Are they sacrilege? A brilliant meta commentary on the absurd heights of commodity, luxury, and excess reached in the world of high fashion? Or just a tragic waste of some bags?
Call us cynics but with MSCHF pocketing up to $76,000 for each pair, we would lean towards the latter. Can you really mock high fashion and hypebeast culture while at the same time profiting from it so outrageously?
Much like Vetements before it, this release from MSCHF toes the line between skewering high fashion and embodying it – an exclusive, expensive luxury product disguised as an anti-authority critique. As Emma Hope Allwood asked of Vetements, "how far can you really criticise the system you're gaming?"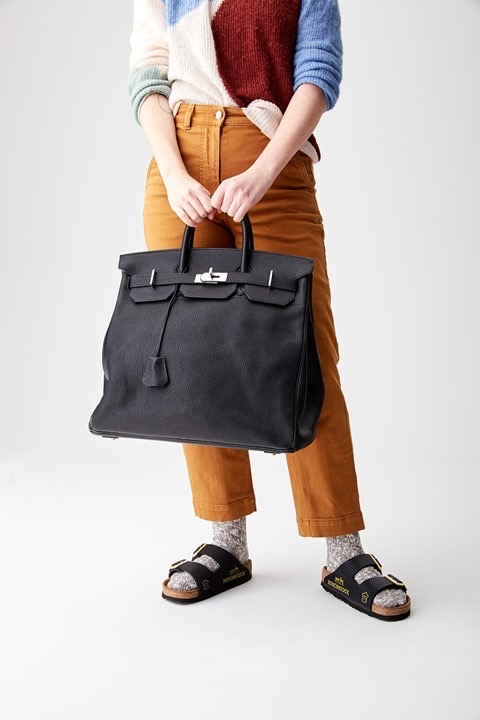 For anyone keen on getting their hands on a pair of Birkinstocks (lol), be quick. If history is anything to go by, they will sell out fast. The collective's previous release the "Jesus shoe" sold out in one minute and "88 Holes" (a Damien Hirst spot painting in which the spots were cut out and sold separately) even faster.
Aside from the arbitrary play on words, Lukas Bentel, one of MSCHF's creative directors, said the label chose the Birkin for their mash-up because they wanted to force people to question the symbolism of the famously exclusive handbag. "Birkin bags are like a cultural meme, a symbol for a certain kind of wealth," he told the New York Times.
"We really think nothing is sacred in our material choices. Normally, no one would touch a Birkin," said another creative director, Kevin Wiesner.
Birkenstocks, meanwhile, have been slowly making the transition in the last few years from the original anti-fashion footwear reserved for dads on holiday to fashion darling. The brand is now reportedly in acquisition talks with L Catterton, a private equity firm whose shareholders include LVMH.
DISCLAIMER: The Views, Comments, Opinions, Contributions and Statements made by Readers and Contributors on this platform do not necessarily represent the views or policy of Multimedia Group Limited.