Russian missiles have hit Ukraine's capital, Kyiv, following two nights of heavy drone strikes.
They were all reportedly shot down and there are no reports of casualties.
Flaming debris from the intercepted missiles landed in residential areas in central Kyiv.
Russia has launched 16 air attacks on the Ukrainian capital this month. The latest, however, was unusual because it took place during the day - and seemed to be targeted at the city centre.
All other air assaults on the capital so far in May have taken place at night and appeared to be directed at critical national infrastructure and air defences on the outskirts.
Air Force spokesman Yuri Ihnat said that Iskander ballistic missiles were used in the latest attack and that it was possible S-300 and S-400 missiles had also been fired.
According to reports, only one person was injured and all missiles were destroyed by Ukrainian air defences. Russian authorities claimed all their targets had been hit.
Air raid sirens reportedly also rang out across several other Ukrainian regions.
Local military commanders in Kyiv accused Russia of changing its tactics and deliberately targeting the civilian population. It certainly appears that Moscow wants to step up its pressure on Ukraine even further ahead of any counter-offensive.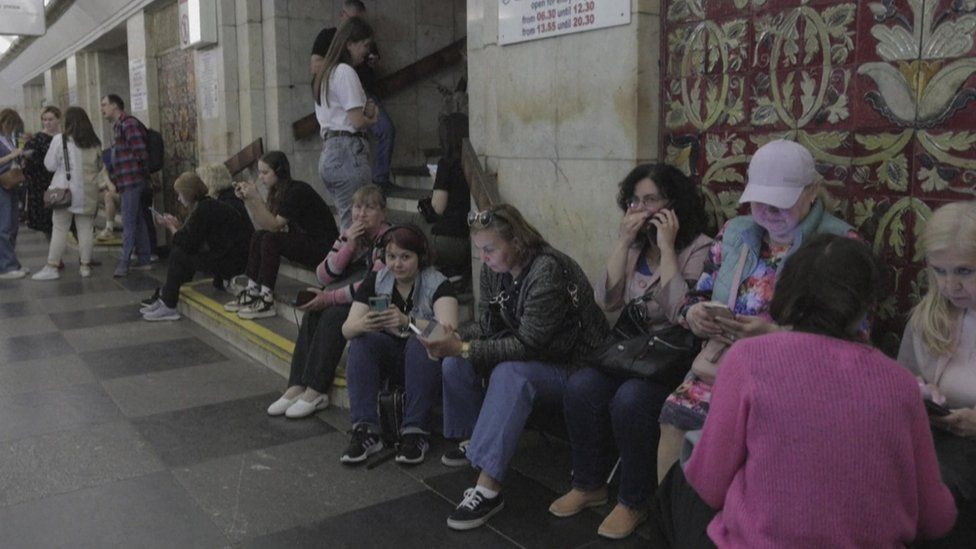 Oleksandr Scherba, ambassador-at-large at Ukraine's ministry of foreign affairs, told the BBC that the last few days had been very difficult for Kyiv residents.
"Almost every night, the skies look and sound like another Star Wars episode, but we don't feel much of Russian rockets hitting their targets here within the city area. And this is all thanks to the decent countries, decent people of the world who gave us this air defence," he said.
Living in the capital was anything but normal at the moment, Mr Scherba said, adding that the drone attacks and sleepless nights had become "part of our routine".
On Sunday, Ukraine's President Volodymyr Zelensky praised his country's air defence forces after Kyiv sustained the largest drone attack since the war began.
"You are heroes," said Mr Zelensky, after military commanders said most of the drones launched by Russia were brought down.
In its recent attacks, Russia - which launched its full-scale invasion in February 2022 - has been using kamikaze drones as well as a range of cruise and ballistic missiles.
Analysts say Moscow is seeking to deplete and damage Ukraine's air defences ahead of its long-expected counter-offensive.
Ukraine has been planning a counter-offensive for months. But it has wanted as much time as possible to train troops and to receive military equipment from Western allies.
On Monday, in Russian region of Belgorod, the governor said that several frontier settlements were being shelled simultaneously by Ukrainian forces.
In the meantime, Russian forces have been preparing their defences in the seized regions of south-eastern Ukraine.
DISCLAIMER: The Views, Comments, Opinions, Contributions and Statements made by Readers and Contributors on this platform do not necessarily represent the views or policy of Multimedia Group Limited.