The Juaben Traditional Council has debunked reports that some assembly members were forced to kneel before the Paramount Chief of the area, Barima Otuo Siriboe for voting against the President's Municipal Chief Executive (MCE) nominee.
Describing the information as "vicious lies and propaganda", the Council's Registrar, Kwaku Ankomah Asare in a statement asked the public to dismiss the fake news.
"At no point was any assembly member forced to kneel for voting against the nominee. After all, the Omanhene had no mechanism to know how members voted," the Registrar noted.
Narrating the series of events that led to the incident, the Council explained that some presiding members appealed to the Omanhene to help resolve the differences between members of the assembly and the President's MCE nominee, Alex Sarfo Kantanka.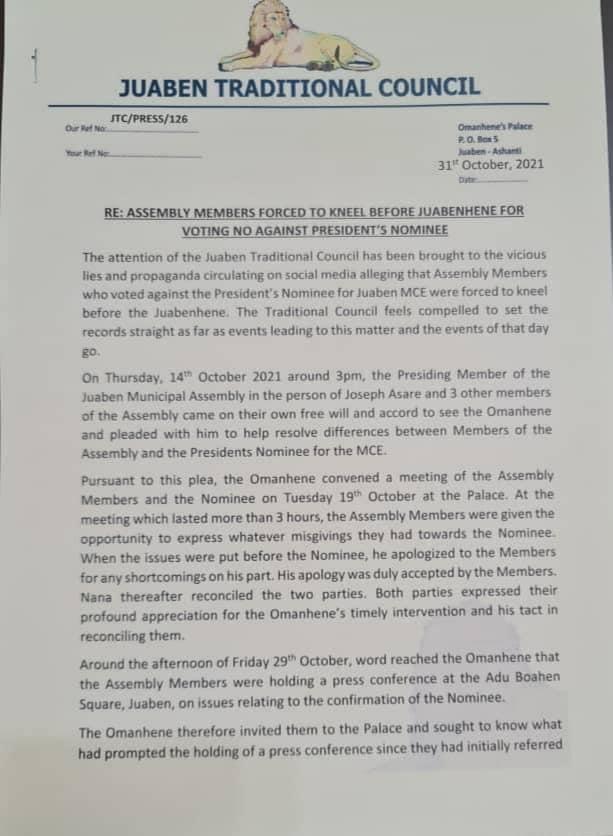 Pursuant to this plea, the Council added that the Omanhene convened a meeting at his palace on Tuesday, October 19, to reconcile the parties.
"At the meeting which lasted more than three hours, the assembly members were given the opportunity to express whatever misgivings they had towards the nominee.
"When the issues were put before the Nominee, he apologized to the Members for any shortcomings on his part. His apology was duly accepted by the Members. Nana thereafter reconciled the two parties," part of the statement read.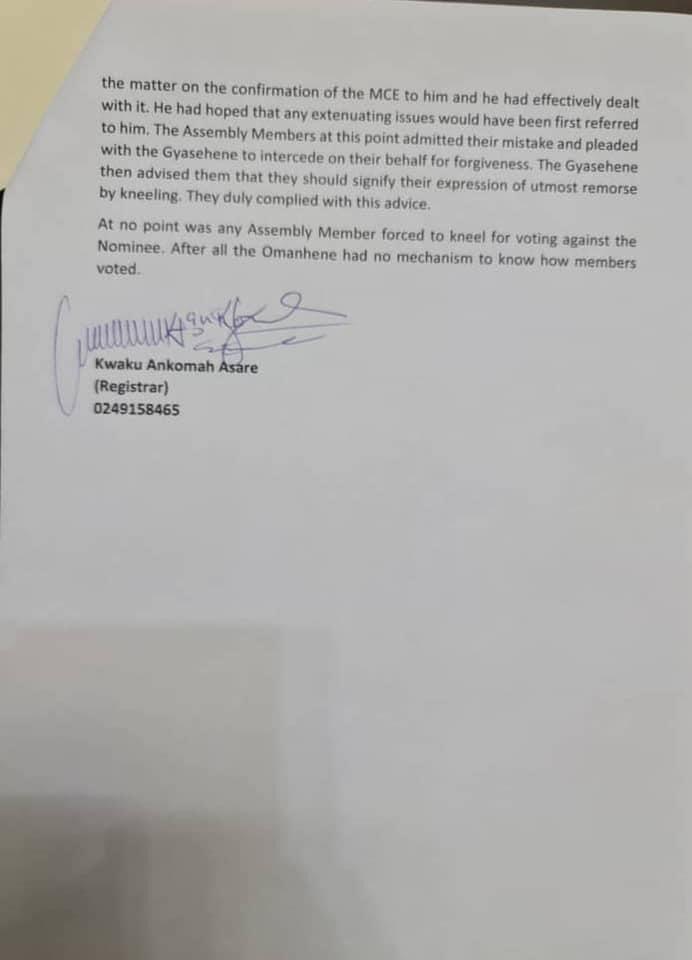 However, news reached the Omanhene the following week that assembly members were holding a press conference on the confirmation of the MCE nominee.
Dismayed about it, the Juabenhene invited them to the palace again to inquire the reason behind their action, since "he had effectively dealt with it," thus hoped any outstanding issues would have been referred to him first.
Admitting that they were in the wrong, the assembly members apologized, the Registrar stated.
"The Gyasehene then advised them that they should signify their expression of utmost remorse by kneeling and they duly complied with this advice."
An assembly member, Emmanuel Gallo has concurred to the story.
Speaking on Joy FM's Super Morning Show Monday, Mr Gallo said they knelt down willingly because they were in the wrong.
"We did not kneel down because we voted against Mr Sarfo Kantanka, however, it was because we held the press conference without informing our Omanhene," he told Winston Amoah.
DISCLAIMER: The Views, Comments, Opinions, Contributions and Statements made by Readers and Contributors on this platform do not necessarily represent the views or policy of Multimedia Group Limited.