New Jersey teenager Megan Flaherty knows how to make an entrance at her senior prom "• by pretending it's her end.
The 17-year-old Flaherty showed up to Pennsauken High School's junior prom Saturday night in a hearse.
She really shocked the crowd when she stepped out of a coffin looking, dare we say, drop-dead gorgeous.
Flaherty's reason for the morbid entrance?
It was also a tip of the hat to her future career as a funeral director, which is an idea she picked up from a close family friend.
The friend owns a funeral parlor "• and the hearse that drove Megan to the prom "• and Megan has done odd jobs for him, such as vacuuming the viewing area and handing out prayer cards.
Megan's mom, Susan Flaherty, admits not everyone is dying to come to prom in a coffin.
"It's not for everyone "• death is a touchy thing," Flaherty told Inside Edition. "Some people are afraid of it, but that is her chosen profession, and she was celebrating what she wanted to do with her life after high school."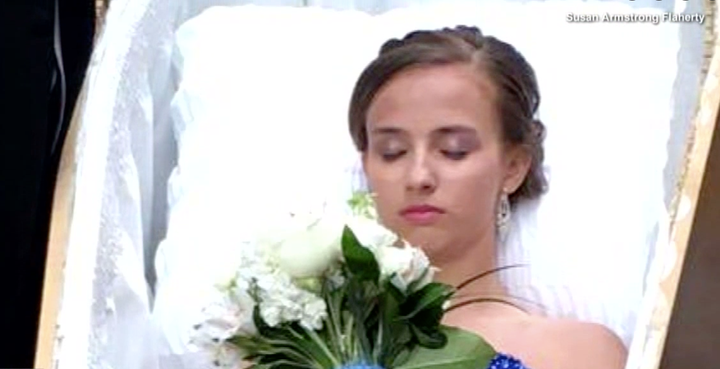 Susan Armstrong Flaherty via Inside Edition
Not everyone agrees with the Flahertys, based on the comments on the YouTube prom video below.
One person called the stunt, "Attention seeking at its worst," the Sacramento Bee reports.
One woman said it was "classless, tasteless, and insensitive" adding, "I am not surprised her goal is to be a funeral director. When she applies for the job, I am betting more than one funeral home will reject her for mocking the dead."
The internet shame storm got so bad that her mother felt obligated to address the haters on Facebook. In a comment that has since been removed, Flaherty noted that her daughter meant "no disrespect" and was simply celebrating her post-school career dreams.