The Sunyani Traditional Council has kicked against the nomination of New Patriotic Party (NPP) regional chairman Kwaku Asomah-Cheremeh as the next Brong Ahafo regional minister.
At a press conference Thursday, the chiefs revived a 2016 feud with the NPP man claiming, that he disrespected the traditional authority.
'We cannot work with him' , Nana Obuaman Bofotia Boaponsem told the press.
The Brong Ahafo regional branch of the New Patriotic Party (NPP) was set on a collision course with the Sunyani Traditional Council last December in the run-up to the general elections.
The Paramount Chief, Nana Bosoma Asor Nkrawiri, in October, declared support for the National Democratic Congress (NDC) presidential candidate John Mahama.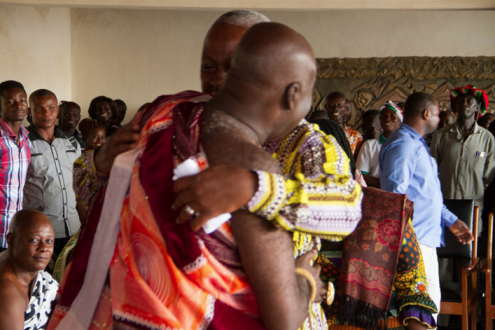 Nana Bosoma embraces President Mahama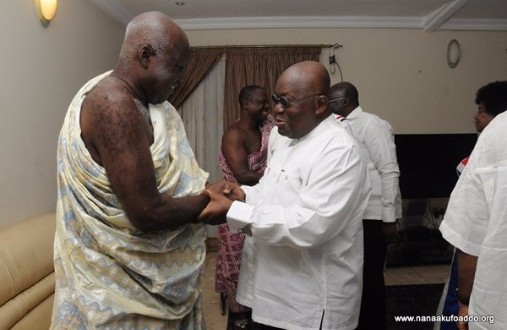 Nana Bosoma Asor Nkrawiri meets Akufo-Addo
He predicted, President John Mahama will win the 2016 election in the region with an overwhelming 80%.
But the NPP condemned the paramount chief, describing his endorsement as unfortunate, unacceptable and a breach of the country's constitution.
The Regional Chairman of the NPP Mr Kwaku Asomah-Cheremeh said, the Chief "stooped to the lowest level to call on residents of the region to endorse the Presidency of Mahama".
"What we find appalling and unbelievable is the fact that a 10-kilometre stretch of uncompleted road could induce a chief of his standing to promise 70 to 80 percent victory in the region for the President."
He advised the Paramount Chief "not to have appetite for favours from the President at the expense of their subjects. Our chiefs should realize that power is transient and the word impermanence is attached to every sphere of life."
But the Traditional Council took exception to the comments by the regional executives and consequently asked the Brong Ahafo Regional Council of Elders of the NPP to compel the regional executives to render an unqualified apology.
The council said Mr. Asomah-Cheremeh had undermined the authority of the Sunyani Omanhene.
The NPP failed to apologise for the comments, leading to a stand-off between the two factions.
The Chief's favourite in the 2016 general elections, President Mahama, lost the national popular vote and the region's popular vote.
John Dramani Mahama polled 44.91%, far less than the chief's 80% prediction. Nana Akufo-Addo obtained 53.87% and winning 20 seats with the NDC settling with nine.
With the NPP in government, President Akufo-Addo has elevated Kwaku Asomah-Cheremeh to regional minister, something the chiefs are not in favour of.
Presenting him at a press conference inside the Flagstaff House, President Akufo-Addo said the NPP leader was instrumental in the NPP's political fortunes in the region.
He explained the new job for the legal practitioner should not be overwhelming because he understands the complexities of the region.
But the chiefs do not understand this choice and are calling for the withdrawal of the president's nomination.