The Vice-Chancellor for the Koforidua Technical University says Technical Universities in the country will continue to lose a chunk of their PhD holders and faculty members to traditional universities.
Professor David Esumang noted that the situation is due to disparities in the condition of service, which hinders the upgrading of Polytechnics to Technical Universities.
He attributed the high attrition level to unfairness in promotion criteria for Technical University lecturers and delay granting accreditation for Degree programs for Technical Universities.
"We have 58 PhD holders here at KTU. The sad news is that we are losing all these PhD holders to the traditional universities on two key grounds: promotion criteria and, two, the HND programs that we run mostly here are not attractive to them.
"This time, we have lost several PhD holders to KNUST, UEW, and other Institutions. so I plead with my Chairman, GTEC Rep so that we can facilitate accreditation for degree programs we want to run and, even if possible, graduate programs to run," Prof. Essumang stated.
The VC said; nonetheless, the University is on course with the recruitment and development of staff members.
"The University has an aggressive staff training policy. Currently, 28 Senior Members are pursuing PhD programs locally and internationally, while two are pursuing Master's Degree programs. All of which are supported through scholarships from the Government of Ghana, the GETFund and other funding institutions and agencies, and the University's resources.
"We indeed welcome support from other sponsoring and donor agencies to assist our staff members to pursue further studies," he added.
The Vice-Chancellor was speaking at the 17th congregation of the University in Koforidua, which was held virtually due to the Covid-19 pandemic.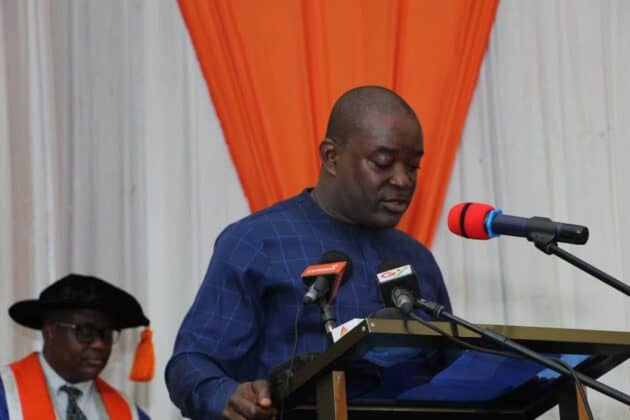 The Deputy Director of Ghana Tertiary Education Commission (GTEC), Dr Ahmed Abdulai Jinapor, who represented the Director of the Commission, assured that the Ministry of Education is working assiduously to address challenges relating to promotions of lecturers in Technical Universities.
"The whole issue about your promotion is going to be addressed, and it is going to be addressed to fit what is going on in the Traditional Universities".
He disclosed that Koforidua Technical University is the only Technical University that has submitted its proposals for approval of conditions of service for its faculty members.
Dr Ahmed Jinapor also dispelled erroneous impressions festering that GTEC deliberately delays accreditation for programs in Technical Universities to favour Traditional Universities.
"GTEC is unfortunately accused of deliberately delaying the award of accreditation for programs for Technical Universities. However, let me state on the record that the faculty and staff of Technical Universities in terms of structure, recognition, and conditions of service are not and will never be different from their counterparts in Traditional Universities. Indeed the salaries and emoluments such as book and research allowances for the two faculty groups are the same and will remain so.
"The only difference, ladies and gentlemen, has to do with institutionally approved conditions of service which are tailored and informed by the Internally Generated Funds of the specific Institution and approved by the respective councils."
The second session of the 17th Congregation of KTU saw 2,021 Higher National Diploma and 168 Diploma in Public Administration who completed their studies in 2020 graduated.
A total of 128 graduands obtained First Class, 1,038 graduands obtained Second Class Upper, 927 graduands obtained Second Class Lower. In Automotive Engineering, 2 graduands had 'Competent' while 42 graduands had 'Competent with Merit'. Therefore, those who obtained passes were 58.
The Eastern Regional Minister, Seth Kwame Acheampong, said the government continues to roll out interventions to create employment for the youth and an enabling environment for entrepreneurship.
He, however, acknowledged that "youth unemployment and underemployment remains a major socio-economic challenge in the country today."
"The unemployment among the youth can allude to the lack of employable skills, which contributes to low productivity. Thus graduate unemployment is a big issue in Ghana. It is therefore worth noting that the chosen theme "the role of the Technical University graduands in building a self-reliant nation through entrepreneurship" is very appropriate for these years," he added.
DISCLAIMER: The Views, Comments, Opinions, Contributions and Statements made by Readers and Contributors on this platform do not necessarily represent the views or policy of Multimedia Group Limited.