Ruslan Karablin, the founder of pioneering streetwear brand SSUR, is from Odessa, Ukraine. It's the third-largest city in the country and located in the southwestern coast where it's currently preparing for impending Russian attacks.
As many readers should know, Ukraine has been bombarded by Russian military forces for the past month, which has created the world's fastest growing refugee crisis since World War II. The war has unleashed devastating consequences on Ukraine's civilians, who Karabalin is routinely speaking to.
"I'm in touch with my manager and friends every day. A lot have become volunteers, from filling sandbags to taking medical training classes to be helpful to their fellow citizens," says Karablin, who has operated a SSUR flagship in Odessa for the past eight years. "I've noticed, especially in Odessa, and I can't speak for the rest of Ukraine but I'm sure there's a lot of love too, but to the inhabitants of Odessa, our city is sacred. We don't want that to change."
Odessa, which boasts a population of approximately 1 million, is a major port city revered as Ukraine's "southern capital" and is a popular tourist destination during the summer. But now, Russian warships are just off the city's coastline and streets that were once filled with cafes are now lined with barricades as a new reality throughout the country has set in.
Karablin has spent the last couple of years in Los Angeles running SSUR, an influential line he originally launched in New York City during the early '90s that has inspired designers such as Virgil Abloh and influenced brands like Supreme. Although Karablin's rich background single-handedly made him one of the most prolific figures within New York and Los Angeles' streetwear scenes, the Coney Island-raised designer has always held a special place in his heart for Odessa, a well-known parallel city to New York in the realm of culture and arts.
"It was like my own personal Paris. A place where the people spoke my language, the food made me feel at home, I could walk around the city I love, and just take in the beauty of it," says Karablin. "There's a big community of creative artists, musicians, sculptors, writers, and poets. I felt the history of Odessa when I walked its streets—my history. I felt I was and remain a part of the culture and added to it and was accepted."
Here, Karablin speaks about his Ukrainian background, Odessa's rich urban culture, which has drastically changed within the last couple of weeks, and what it feels like to watch his city prepare for war from Los Angeles.
I feel like many streetwear enthusiasts know you as a New Yorker first. But you're actually from Odessa, Ukraine, a city in the southern part of the country. I would love to hear a little bit more about your background and how your family ended up moving to New York in 1975.
We left Odessa in 1974. It was my mother, my grandmother, and myself. The first leg of the trip was by railroad from Odessa to Austria. My mom packed what we could take. I was 5 years old at the time. We arrived in Vienna and were there for maybe a month. At the time, there was a Jewish exodus and the option was America or Israel. There were sponsorships in the '70s from Jewish organizations in the United States, sponsoring families from the former Soviet Union to leave because they were being persecuted. Additionally, it wasn't great for the people living there. So whoever had a chance to leave at that time took advantage of it. Some converted just so they could leave.
After Vienna, we lived outside of Rome, Italy for four to six months. After which we flew to The US. We had family there. My mom's sister and a couple of our cousins. They were the recon and we followed suit. We landed in NY on March 24, 1975 and took the subway to Manhattan.
At first, we lived in a welfare hotel on Lexington Avenue in Manhattan for about a month or so. It wasn't that great of a place so my aunt took us in and we lived in Canarsie, Brooklyn for a few months before moving to Coney Island where my mom still lives to this day.
So your parents were refugees?
It was my mom, grandmother, and I traveling. My father stayed behind because he was Orthodox and loved his land. He didn't want to leave. My parents divorced when I was around 2 years old.
It's chilling to see these images in the news about Odessa. Streets that were once filled with cafes in Odessa are now just lined with barricades and Molotov cocktail reservoirs. I've seen footage of civilians mobilizing on the beach to fill bags of sand to defend their city.
Yeah, a lot of people I know are taking part in supporting their city in whatever way they can. I have beautiful friendships there and people who are like my brothers. Women and children were allowed to leave the city, but the men had to stay and help with the war effort. You don't really have a choice, but most of the people I know wouldn't have left because of the love they have for Odessa.
What can you tell me about your experiences in the city?
It was like my own personal Paris. A place where the people spoke my language, the food made me feel at home, I could walk around the city I love, and just take in the beauty of it. The architecture and the people who I've met there are extremely creative and artistic and hold a dear place in my heart. There's a big community of creative artists, musicians, sculptors, writers, and poets. I felt the history of Odessa when I walked its streets—my history. I felt I was and remain a part of the culture and added to it and was accepted. It's a part of my being as much as New York and now, Los Angeles is. Since I can remember, I've always kept a place in my heart for Odessa.
When was the last time you visited, and were tensions already high?
This past August I took both of my sons there for the month and was meant to go back days before Feb. 24. Political tensions have been high for the past eight years [in Ukraine] ever since the first Maidan happened. But, Odessa is a special place and is a great host for visitors, so they are more open to the world. They're not necessarily down with the politics. It's kind of like NY and LA versus the rest of America.
I like how you call Odessa your own "personal Paris." I feel like a lot of Americans right now may be hearing about this city for the first time from recent headlines. How would you compare it to an American city like New York or Los Angeles?
To me, Odessa is a special and beautiful place with special people. It feels like home. Odessa is almost like New York meeting Jamaica in a way. I don't know how to explain it, but it's kind of like that. There are little shanties built along the sea next to "elite" high-rises and old, rusty Soviet era cars at the light next to a Maybach.
Odessa has been the summer resort of many people from around the world for a long time. The culture is diverse. There has always been a connection between Odessa and Moscow and many people have families connecting the two countries. There are even popular folk songs about it.
I've been to Moscow several times, and have lots of friends from Moscow living in the states, St. Petersburg and all over parts of Eastern Europe, and Russia. Although this story is speaking about my love for Odessa, I want it to be known that I'm not down with the geopolitical agenda and I am a world citizen. Politics, false flags and imaginary borders lead to division of the people who have been living together peacefully for hundreds of years. Both of my grandfathers, Jewish and non-Jewish, served in the Red Army. My paternal grandfather was a pilot and my maternal grandfather worked on a ship. My grandmother was a nurse in the Red Army as well. This is all very strange to me and many of my peers and most of the world.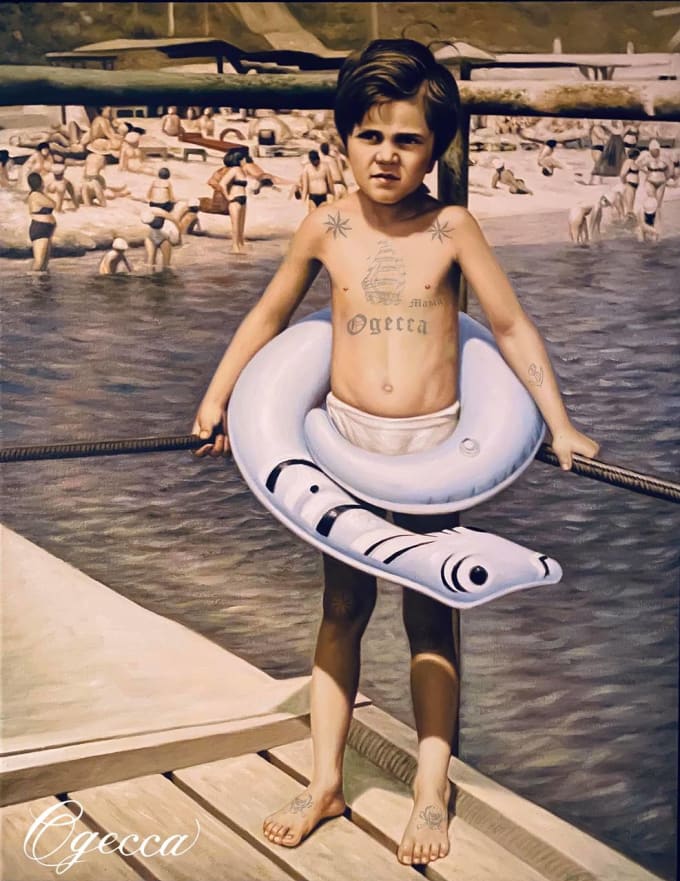 Did you grow up in Little Odessa by Brighton Beach or was it Coney island?
No, I grew up in Coney Island proper. A lot of Russian immigrants started in Coney Island, but a lot of them got out of there because back then it was a rough neighborhood. There was a lot of purse-snatching, chain-snatching, muggings, assaults, and murders. It wasn't the best time to live in Coney Island. So, needless to say, a lot of people rushed out of there quickly and moved to neighborhoods like Brighton Beach (Little Odessa), Bensonhurst, or Sheepshead Bay near Coney Island. But we stayed. My mom was on the sixth floor, grandmother was on the seventh, and my aunt and uncle were on the eighth floor. We were one of the first families in the building that were newly built at the time.
How did your upbringing in this unique part of New York shape you?
It shaped me in so many different ways because I didn't necessarily grow up with other immigrants of the Soviet Union in those areas—although there were a few living there. I believe I became more welcoming to different cultures and communities because I grew up in Coney Island. I didn't get involved with the Russian-speaking community until community college—I was around 18, 19. Although I knew Russian-speaking kids, I never spent much time with them growing up. Instead, I grew up with Italian, Black, Puerto Rican and other Latino kids in my neighborhood. I was exploring other neighborhoods too, but my base was mostly Coney Island.
I assume you have family currently in Ukraine and Russia right now. What can you share about their experiences right now?
Well, I'd say for the most part, most of us left a long time ago from Odessa and other parts of Russia. I've got some cousins there. The people that are close to me, feel a sense of pride for their land. To all people, their birth land is sacred. All land is sacred to its inhabitants. Nobody wants an unwelcome invader, in the name of "libre de opresso" coming in and destroying innocent people's lives, wrecking havoc on their city, terrorizing women and children, and turning civilians into violent casualties. It's horrible.
What you mentioned about your grandparents serving in the Red Army, I have friends whose parents grew up in the Soviet Union and some of them are having trouble speaking to their family because of this divide in thought, so to speak. Their parents support Russia and Putin's agenda along with this propaganda about the "denazification" of Ukraine. Has this also been a struggle you've dealt with in recent days as well?
I've seen the divide in 2014. I have spoken to old married couples that have been together for 50 years, split up because of these divide and conquer tactics. It's easier when people are in diaspora to conquer their land and take advantage of their resources.
Do you think Americans have fully grasped the magnitude of these events yet? When you talk to friends in New York or Los Angeles, do you feel they understand what's going on and how big the implications are?
I think the majority don't understand. I think there are a few people that might understand and fear the consequences of this escalating conflict, which would affect the entire world. It seems to be happening little by little. We're involved in some crazy fucking war games around the world.
In my opinion, Ukraine poses no threat to Russia or the Russian people, again, many of which have relatives in the area. Global powers are at war and Ukraine is a sacrificial pawn.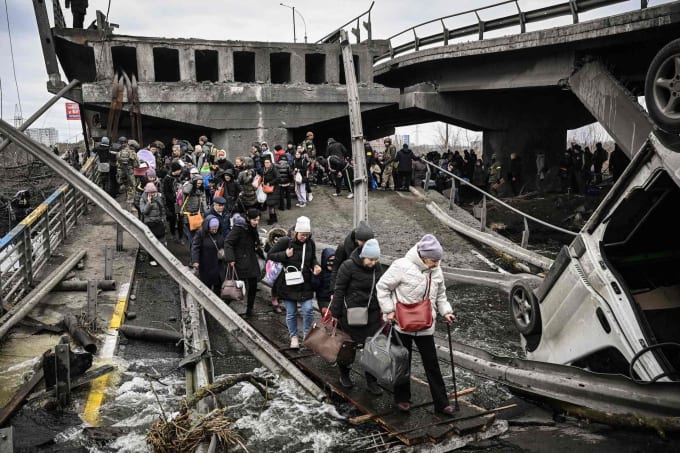 Obviously, this tension between Russia and Ukraine has been ever-present since the collapse of the Soviet Union in 1991. And we cannot forget about the invasion of Crimea in 2014, which has led up to the events we're seeing today. You were in America during these times but how has this conflict impacted your life as a designer before the events of 2022?
I've made art that has touched on the subject. I made a Coca-Cola bottle Molotov cocktail graphic/art piece right around 2014. It was almost like a premonition. The flame resembled the torch from the Statue of Liberty and it said cocktail in Russian instead of Coca-Cola and read "Made in the USA." In general, as an artist/graphic designer, I've touched on other subjects about our global leaders sabotaging our freedoms, imposing fear on its people, and keeping us subjugated to their plans.
So 2 million people have fled Ukraine in less than two weeks. The United Nations has declared that this is the fastest-growing refugee crisis since World War II. I know you have a SSUR flagship in Odessa that has been open for nearly a decade now. How big is the SSUR team in Ukraine and how are they doing right now during this extremely challenging time?
I think some people have been wanting to leave because of the economic struggles for a long time, well before the war started. The land is rich in resources and there's lots of money flowing, but corruption starves the masses.The average salary is $200-$300 a month in Ukraine. Pensions are $40-$80 for old people. It has economically been destroyed for many years because of greedy politicians.
Like most of the rich lands of the world, the inhabitants are struggling. Their resources have been bamboozled. In the '70s, when there was a wave of immigrants being allowed out of the Soviet Union, there were also many people disguising themselves as Jews in order to leave. It was never peaches and cream. The people are resilient survivors.
How big is the SSUR team in Ukraine?
My team ranges between five to nine people at a time, between the shop and office. We've produced our goods in Odessa for the past several years. We also work with a factory and there's probably around five to seven people who run our project. I'm in touch with my manager and friends every day. A lot have become volunteers, from filling sandbags to taking medical training classes to be helpful to their fellow citizens. I've noticed, especially in Odessa, and I can't speak for the rest of Ukraine but I'm sure there's a lot of love too, but, to the inhabitants of Odessa, our city is sacred. We don't want that to change.
Is your brand still fulfilling orders out there?
We are unable to fill orders from there at this time. The postal services are likely not functioning. Everything has come to a full stop.
What can you tell about the clothing and the fashion industry there?
Odessa has always been filled with people who love fashion and love to look good. They wear nice clothing and love to take care of themselves. They're really into it and ever since the social network world, it has grown even more. They've embraced hip-hop culture and other Westernized popular cultures, while they've got their own unique style that blends with global fashion. Slightly towards European style. It's really a mix of cultures.
What led you to produce in Ukraine rather than Los Angeles or a city closer to you? Why was it important for you to build your current-day business there?
Well first of all, it's for the love I've always had for Odessa. I fantasized and romanticized about having a place/shop there for years. When I was there in 2013 with my family, I was walking through the Passage, where the SSUR shop currently stands and saw a place for rent in this beautiful building. I made an impulsive decision and decided to rent it. I did a buildout, and as I was building it, around the end of 2013 into 2014, the Maidan happened. Shortly after it calmed down, we continued and opened the shop that summer.
My friends and contemporaries couldn't understand what I was thinking. I love Odessa and enjoy going and spending as much time as I can there. Especially during the summer. It's on the Black Sea. I wanted to bring a piece of myself and my New York upbringing back to my roots.
Lastly, I hate to say it like this, but producing stuff in the United States has not been easy for me. I also didn't want to produce goods in Asia due to some issues I had in the past. I always heard stories about Ukraine. Before all this shit started happening, Ukraine was known for making many goods for Russia. Especially clothing and uniforms. I knew the machinery was there and that the country had experienced workers who could make the goods, and that Turkey and Europe was right across the sea with the fabrics we needed. The quality is good and is relatively more affordable than making more expensive stuff of lesser quality elsewhere.
I heard of an industry there but never knew there was a history of making clothing there.
It was honestly on a whim and just took a little bit of research. I knew that Odessa was also known for making denim back in the day before the import of Levi's was available in the USSR. Odessa was doing "replicas" in basements. I took a chance and it was working.

Are most of your customers based in Ukraine and Russia?
Although we ship our products from Ukraine our customers are mostly based in the United States and other countries. There's action in Ukraine, especially in the Odessa shop. We were gearing up to open in Kyiv later this year. A good amount of the products were coming to the United States and other parts of the globe and being shipped directly to our customers from SSUR.com.
As far as our shop clientele, we have amazing support from the locals. The young and older are drawn to the shop. To me, it is reminiscent of days in the early to mid-'90s when Supreme first opened. All the "cool kids" who worked at Supreme and the SSUR shop were going back and forth between the stores. My atelier was a social club for many years in NY and now the same with Odessa.
It's cool to hear that there's a scene out there that reminds you of that.
We have a few young skaters. A couple of pro BMX riders. We have a pro skier that we've sponsored out there. There's also a crew of 30 kids on mopeds who do tricks in the streets that we sponsor.
Brands like Prada, Hermès, and Uniqlo have shuttered retail in Russia in response to these recent events. Do you think the fashion industry is responding well to what is going on in Ukraine? What do you want to see brands do in light of this?
I don't agree with embargoes and sanctions where the people have to be responsible and suffer for the choices of our so-called political leaders who subjugate us and use us as chattel.
I'd like to see designers and brands call for world unity and real freedom of travel, choice, and expression that is conscious and cruelty free.
Many fans of your work are familiar with SSUR as well as the iconic work you did for Supreme during its earliest years, such as making the "Bling" box logo. I know your label Caviar Cartel is directly inspired by your Ukrainian-Russian background. Are there any iconic designs you made for SSUR or Supreme that are strongly inspired by this as well that you want to highlight?Does the "Illegal Business Controls America" T-shirt count? [Laughs] I can't actually recall any specifically Ukrainian/Russian inspired, unless it was via US migrants from there, like the above mentioned design. I've always brought my roots into my work, sometimes subtly and at times blatantly. I've also painted and printed photos and mugshots of famous and infamous people in Eastern Europe (Ukraine and Russia) and have incorporated other anti-Soviet inspired aesthetics and art into my work.
Do you have any Ukrainian brands or creatives in mind aside from SSUR that you want to shout out?
George Bardash is a musician and producer. Kul Kate is an Odessa-based women's dressmaker and stylist. Trouble Tribe (Shu), a Kyiv-based crew of creatives. Capobanda, an Odessa-based art objects, and accessories label. The Odessa artists Dremow, Alexander Yasterbov, and Grishigiano. And the Odessa poet Dombrovski.
With all that being said, what do you think young people should do in light of this tragic situation?
Instead of pledging allegiance to imaginary borders and flags of division by proxy and geographical location, be an example of coexistence, empathy, and global consciousness. Help cultivate crucially needed change by thinking for yourselves. Do not let the engineered agenda lead your choices and brainwash you into feeling surrounded by enemies or being in a constant state of fear and anxiety.