"Everyone now knows me by my name," said Usha Devi, sitting in her modest home in Bihar, one of India's poorest states.
"Identity is not a small thing," the 38-year-old persisted. "Earlier only men were known by their names, now women are identified by their names too."
Usha Devi was made to quit school and marry at the age of 15. Forced into repeated pregnancies in the family's desire for a son, she had little control over anything in her life.
After her husband had to migrate in search of work, the mother to three daughters and a son rose to take charge of the house and their children's lives. She moved out of her in-laws' home into a separate house in the same village. She now earns money and takes all decisions for the family and is considered the head of her household.
The United Nations says there is no fixed definition for women-headed households but they are often defined as homes where either no adult men are present or they do not contribute to the household income.
Economists and demographers understand the term head of the household to refer to someone who earns money and has authority to take decisions in the family. In case of married women, when husbands migrate and do not live at home for six months or more, women are counted as the head of household. These are often self declared.
It's a story repeating itself across villages and small towns of India where distress-related migration by men is leading to an opportunity for women.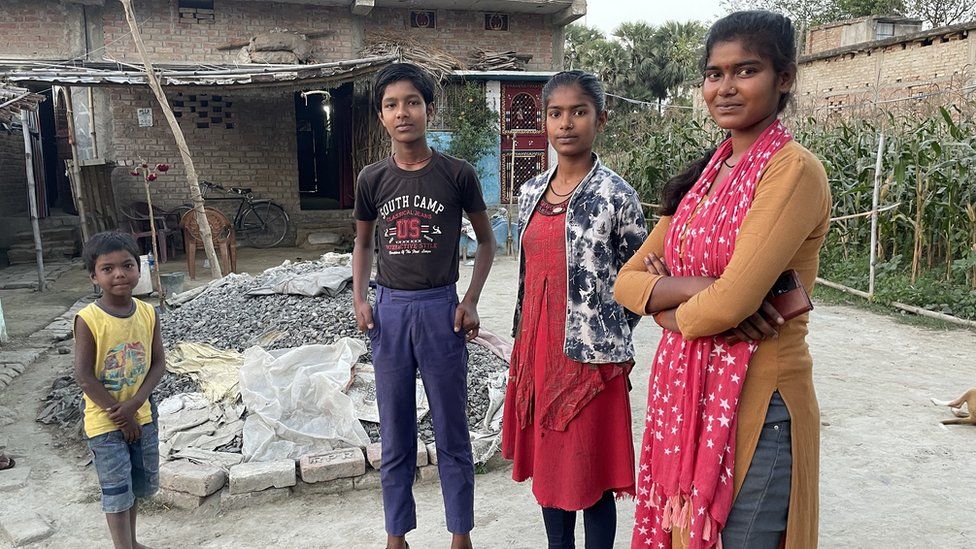 Sociologist and demographer Professor Sonalde Desai says this opportunity hinges on the wife's ability to move out of her husband's family home where she may remain dependent on other male members like her father-in-law and brothers-in-law.
"In cases where a woman is able to establish an independent household by herself, we see a real change in her ability to make decisions, her likelihood of taking care of some financial responsibilities, even managing and running the farm," Prof Desai says.
Over the past three decades, the proportion of households headed by women has almost doubled, data from the National Family Health Survey shows.
A big contributor to this change in the patriarchal family set-up is internal migration, which has shown a rising trend.
India's last census in 2011 counted 450 million internal migrants. This was an increase of 45% over the last decade, a rate much higher than the population growth rate (18%) in the same period.
Faced with Covid-19 induced poverty and shrinking employment opportunities, Prof Desai predicts this trend will only increase in the coming years.
Independent and confident, Usha Devi is now a leader amongst women in her village.
Her job as the head of a self-help group involves enrolling women into a government scheme that gives easy loans to poor women.
The group meets every week, collecting small contributions of 10 rupees ($0.12; £0.09) each to build a small corpus, often visiting the bank to deposit it and make requests for loans, and making financial decisions like lending small sums of money from the corpus for emergencies.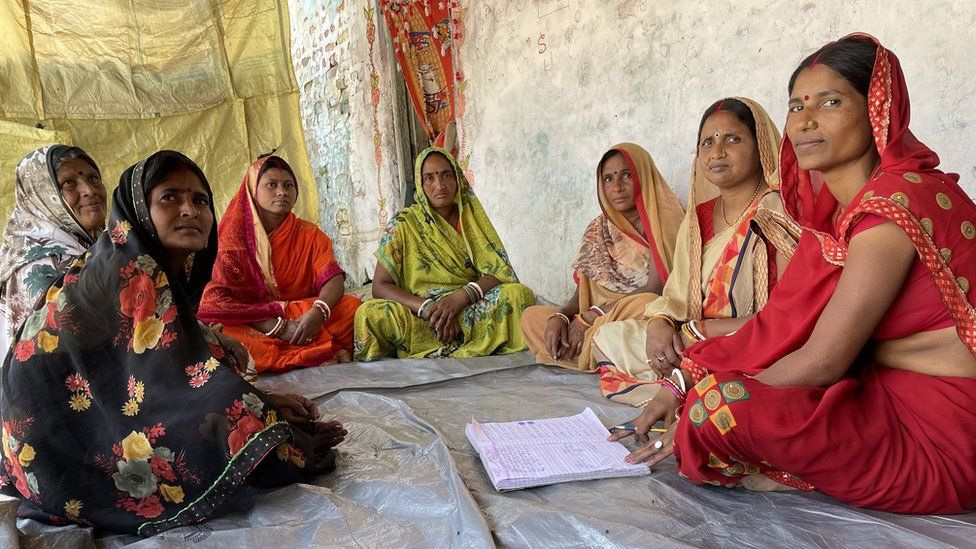 At a meeting I attended, there was disagreement and laughter in equal measure. The bonhomie of an informal support network, independent of their menfolk and families.
"Now we all know each other by name. And with the help of the more literate members, I have learnt to write my name and manage financial transactions," says Munni Devi.
Shobha Devi is one of those more literate group members. She also had an early marriage but was able to complete her education later and often takes over in Usha's absence.
"The money my husband sends is often not enough, so we help each other through thick and thin," she says.
"Since I know how to manage money, I also have a greater say in spending decisions now."
Shobha Devi is part of a growing tribe of women who are more educated than their husbands.
According to the India Human Development Survey, among couples who got married in the 1980s, only 5% of women were more educated than their husbands. This rose to 20% for those in the 2000s and the 2010s.
"If we understand headship [head of family] not simply as who the biggest earner is but also as someone who is capable of making decisions, I suspect increasing power may be moving towards these more educated women," Prof Desai explains.
When Usha Devi began earning 11 years ago, she invested in her studies and acquired a college degree. In 2012, she began working with a non-governmental organisation, going door-to-door collecting health data of mothers and infants.
She began running the self-help group in 2016, a decision supported by her husband, Ranjeet who dropped out of school when he was 10. He says he only realised that was a mistake when he saw how "smart" his wife was.
"If my wife hadn't educated herself, my children would have turned out like me. She is the reason they may have a chance for a better future," he says.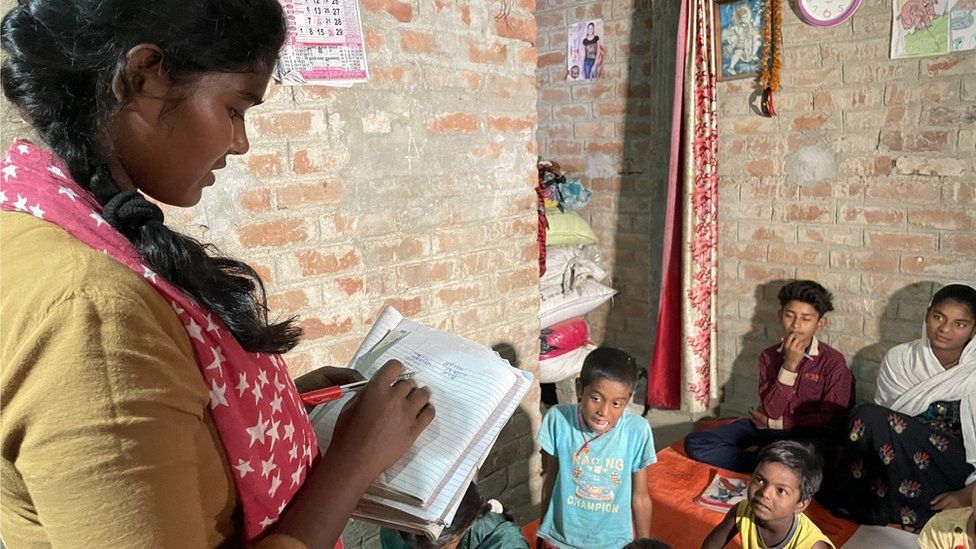 It's a rare confession from a man brought up in a country steeped in traditional gender roles. In some ways, migration makes it inevitable that men loosen the control and rely more on their wives.
Ranjeet struggled for work in his village where there were few skilled jobs and none that he was qualified for. So he is proud that he can provide for his family by working in a factory that manufactures ropes in the southern state of Tamil Nadu.
Despite their increased autonomy at home, Usha Devi, Shobha Devi and the other women I spoke with still saw themselves as second to their husbands.
"I am not great, it's him. If he hadn't supported me, I would have never moved ahead," says Usha Devi.
But for many young women, including her daughter Rashmi, she has become a role model.
"I saw my mother change and thought I could also become like her."
Rashmi takes tuition classes to supplement the household income and dreams of saving enough to train and become a policewoman.
It's not just a career goal but an example she wants to set for people, just like her mother.
"Villagers should not feel that only boys can run a household," she says. "Girls can do it too - if only they are brought up that way and allowed more freedom.
DISCLAIMER: The Views, Comments, Opinions, Contributions and Statements made by Readers and Contributors on this platform do not necessarily represent the views or policy of Multimedia Group Limited.