Alumni of the Presbyterian Boys' Secondary School (Presec-Legon) have applauded the 2022 National Science and Maths Quiz (NSMQ) team for winning the seventh trophy.
A statement issued on Friday, October 28, by the Ɔdadeɛ Global Executives noted that being four-time finalists and two-time champions in the last four years is "no mean achievement."
The old students say they are proud and highly excited at the performance put up by the team throughout the national competition.
"Your hard work has paid off and our school brand has been made more visible. To the team handlers, we say 'ayekoo' for preparing the boys for this unprecedented feat," part of the statement said.
CONGRATULATORY MESSAGE FROM ƆDADEƐ GLOBAL EXECUTIVES TO PRESEC NSMQ TEAM ON WINNING TROPHY #7#Odadee4Life#PRESEC#7IsHere#NSMQ pic.twitter.com/TGxajigjpX

— Ɔdadeɛ-Presec Alumni (@Odadee_Official) October 28, 2022
The Legon-based school clinched a record-extending seventh NSMQ trophy on Wednesday, October 26, after they successfully fought off Prempeh College's threats of equalling two of their records in one swing.
A lot was on the line but the Presec boys gave it their all to cement their lead in the history of the quiz by winning that contest with 50 points.
Prempeh and Adisadel Colleges earned 41 and 32 points, respectively.
The Kumasi-based and 2021 champions were left in tears after the defeat on their own ground, with their host and win chants shuttered.
Adisadel College also failed in its quest to claim its second trophy.
"It is our expectation that you will not rest on your oars but go for the number eight next year. We take this opportunity to also congratulate Prempeh College and Adisadel College for putting up very spirited performances that made the competition very keen.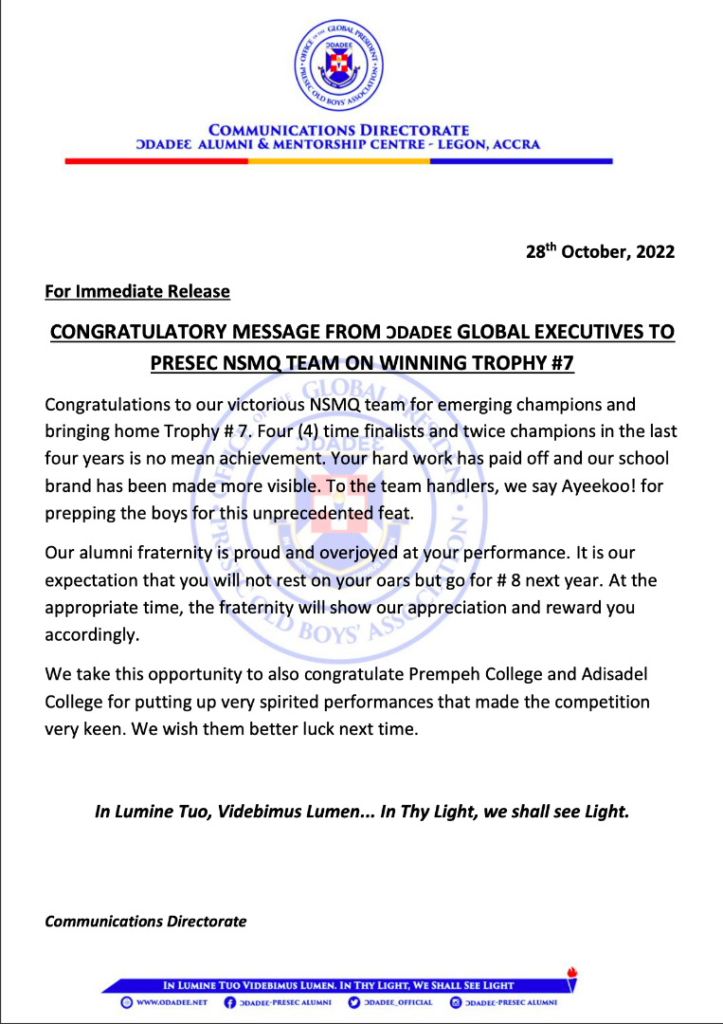 We wish them better luck next time," the Ɔdadeɛ Global Executives added
Return of trophy
Presec-Legon will return the trophy to the nation's capital, Accra, on Friday, October 28.
A procession will be held to welcome the NSMQ team to the school.
All roads lead to PRESEC at 6pm sharp as we welcome our NSMQ Team bring home the #7 Trophy

Time check 7 minutes past 1:35 😃

BLUEEEEEE 💙💙💙💙💙💙+💙#Odadee4Life#PRESEC#BlueMagic#7IsHere#7IsComingHome pic.twitter.com/2bsa1X0eTe

— Ɔdadeɛ-Presec Alumni (@Odadee_Official) October 28, 2022
"All roads lead to Presec at 6 pm sharp as we welcome our NSMQ team bring home the #7 trophy."
DISCLAIMER: The Views, Comments, Opinions, Contributions and Statements made by Readers and Contributors on this platform do not necessarily represent the views or policy of Multimedia Group Limited.