Abu Dhabi will be the centre of attraction for some hours of Sunday afternoon, as Lewis Hamilton and Max Verstappen go head-to-head.
Hamilton, in search of a record-breaking eighth world title, is tied on points with leader Verstappen, who is looking to break the seven-year hold of Hamilton.
No matter the angle it is viewed from, Abu Dhabi will crown this season's Formula 1 campaign with a historic synopsis.
It is already living up to the hype, as the final race of this season is matching in constellation with that of 1974. Championship leaders, Emerson Fittipaldi and Clay Regazzoni entered the final race of the season on equal points.
Verstappen and Hamilton have cast F1 back in time, and they have done so in some style.
How did we get here?
All the talk prior to lights out in Bahrain was centered on Verstappen, Red Bull and the challenge they posed to Hamilton and Mercedes.
All through pre-season it was evident Verstappen and Red Bull had the pace advantage on Hamilton's Mercedes and after Bahrain – which Hamilton won, it was apparent Formula 1 was set for a cracker.
"It's disappointing not to win, but we have really taken the fight to Mercedes." Those were Verstappen's words after Bahrain's GP and the Dutch put up another fight in Imola.
The Emilia Romagna GP further drove home the enormity of a season Formula 1 was bound to experience this year.
Verstappen, who won the race, snatched the lead from Hamilton after the two were involved in a head-on duel heading into only the first corner of lap 1. Hamilton restarted the race in 9th place after a red flag and finished in P2.
That would not be the only time the seven-time world champion had to battle from behind the line to claim a podium finish.
In Brazil, Hamilton finished in P1 after starting the race 10th on the grid.
In what has been an epic season, Hamilton and Verstappen finished 14 times together on the podium. On 3 occasions, Verstappen finished on the podium without Hamilton. While Hamilton recorded 2 podium finishes without Verstappen.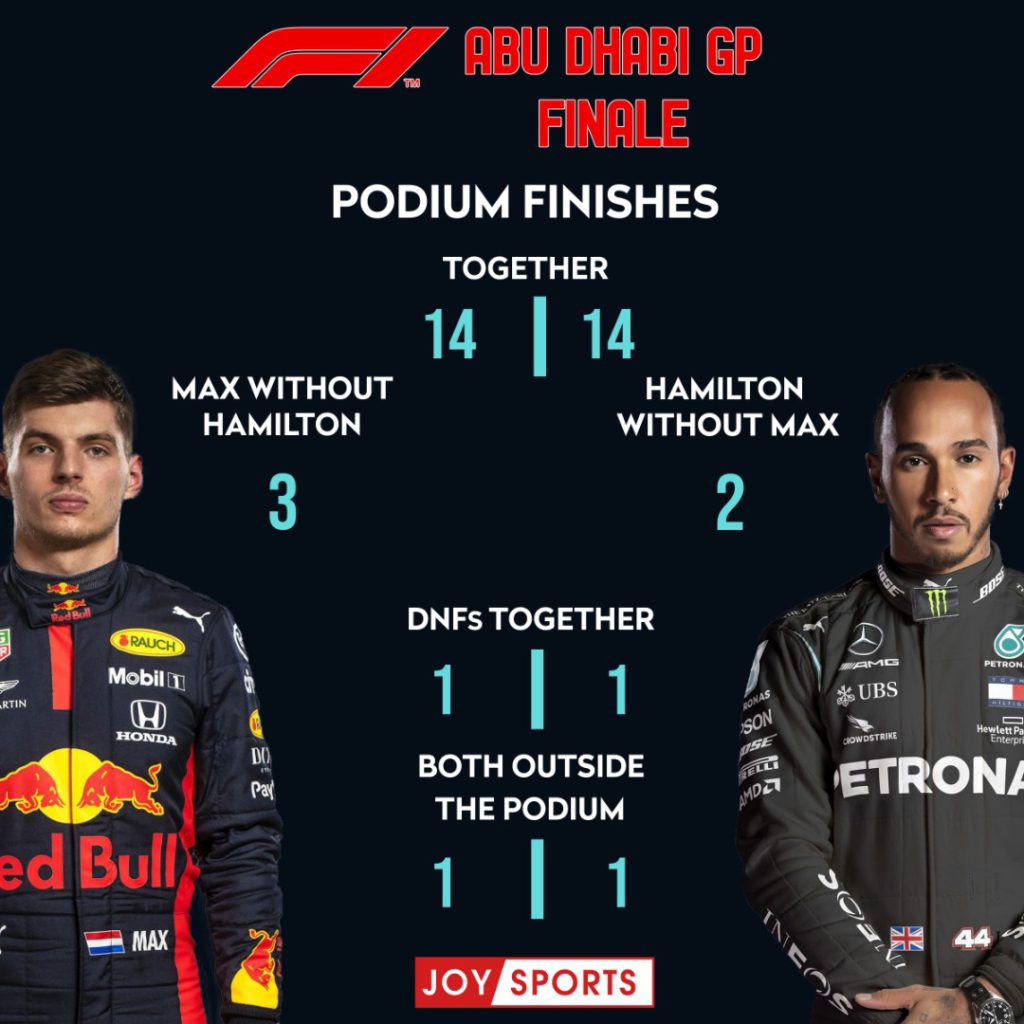 Who edges it?
Verstappen and Hamilton have served Formula 1 with an entertaining, feisty, dramatic and chaotic season.
Considering the level of entertainment provided, it can be described as unfortunate that the world title cannot be shared by the two.
David Coulthard, who has 13 F1 race wins to his name, summed it up perfectly in Formula 1's official podcast: "Let's tap into our mothering and fathering instincts here: they both deserve this title."
The competition has been rife and with tension rising in the last few races, both drivers seem to have taken off the gloves.
Hamilton collided into Verstappen in Saudi Arabia after Verstappen hit his brakes – Hamilton accused him of doing a 'brake test' but Verstappen denied, explaining he was following instructions to let Hamilton pass after illegally overtaking him.
Before that however, there have been a few 'more intense' collisions between the two drivers.
The first collision happened in only the first lap at Silverstone, where Verstappen had to be taken to a hospital right after. Hamilton after severing a 10-second time penalty won the race.
The Italian GP was probably the most life-threatening of the three crashes between the two drivers.
Midway through the race, Hamilton came out of the pits alongside Verstappen and with the two refusing to give up space, they collided with Verstappen's tire sitting on top of Hamilton's car.
It was only Hamilton's halo which prevented Verstappen's tire from having contact with the Brit's head.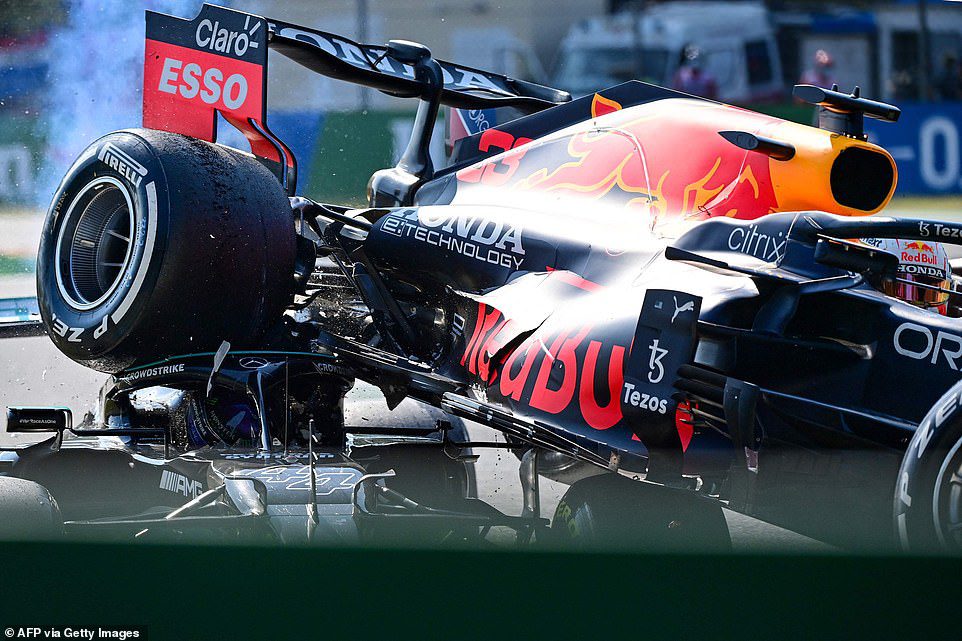 Verstappen was handed a three-place grid penalty for the next race since he was determined by stewards as 'predominantly to blame'.
Going into the season's finale Hamilton, who has won the last three races of the season has the momentum, so could just edge the title.
Besides the argument of momentum, historical antecedent goes in favour of Hamilton and Mercedes. The duo have the most wins, 5 and 6 respectively at the Yas Marina circuit since it opened in 2009.
However, Verstappen broke Mercedes' stronghold on the circuit when he dominated the 2020 race.
Nonetheless the circuit has undergone massive tweaks since F1 last raced there in 2020. The tweaks are so significant some teams have indicated the track feels new.
The first practice session prior to 2021's season finale was won by Verstappen, but Hamilton claimed sessions 2 and 3.
However there's one last twist as Verstappen took pole position at Qualifying.
Collision decider on the cards
Despite the two drivers having equal number of points, Verstappen with nine race wins, has one win more than Hamilton and therefore, has the championship lead.
Should both drivers not finish the race on Sunday, Verstappen will win the world title.
The tension which has heightened between the two does little to rule out a fourth collision on Sunday.
Verstappen, who is the more aggressive driver between the two, has promised to stick to his driving style which has seen him pick numerous penalties throughout the season – he received three penalties at last weekend's Saudi Arabian GP alone.
"Why should I change when others are allowed to race like that? Everyone should be allowed to race like that," he told the BBC.
In 2020, he described his driving style as 'controlled aggressiveness' and hinted he takes inspiration from his dad.
"I can be aggressive, but from my side it is controlled aggressiveness. I just like to race hard and my dad did," he said in an interview.
In 1994 Michael Schumacher, who is tied with Hamilton for the most titles, set a precedent where the season's championship was decided after the two title contenders were unable to finish because of a collision.
Schumacher ended the race with a point more than Hill and won the first of his world titles that year.
Before the race, Damon Hill – Schumacher's title rival, was captured saying: "Going into the last race with a one point deficit to Michael is always going to unfortunately put you in a position where you've got everything to lose."
Hamilton might just have similar sentiments as Hill, but Red Bull principal Horner has stated Verstappen will not be looking to win courtesy a collision.
But Verstappen's posture does not rule out a fourth collision between him and Hamilton. The second race of the season – Emilia Romagna GP, saw Verstappen take off part of Hamilton's front wing after the two drivers were involved in a duel in as early as lap 1.
The Dutch racer went on to win the race.
To be fair Mercedes' posture does not rule out a crash either. With the season entering its critical stages, Hamilton has turned up and won the last three races prior to Abu Dhabi.
Hamilton's recent form can be explained with Mercedes principal, Toto Wolff's comments after the Sochi GP, a race Hamilton won but saw Max finish in P2 after starting at the back of the grid.
"Max recovered in spectacular form, and that is not good for the championship.
"We just need to continue to be really aggressive in how we approach this season, not be defensive but just move forward, in order to score these big points. Because neither us nor the others are really good in maximising the points at the moment," Wolff said after the Sochi GP.
The season's finale has shaped up nicely and definitely, there will be some sparks.
Verstappen is hungry for a first world title to break Hamilton's dominance and possibly usher in a new generation of F1 racers. But Hamilton has more history beckoning and does not look like a racer ready to quit.
DISCLAIMER: The Views, Comments, Opinions, Contributions and Statements made by Readers and Contributors on this platform do not necessarily represent the views or policy of Multimedia Group Limited.