The works of three journalists who work with the Multimedia Group Limited have been recognised at the Merck Foundation 2022 Media Recognition Awards.
JoyNews' Assistant Editor, Ohemeng Tawiah and broadcast journalists, Emmanuel Bright Quaicoe and Anita Serwaa Adzoga, were awarded for their excellent reportages on issues pertaining to girl child education, women empowerment and early child marriages.
The award ceremony, held on Tuesday March 21, 2023, was virtual.
Whilst Ohemeng Tawiah's story, titled "Child Bride: The sad Story of Minors Forced to Become Wives" was adjudged the overall best in the Multimedia category of the award, Bright Quaicoe, and Anita Adzoga jointly came third in the same category.
The duo was awarded for their story titled "Rescuing the Ghanaian Adolescent Girl."
They shared the award with a journalist who works with TV3 Ghana, Sarah Apenkorah.
Ezedimbu Karen Ogom from Nigeria's Africa Independent TV came second.
The awards are in partnership with the First Ladies of various countries across Africa.
Mr. Ohemeng spent several months investigating minors who were married-off to men thrice their ages in Ghana and neighboring West African countries in a JoyNews Hotline Documentary in 2022.
The investigations led to the rescuing of at least 10 minors from child marriage who were later put in basic and senior high schools at his own expense and that of philanthropists.
The 2-part project saw four recalcitrant parents being convicted between 12 and 24-months respectively after Ohemeng testified in court.
Child Bride: The sad story of minors forced to become wives (Part 2)
Ohemeng received commendations from UNICEF officials, police, psychiatrists and other key stakeholders in the fight against child marriage for his role as Ghana struggled to meet the United Nations Sustainable Development Goal 5 of eliminating all harmful practices, such as child, early and forced marriage by 2030.
"Rescuing the Ghanaian Adolescent Girl," on the other hand, explored the root causes of skyrocketing numbers of teenage pregnancies in Ashanti region and what could be done to change the status quo.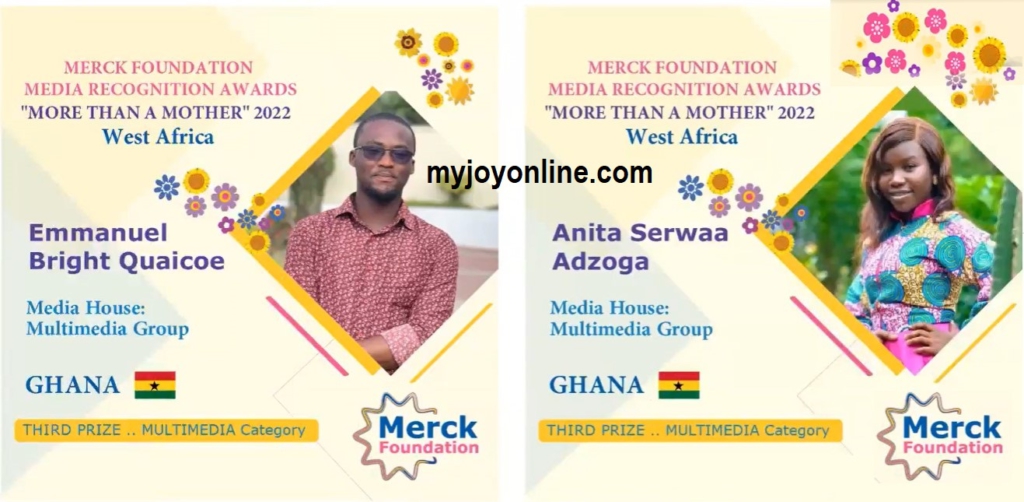 The story came at the time the region in 2020 saw over 300 adolescent girls impregnated every day, with 13 teenage pregnancies recorded per hour.
Majority of these girls, according to data from the Ghana Health Service, were from the Ashanti Region which gained notoriety 2-years later as Ghana's leading hub for teenage pregnancies and teenage mothers.
It told the story of how two teenage mothers were coping under their present circumstances and the social support and education a not-for-profit organisation provides to such young mothers and teenagers in a bid to end the skyrocketing cases of adolescent pregnancies.
The three winners are among 83 African journalists who were celebrated for their stupendous story-telling under the "More Than A Mother", "Diabetes and Hypertension", and Special Awards.
Chief Executive Officer of Merck Foundation, Dr. Senator Dr. Rasha Kelej, expressed her gratitude to the African media as she charged the winners to continue reporting on sensitive social and cultural issues in their respective countries.
"I appreciate all the efforts put in by the African Media fraternity who became the voice of the voiceless to raise awareness about sensitive social and cultural issues such as female genital mutilations, teenage pregnancies and early child marriages. The main purpose of your job is to make a change. Don't take your work lightly, because people will learn from it. Either right or wrong, they will change according to that," she said.
Dr. Kelej who also doubles as President of Merck Foundation First Ladies Initiative Committee, tasked award winners to be advocates in their respective fields as they automatically become Merck Foundation Alumni.
"I encourage all the winners to be 'Merck Foundation 'More Than A Mother' and 'Diabetes and Hypertension' Advocates to further raise awareness about infertility, eliminate the stigma around it and support girl education. If you have a consistent message, you actually ingrain more in your community to stop stigmatization against infertility, empower women and promote good. I also welcome them as valuable members of 'Merck Foundation Alumni".
The awards committee also announced Special Awards to acknowledge the high quality of work received in more than one category by the same applicant and to encourage their passion and dedication.
Merck Foundation is additionally rewarding the winners with a one year access to an online educational training programme called 'MasterClass'. The MasterClass is an immersive online experience and self-paced learning course that can be accessed anywhere with the Internet.
The Merck Foundation, established in 2017, is the philanthropic arm of Merck KGaA Germany.
DISCLAIMER: The Views, Comments, Opinions, Contributions and Statements made by Readers and Contributors on this platform do not necessarily represent the views or policy of Multimedia Group Limited.