Atwima Kwanwoma Rural Bank is investing part of budget in Corporate Social Responsibility into strengthening COVID 19 protocols in basic schools within its catchment area.
This is in response to a spike in cases, especially within schools.
The financial institution has presented desks to the Pekyi Presbyterian Basic School which was struggling to adhere to social distancing protocol.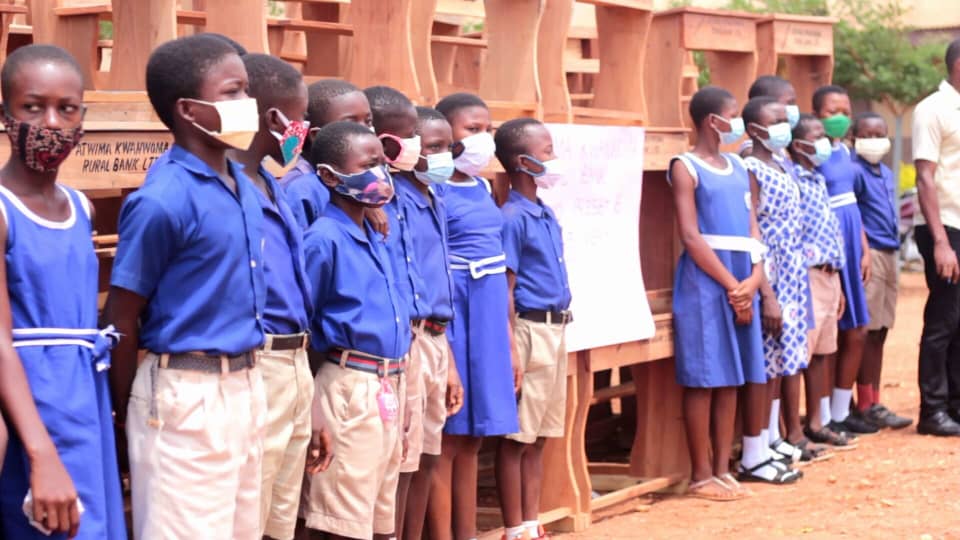 Pupils in the school sat in threes on seats meant for two.
In the lower primary, four pupils are sometimes forced into a seat.
Though efforts are being made to adhere to all protocols, social distancing is defeated due to inadequate desks.
Headmistress, Kezia Kyere Asante explains teaching and learning is also affected negatively.
"The students are sitting in threes, the smaller one in fours but under normal circumstances, it should be two to a desk and this posing a challenge. It affects writing since they don't have enough space for themselves", she added.
"We all know about the pandemic and its protocols".
Meanwhile, the school has taken delivery of 80 desks from the Atwima Kwanwoma rural Bank.
This is in fulfilment of the education pillar of its Corporate Social Responsibility.