Every child has a dream. A dream they wish to fulfil someday. Raphael Botsyo Nkegbe had same, a dream to become an engineer.
Ayisha Seidu had dreams of becoming an Administrative Manager.
But these dreams remained just dreams. When Botsyo turned six; still, in the age category famous Swiss Psychologist, Jean Piaget say 'children are able to think about things symbolically.'
The age children develop memory and imagination. The age where they 'engage in make-believe and thinking based on intuition,' and can create their own world, his world came crumbling.
Ayisha was still at the preoperational stage, too when fate redefined her route.
Polio had no mercy for the young innocent children, turning the engineering and administrative dreams into a nightmare.
Botsyo and Ayisha became physically impaired. Succumbing to its impact on his ability to use their legs to support standing upright, and had to submit to crawling or the aid of wheelchair for their movement. This was not what they bargained for, but fate determined their life trajectory.
In a society where physically impaired people are seen as destitutes, sports became the only option to change the narrative. Nkegbe found comfort in playing wheelchair basketball when he was barely 20. But for Ayisha, she had to endure the difficulties of being made a second citizen in her father's house until she took her destiny into her own hands.
Leaving home to seek opportunities elsewhere. She didn't know where she was going, she just had to leave home. Leave the house she was born because she was deemed a destitute.
Botsyo's love for sport would earn him applause, but realising his dexterity, he ventured into Hand Cycling and Wheelchair racing.
One of these, would later make him a hero – Wheelchair Racing. He has flown high the flag of Ghana at the biggest global and continental competitions; the Olympic Games, Commonwealth Games, and African Games.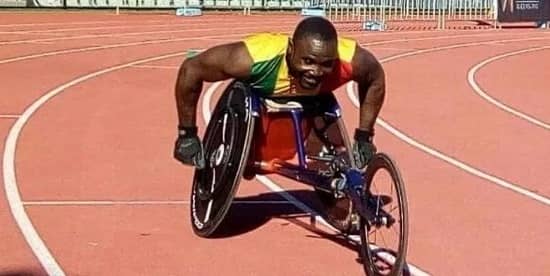 He has a foundation, the Go Get Them Wheelchair foundation to support other impaired athletes who wants to get into any of the discipline he has crafted abilities in.
He tells Joy Sports, though disappointed his engineering career never became a reality, sports has created him a life to appreciate.
"Growing up, I was more creative, I was more of someone who wanted to pursue engineering as a career because I used my hands to do so many things.
'I could craft so many things when we were asked to do in class, so growing up that's what I thought I could be, but it's only God who can determine my destiny. This is where I am now and that career…now sports career has dominated."
Nkegbe recently became the first para-athlete to qualify for Tokyo Paralympic games after winning the T54 World Wheelchair 100m race with a new personal best of 14.22 seconds at the Desert Challenge Games in Arizona, USA.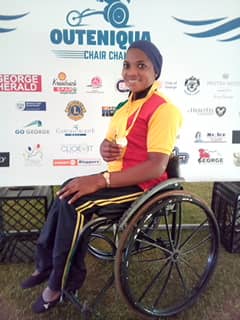 Ayisha won Gold last month in the OCC Marathon race in South Africa. She's gained national recognition. She is a national asset from an empty beginning.
You never can tell what life has in stock for you, but you can tell how you chart your own for life and tell your own story.
Watch mini-documentary below: