The 2020s should be the decade of success for African women, according to a South African actress starring in the sequel to one of the most successful films ever with a black cast.
Nomzamo Mbatha appears alongside Eddie Murphy in Coming 2 America, the follow-up to 1988's Coming to America, which made $288m (£207m) at the box office.
Murphy played the African prince Akeem from the mythical land of Zamunda, who finds an ordinary American bride in New York City.
The actor called it "the first black fairytale", adding: "It was also the very first time you had a movie with black people where you had kings and queens."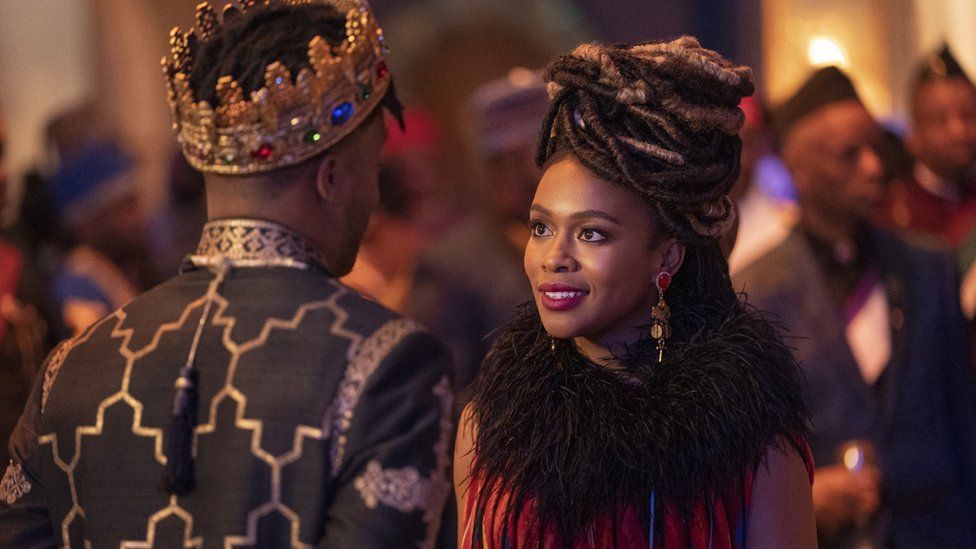 The sequel reunites Murphy with many of the original actors, including James Earl Jones and Arsenio Hall, as well a new cast that includes Blade's Wesley Snipes, If Beale Street Could Talk's Kiki Layne, Saturday Night Live's Leslie Jones, Mbatha as a courtier and Jermaine Fowler, who plays King Akeem's son.
Mbatha, an actress and producer, says she hopes the plot will particularly appeal to African women, as it's based around changing Zamunda's ancient laws, so a woman can rule.
"When I found out that I was going to be in the film, it was literally 'coming to America' for a girl like myself, coming all the way from South Africa," Mbatha says. "I don't come from a wealthy background myself, but I've been able to break the mould and I am a representative of that."
She added that the film "speaks of what I want young girls from the African continent to feel – that they're not invisible and they're not too far, their dream is tangible – we need to open those doors for African girls and women".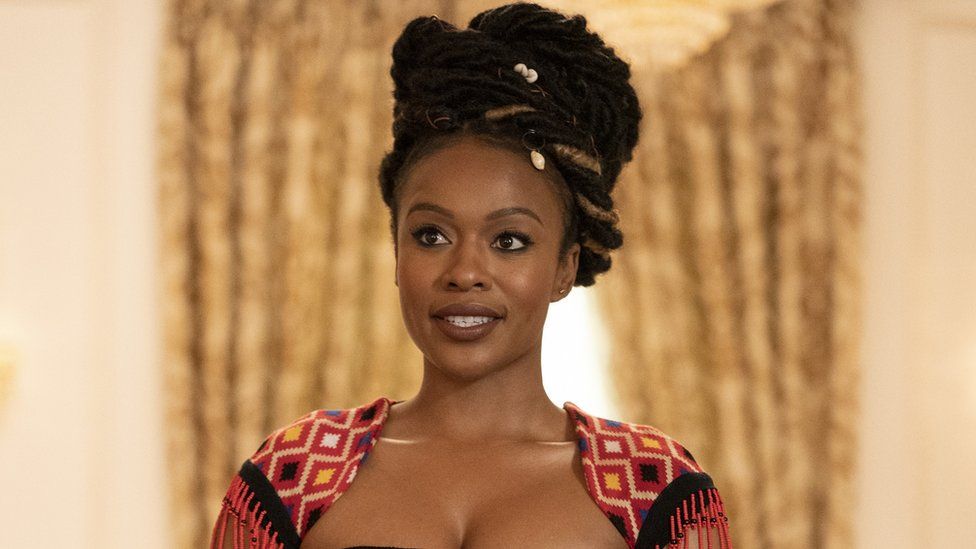 The actress believes that being portrayed as royal and powerful on screen "changes how people show up and how people move in the world."
Citing the first Coming to America film, she said it achieved this in the 80s, adding: "It was important because for such a long time African or black Americans were seen in a really one-dimensional way."
Mbatha also runs a non-profit foundation to fund underprivileged young people on the African continent, and says she thinks the next decade will provide the backdrop "for African women to kick down the pre-existing narratives about them."
"Each decade there have been women who have been torch bearers and this generation is moving the needle forward," she explains.
'Fires burning inside them'
"I work with the UN and go into refugee camps on the African continent and wherever I go, you find it's women used as weapons of war, young girls who were sexually violated, and they have children who are products of that.
"But there's still women with fires burning inside them to make something of their lives, and it's incredible to see that fight and see the spirit of it."
Shen stressed the importance of continuing "this conversation using mediums such as films and music".
"I'm very excited about African women who are kicking down those pre-existing narratives that's held them back. I'm excited by my generation as we're not taking anything less," she says.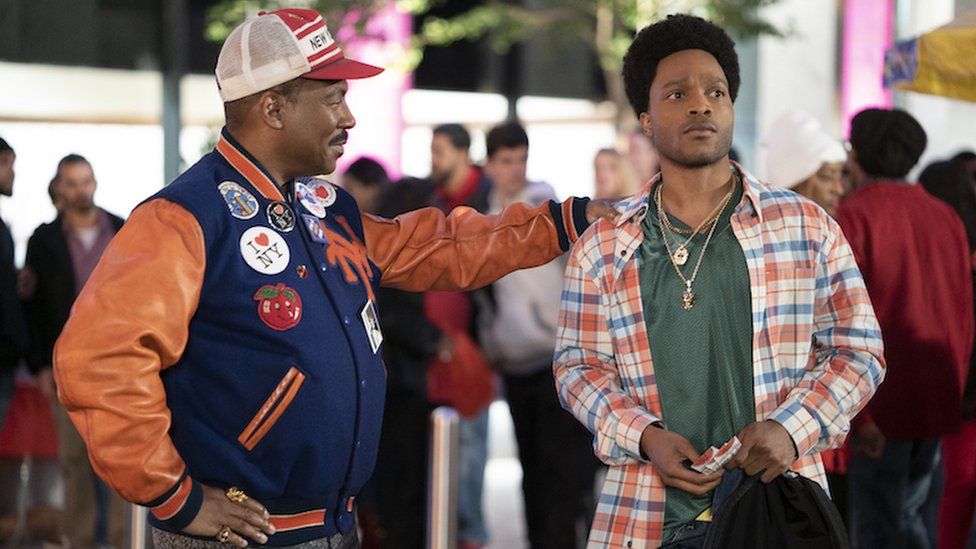 Fowler, who was born in the year the first Coming to America was first released, says he hopes the film will reach a younger audience who may have thought Marvel superhero film Black Panther was the first to celebrate royal and powerful characters in a mythical African landscape.
"It's just a generational thing, you know," he says.
"Before Black Panther, there was Coming to America. It set a precedent, it set a standard, it opened up so many doors, it was the first of its kind to celebrate blackness unapologetically.
"We got to see black people royally, where we weren't depicted as slaves and butlers and things of that nature, that can feel stereotypical in Hollywood for black actors at that time. It was the first of its kind and it's amazing for me to be part of the sequel."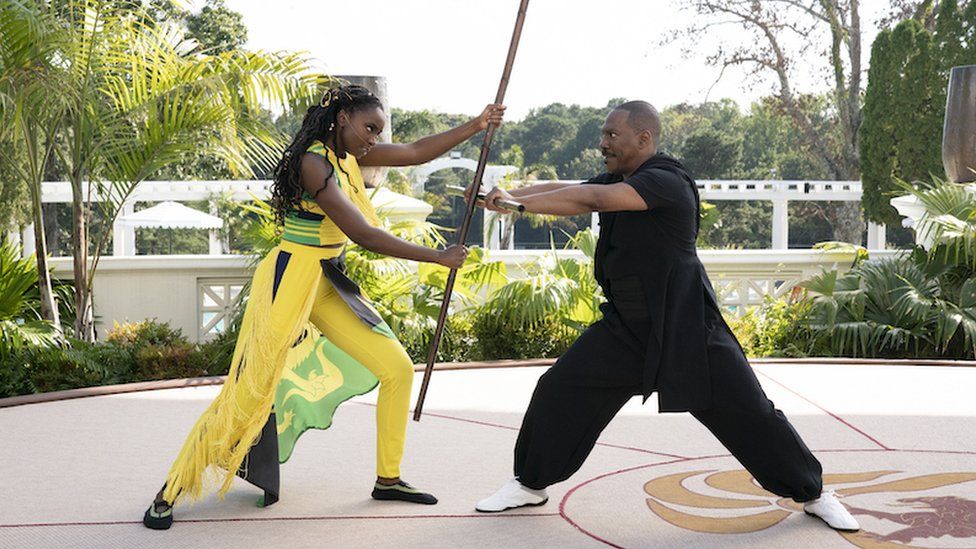 His character, Lavelle, is the New York-based son Prince Akeem never knew he had – with an automatic right to be the next King of Zamunda, despite his sister Meeka, played by Kiki Layne, being far better suited to rule instead.
Fowler says the serious intent behind the comedy in Coming 2 America should send a message home about equality:
"I think women will love and feel empowered by it, and I think men will hopefully really see and really know and take heed- I feel like hopefully they see this movie and really start to listen, and understand that, you know, stuff needs to change," he explains.
'The door is truly open to us'
Mbatha agrees that things "aren't yet where they should be", saying: "I recently did an interview with a presenter in Nigeria and she mentioned where she comes from women are still not allowed to own property, in 2021."
But she adds she's noticed a change in attitude in what she gets offered as an actress.
"Usually when one would get a description of a character it would say 'female, black, in their 30s' – and now it's an open ethnicity.
"The door is truly open to us, it doesn't often specify that we have to speak with an American accent, for example. Of course, we are not where we should be yet, but we must celebrate the little progress that is happening."
The actress adds that she's not satisfied with just "taking it and saying that's it," however.
"We take it and show up, and then show up better and in a bigger way," she says. "I'm excited. It's a great world to be living in right now."
DISCLAIMER: The Views, Comments, Opinions, Contributions and Statements made by Readers and Contributors on this platform do not necessarily represent the views or policy of Multimedia Group Limited.