Austria is moving from a night curfew and partial shutdown to a second national lockdown that will be in place for at least two and a half weeks. Chancellor Sebastian Kurz has urged Austrians not to meet anyone from outside their household in an attempt to curb a rapid rise in Covid cases.
He said schools would close and students would learn from home when new measures come into force on Tuesday. Austria reported a record number of 9,586 new daily infections on Friday.
That figure was nine times higher than at the peak of the initial wave earlier this year. The country has recorded more than 191,000 cases since the start of the pandemic, and 1,661 Covid-related deaths.
The new lockdown measures, which will see all non-essential shops and services – including hairdressers – close, will remain in place until 6 December. People have been told to work at home wherever possible.
Austria's Health Minister Rudolf Anschober said it was the last chance to stop the health service from collapsing under the pressure of new infections. He said Austrians had already done it once and they could do it again.
Austria had its first nationwide lockdown in March, during the first wave of the pandemic. Amid rising numbers, the capital Vienna had already imposed a partial lockdown, including a curfew from 20:00 to 06:00, at the start of November.
Countries across Europe are experiencing a surge in coronavirus cases, with some – such as Sweden – warning that it is too early to plan for Christmas travel.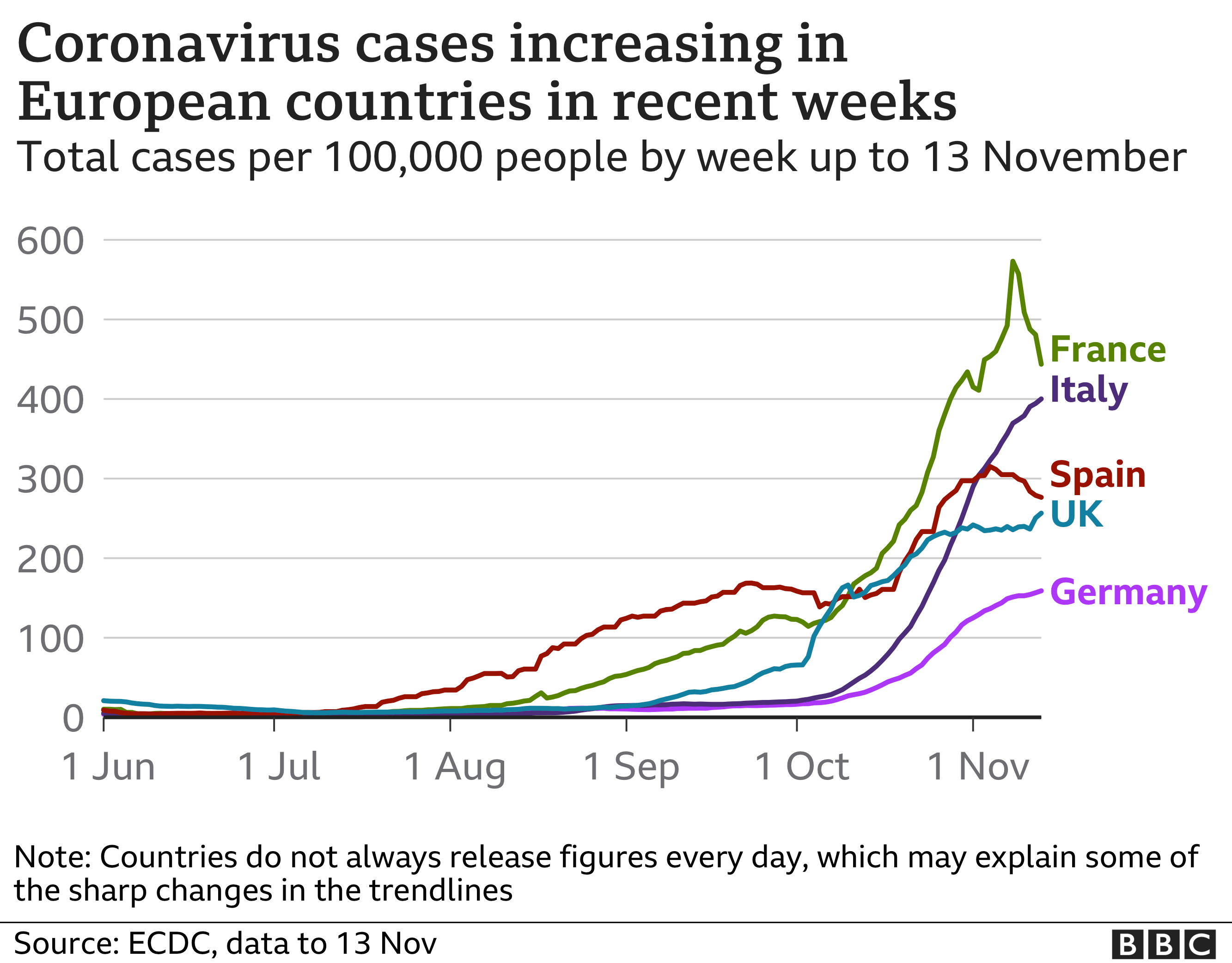 In Italy, more regions have been added to the list of coronavirus high-risk "red zones". Campania and Tuscany will join other regions placed under the strictest lockdown measures from Sunday.
Authorities in Campania, which includes Naples, have warned that the health system there is close to collapse. Italy passed one million confirmed cases earlier this week and there have been more than 44,000 deaths in the country.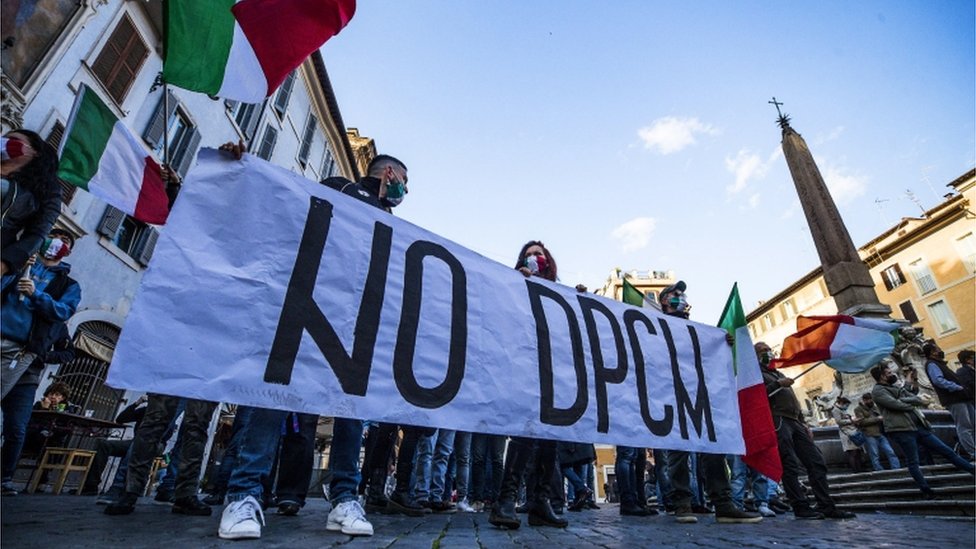 A quarter of the new cases are in Lombardy, which includes Milan. It was the worst-hit area in Italy's first outbreak and it was Europe's first coronavirus hotspot.
Campania, however, has shot straight from the yellow zone to red as a spike in cases threatened to overwhelm hospitals.
Regions are divided into three zones – red for the highest risk, then orange and yellow. In the red zone at the moment are Lombardy, Bolzano, Piedmont and Aosta Valley in the north, and Calabria in the south.
In these areas, which cover about 16.5 million people in a population of 60 million, residents can only leave home for work, health reasons, essential shopping or emergencies. All non-essential shops are closed.
Bars and restaurants are also shut but people can exercise near their homes if they wear masks. Hairdressers can remain open.
Greece has announced that primary schools, kindergartens and day-care centres must close, as it tackles a death rate that has quadrupled since late October. Since Friday night, a curfew from 21:00 to 05:00 is in place nationwide.
Lockdowns and other measures are in force in several European countries experiencing a second wave of the virus. In other developments:
Portugal has significantly expanded its overnight curfew. From Monday, three-quarters of the country will be under the government's toughest restrictions. On Saturday, hundreds of bar and restaurant staff took over a main square in Lisbon to demonstrate against the closure of businesses
Germany reported a new record of 23,542 daily infections on Friday, dampening hopes that a national partial lockdown might be lifted soon
Ukraine has also registered a record number of new Covid-19 cases. President Volodymyr Zelenskiy is among those being treated in hospital for the disease
There was better news from France, where new infections and hospital admissions dropped sharply at the end of the second week of its new national lockdown.