Two hundred (200) farmers in selected districts in the Ashanti and Western regions have been trained to produce organic manure using animal droppings and cocoa pods.
The project has the goal of reducing the use of inorganic manure on farms and boost harvest.
The SOS GrEEn Project under the UN Capital Development Fund (UNCDF) is promoting waste processing systems that require minimal mechanical equipment in the Asempaye-Nframafaw and Wassa Amenfi East districts.
The objective is to effectively manage community waste and to utilize organic manure as fertilizer to reduce the presence of POPs (Persistent Organic Pollutants) in the environment while securing higher crop yields.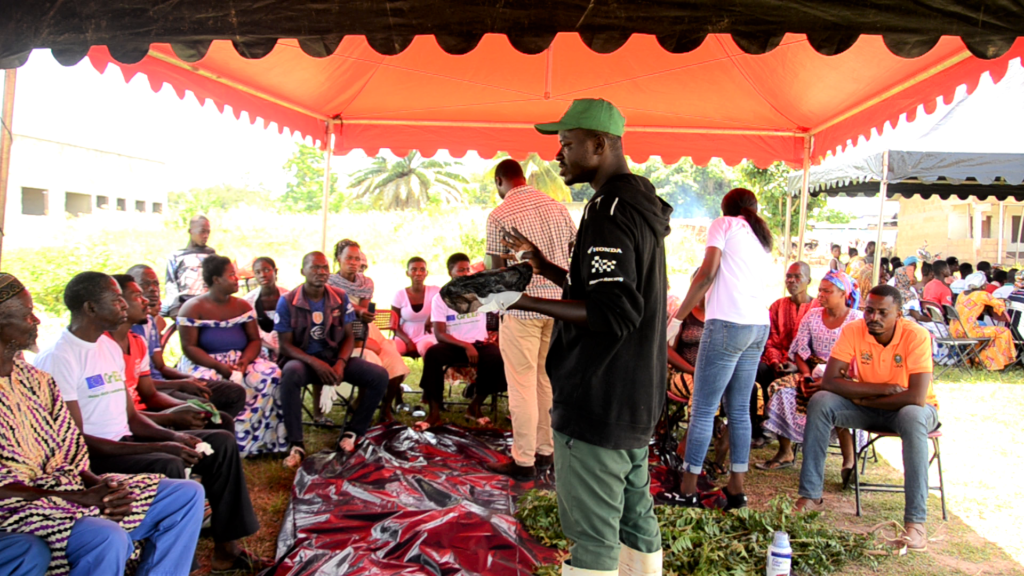 According to the trainer on the project, Hamid Abdul Mumin, equipping small and medium scale farmers with skills to produce organic fertilizers will conserve the earth.
"A good number of residents in Asempanaye and its neighboring communities are largely farmers engaged in animal rearing and crop production.
These farmers are largely peasant farmers who spend a greater amount of their income in acquiring fertilizers.
There is also a problem with disposing off the fecal waste from the animals.
They are either left in open spaces or dumped within the community which poses grave risks to human health and the environment.
The SOS, UNCDF with SNV on the GrEEn project has trained participants to use animal or poultry droppings and cocoa pods in producing organic manure to replace inorganic manure.
This will curb the use of inorganic manure because it has a detrimental effect on our health," he noted.
The Assistant Director of Agriculture in the Offinso North District revealed the shortage of fertilizer supply to vegetable farmers in the district is affecting yields.
Patrick Amoah believes the training will solve the situation.
"Now we have scarce organic fertilizers in the country
Farmers are finding it difficult to access inorganic fertilizer in the district especially the vegetable farmers
The training is giving farmers another alternative to produce their own fertilizers," the assistant director of agriculture in the Offinso north district said.
Some farmers say opting for manure to skyrocketing fertilizer prices will reduce cost and give their fields more boost than the inorganic fertilizers.
"A bag of poultry dropping is 5 cedis per bag but some of the inorganic fertilizer like urea is 500 cedis
And you can a apply a bag of organic manure on a big acre of land and it doesn't cost much
We thank the UNCDF-SOS – GrEEn project for this initiative," Baadam, a farmer , said.
22-year-old Esther, another farmer says, "She will no longer depend on inorganic fertilizer because organic manure is less expensive".
The training of the 200 cash-for-work beneficiaries and community members to produce organic manure in the two districts, is part of activities to raise awareness about conservation and sustainability of the earth.
The initiative by the UNCDF-SOS -GrEEn project is part of efforts to celebrate the 2022 World Earth Day under the theme: "Invest in Our Planet."