The Director General of Ghana Ports and Harbours Authority (GPHA), Michael Luguje has tasked management of BAJ Freight and Logistics to enter new economies in Africa after receiving triple International Organization for Standardization (ISO) certification.
He said the successes chalked over the last 11 years bring the indigenous business to par with its international peers in the respective fields of operation.
He disclosed this in an interview with the media after official presentation of the certificates to the company and dedication of its new office complex in Tema.
"For what it takes for BAJ to expand to other parts of the continent, it already has it. All the brand names across the world as in oil majors have been customers to this indigenous business," he said.
"It will not be difficult to enter into other parts of Africa because these companies who are their customers are the same companies operating in those countries"
The certificates are ISO 9001:2015--Quality Management System, ISO 14001:2015--Environmental Management System and ISO 45001:2018--Occupational Health & Safety Management System.
For Mr. Luguje, being standards compliant is one of the keys to help a business penetrate a certain market and win share apart from being one of the requirements in bidding for international contracts.
"As GPHA, we have also taken the necessary steps to be ISO compliant and use the platform to sensitize all others to do same not because it's a regulatory requirement but as a means of growing their business," he urged
The GPHA boss was full of praise for BAJ for providing connection between foreign trade and the local market as a logistics company.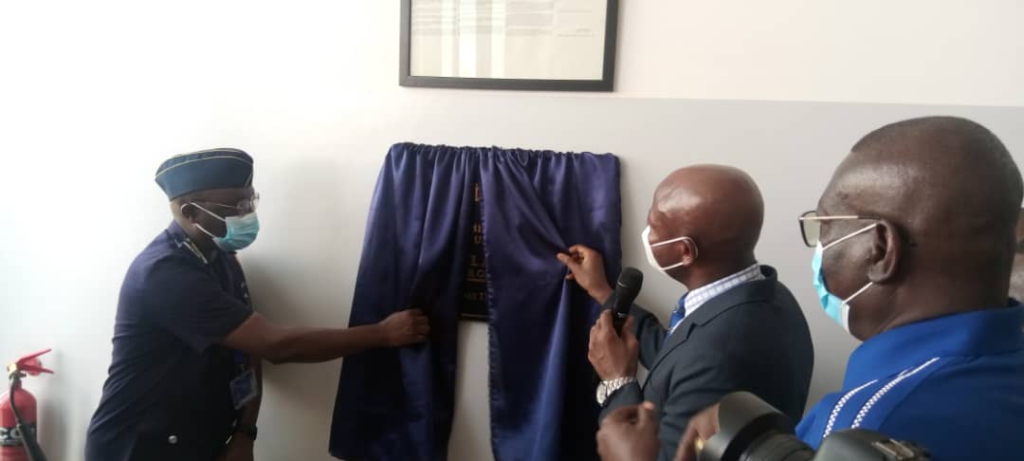 In 2009, three shareholders; Bart Fred Simpson, Ato Quagraine and Joseph Kojo Biney began a journey to build BAJ, a world-class company in Ghana.
For close to 12 years, the indigenous business has grown from 15 staff to 250 staff.
Chief Executive Officer of BAJ, Joseph Kojo Biney was delighted over the status of the company which could compete with any international company.
"This is an indigenous company employing Ghanaians. Whatever we bring stays here and we know there is more to achieve," he said.
He however urged government to limit customs house clearing, logistics and other services to indigenous Ghanaian companies.
"It is unfair we compete with foreign companies. Government can help keep indigenous companies in business by allowing us to provide such services and it will impact on revenue," he urged.
A founding director, shareholder and chair of the ISO Implementation Steering Committee, Ato Quagraine said the certification was an indication of the milestone in their operations.
He said Integrated Management System-certifications is announcing BAJ's presence on the global stage in the provision of freight and logistics services with quality, health, safety and environmentally accepted standards.
Before its ISO certification, BAJ was certified to OHSAS 18001: 2007 in 2018. A photo exhibition to climax the feat showcased the company's achievement and its world-class services to customers across major industries in Ghana.
Another founding director and shareholder, Bart Fred Simpson at the exhibition highlighted the company's enormous achievement.
"We have transitioned to become one of Ghana's key logistics company and a key contributor to the country's growth providing jobs, economic mobility for key industries as well as supporting local communities," he indicated.
For Board Chair, Paul Hammond, the company's stature will require hard work, sacrifice and all to survive the test of time.
Workers, other stakeholders from the maritime space, close associates of the company were present to support BAJ cut tape and dedicate its new office complex.
Apart from its headquarters in Tema, it has a major logistics base in Takoradi and an outlet in Accra.
International freight forwarding, customs brokerage services, equipment and warehouse rental as well as heavy lift and project cargo are some its services.
It also provides radioactive and explosive transport.
Some clients of the BAJ include Schlumberger, ENI (previously Vitol), BGP Marine, HESS, Tullow and Stena.
With its state-of-the-art equipment, the company has positioned itself as a local preferred partner in the various sectors including telecommunication and construction sectors.
The indigenous company can boast of several awards notably, Oil & Gas Logistics company of the year(2014,2015,2016 & 2018), Freight Forwarder of the Year(2017),West African Outstanding Haulage Company of the Year(2018), Sustainability and Operational Excellence Award(2020) and Management of Driving Safety Excellence-HESS Awards(2021) but just to mention a few.
DISCLAIMER: The Views, Comments, Opinions, Contributions and Statements made by Readers and Contributors on this platform do not necessarily represent the views or policy of Multimedia Group Limited.