The soaring cost of food has compelled some families to change their meal plans after raising concerns about their static monthly earnings amid the high cost of living in the country.
Primarily driven by the steep rise in petroleum products and transport fares, the development is fast eroding the disposal income of most families as they are being forced to push more money into their food expenditure.
Speaking on JoyNews' Living Standard Series, a mother of five, Freda Darko, revealed she has cut out snacks for her children to get enough food for the family.
On Monday, she roamed the Markola market to get some groceries for the week but had to engage in several bargains to get the best price deals.
Freda went to the market with a price list based on her last shopping activity, but unfortunately, every item on her list had become more expensive.
Her budget of ¢1000 could not buy all the items she needed, so she visited the nearest Mobile Money vendor to cash out more money to make up for the difference.
According to Freda, about 90 per cent of the family income now goes into only food.
"Every time I come to the market, there is always an increase. So now, I always have to top up. You can't even buy clothes for yourself or buy nice things for yourself. The money you get, you have to use it to buy food, and that's the only thing we are doing.
"It's the only food we think about at the end of the day because if you don't have the food, the kids will worry you, and everybody will know you don't have it. The little you have must be used to buy rice, oil, and other things," she said.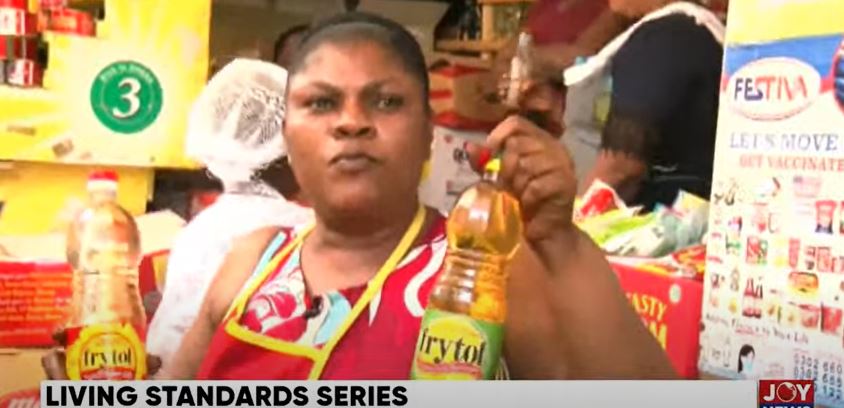 Fredda hinted that she has a particular vendor whose prices are reasonable, but to her utmost surprise, goods there too had gone up.
"I think last week my children didn't send snacks to school. Now, this is what I am doing, and maybe this week, we won't take sugar; we would balance it with maybe pineapple juice and bread for breakfast. We are doing subtractions because if I don't do that and say I will give them whatever they want, it will not be easy for us.
Davi came from the Volta region to get spaghetti, rice, and some spices, but she had to leave without the items because her money is grossly inadequate.
If you have enough money, buy groceries in bulk because day in day out, prices keep soaring.